I'm caught in a tangle of mixed feelings now.
Happy because SPM is over- finito. But sad, because high school is over!
Anyways, I don't think I'll be posting up any recent pictures of myself because I look disastrous.
:)
Anyways! I would like to share with my dear readers ( which I have long abandoned ) this lil' hobble of life.. SPM! This is what happened before, during and after it. :)
So, I start off each morning with a walk towards the wooden benches here with Lin Nette, Sheyon & Wei Li and do some last minute *quick-flash-reassurance* revision. And I only realized that SPM day counter AFTER the exam. -.-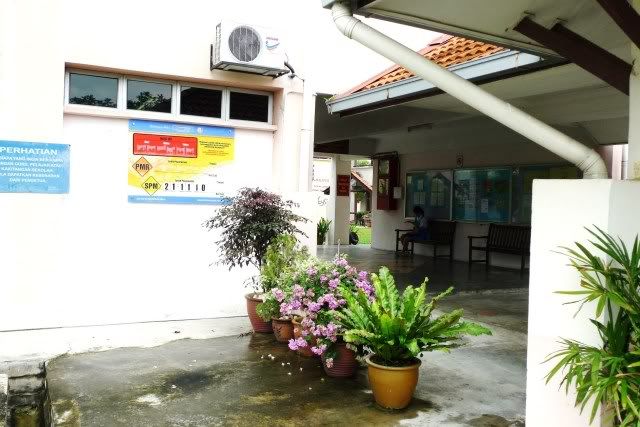 As the clock approaches 7.50am (Earliest paper starts at 8am), we make our way towards the exam hall with a short walk pass the school greenery;
Ah, this stop sign. I don't quite get why they need to put it up because there's no one in the school besides the form 5s and the invigilators. Maybe it's to wake us up.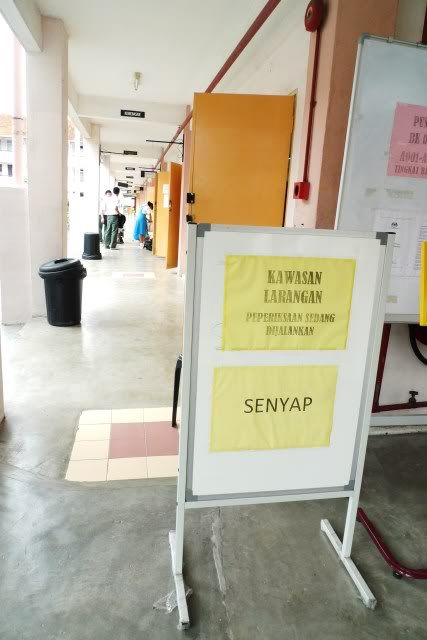 Then, at 7.50 am, we enter the class where students are seated in 5x4 position.
There's usually 20 students in each class. Then, we listen to the same instructions for 5 full minutes on the rules ( No cheating, no talking ... the usual. )
The invigilators in my particular class were really strict about the timing. The exam only starts EXACTLY on time, on the second.
Then, when you're doing the paper, they look through everyone's SPM slip and check the ICs.
While doing the paper itself, you'll notice a similiar smell on all the papers. Is it the smell of moth balls?
And the SPM papers are really sharp and new. I have gotten 2 paper cuts throughout the exam!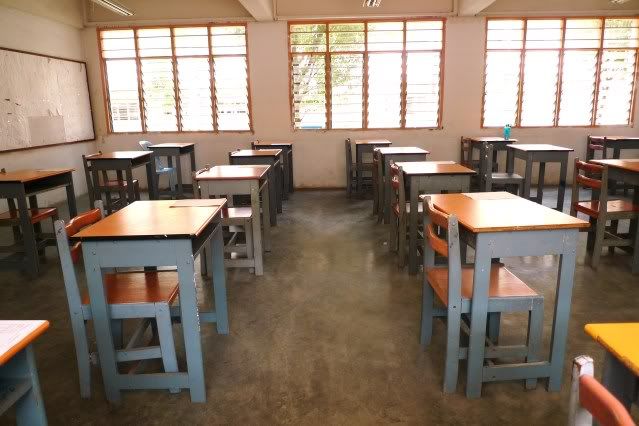 And once the exam is over, usually people rush to slip through notes on the next paper, or everyone chills. ( ONLY for English haha. )
Then, we go to the same room and the same process goes for all the papers.
Except for the Literature in English paper. Only 3 students took it, Nabs, Abi & I.
We were shifted to the first room and there was 3 invigilators in the room.
We were spaces out really far apart lol! The arrangement was like :
Abi-----(Empty seat) -----Nabs----(Empty seat)-----Me
Haha!
So we write and write and write until we can no longer feel our fingers/hand.
We used up 16 pages each lol! That's one entire exam answer booklet and 2 extra sheets.
The invigilators stopped us on the clock too. I wish I had just ONE extra minute to give a complete conclusion to one of my essays. Awh.
After the exam, we went to return our text books to the SPBT. I lost the 3 books so I had to pay rm30. :'( And it was also for the Konserto Terakhir novel which isn't even going to be used in the new syllabus....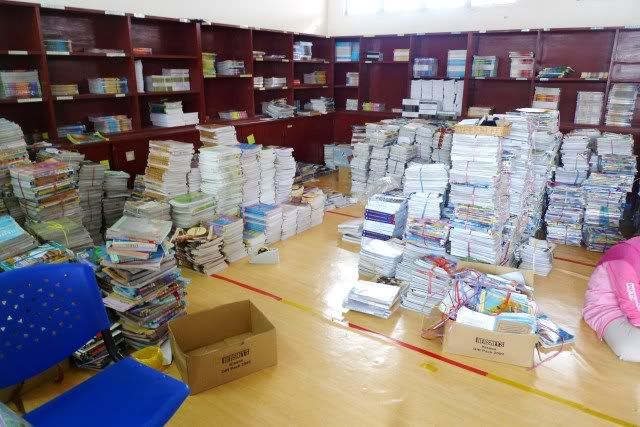 **********
After the movie, I went and cleared my uber messy table and chairs ( and boxes and shelves and ..floor! )
The clutter of revisions. :|
Oh, and of course, there's always a last minute rush of *OMG SOALAN BOCOR SOALAN BOCOR* ( Leaked exam questions )
But no. NEVER BELIEVE in those *tips* and last minute bocor SMSes.
They are never true for the real deal. They have multiple other sets of the exams.
If one paper really were to leak, they will just change it. Just like that.
I think the more accurate predictions are usually the trial papers.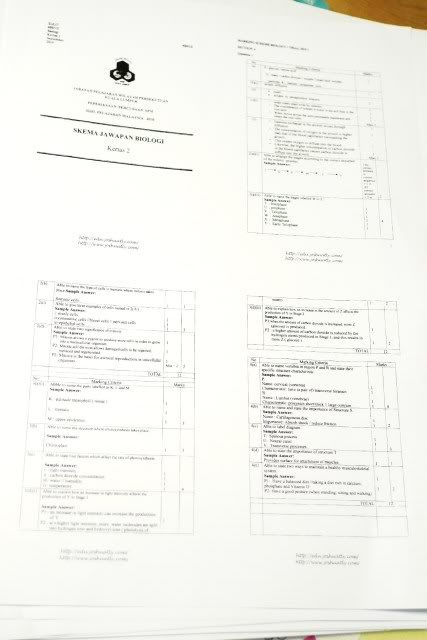 One sided lah. Well. I have more rough paper..
Haha!! As every exam finishes, I would stack up all the books into this nice little corner in my room. It's amusing to see it go higher, and higher and higher everyday!
But it did topple 3 times. It was supremely troublesome to stack it again so I just stuffed part of the books into a huge box, a few bags and some file holders.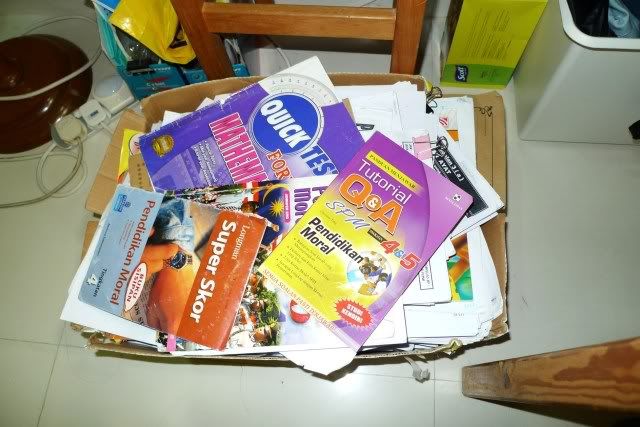 I think I could totally earn a fortune from just recycling these stuff.
But nay, it's going on to the next SPM sitter. :)
***
Finally cleared out!
It's so random but I thought of taking pictures of the empty shelf for memories.
Ah... :)
Well, but it'll be full soon again... for Pre-U !
Haha! So that was my personal SPM chronology. What's yours?
Till I ... join
free Korean cooking class
!
Toodles.
(p.s Will be updating very much frequently now. Check back ;)