HAHAHAHHAHA.
Oh gosh I loved that day. :')
It was
Maths & Science Week
.
The school held many Science-related competitions like : Quizzes, Solar Car racing comp
..and stuff.
One of which, was the Water Rocket competition.
Ok
, So here's what happened.
The day before the comp ;
Tuesday,
my physics teacher, Pn.Leow was demonstrating how a water rocket works. Just using an ordinary coke bottle, filled with 1/3 water, pumped with a bicycle pump till the pressure builts up and it flies.
No fancy fins, gizmos or anything. Pure physics.
It shot up in the air!
Nabs & I were gobsmacked, flabbergasted, absolutely
bimboozled
.
It was that very moment we decided to join the competition.
I know it's at the very last minute, but that's exactly how we roll.
The night before, we had our own tuitions and etc so we didn't start building the water rocket.
But I did buy 2 carbonated drink bottles. 7up & Pepsi.
Afiq helped us buy cardboard for the fins.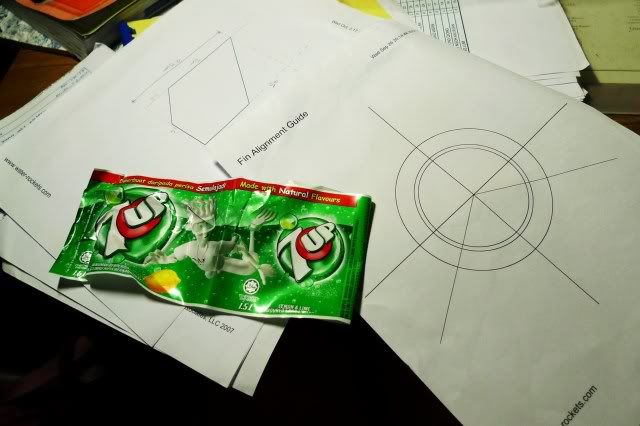 Did some last minute research.
We decided to assemble everything the day of the competition.
Note : Others had a whole week to create it.!!
The thing is, the competition starts at the 2nd period, leaving us only less than 30 minutes to finish the whole thing. So we used up every minute we could. While assembly was being held, Nabs was cutting the bottles and I was snipping the fins.
I just wished the bottles didn't squeak as much as we cut it, as we got a whole lotta stares. -.-
It was simple really. The design and everything.
It looks like any other last-minute-put-together water rocket.
Eg.
THANKFULLY, my Moral teacher didn't come, so me and Nabs frantically assembled the whole thing in that limited time.
Theres 3 Categories for the Water Rocket Comp
1. Longest Airtime
2. Longest Distance
3. Best Design
HERES
how the competition went.
Best Design :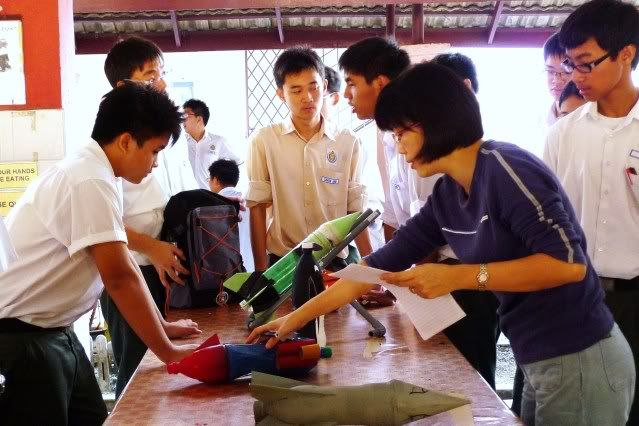 All the rockets !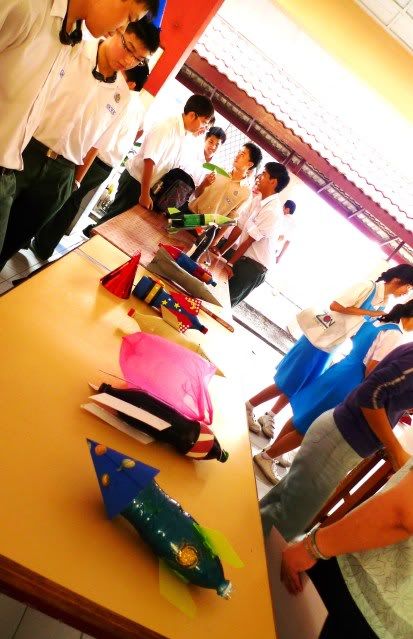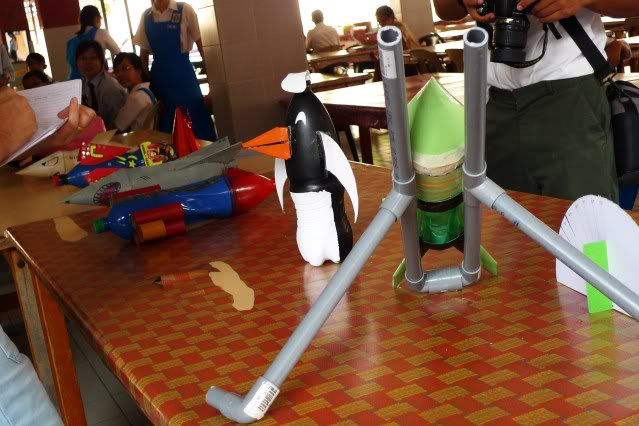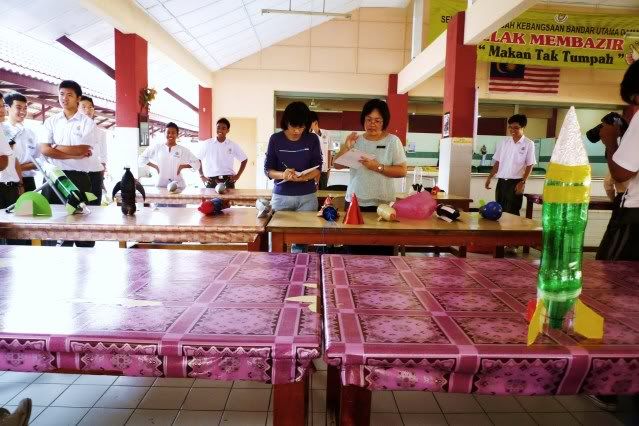 Pn.Leow and Pn. Lee busy judging. And on the far right you can see Nabs and I's rocket looking enviously at the other pretty rockets. :(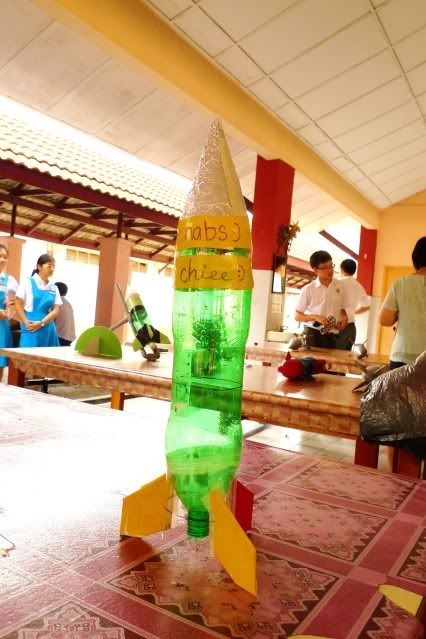 Heh heh. Can stand on fin okayz.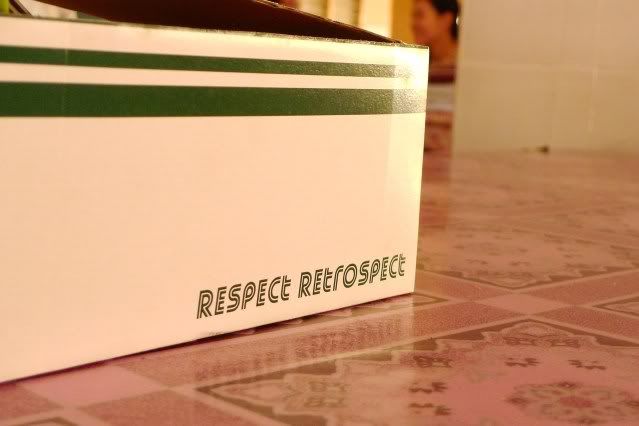 Tool box.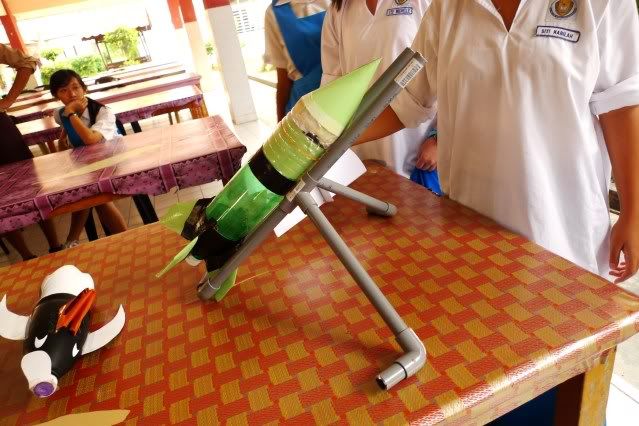 They even had a stand.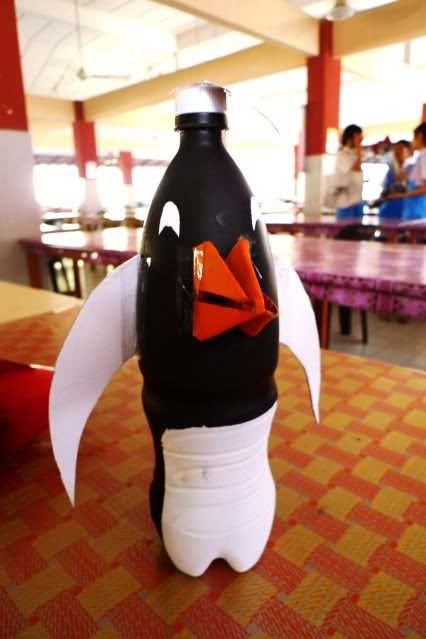 Shaun Jing's adohrable penguin one.
Made just for the design comp (:
Gosh, the competition is sooo male dominated.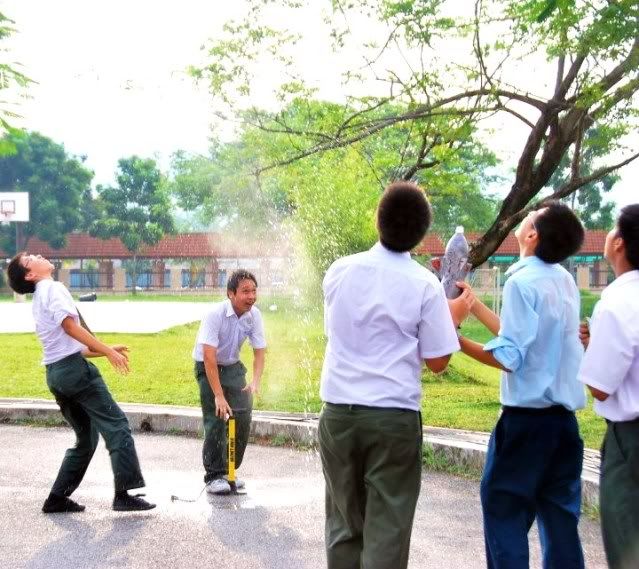 Stolen from Afiq
- Guys testing out their rockets before the comp.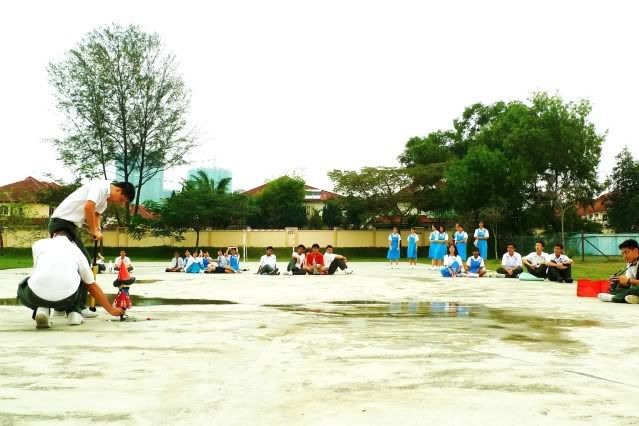 Launching of the rockets !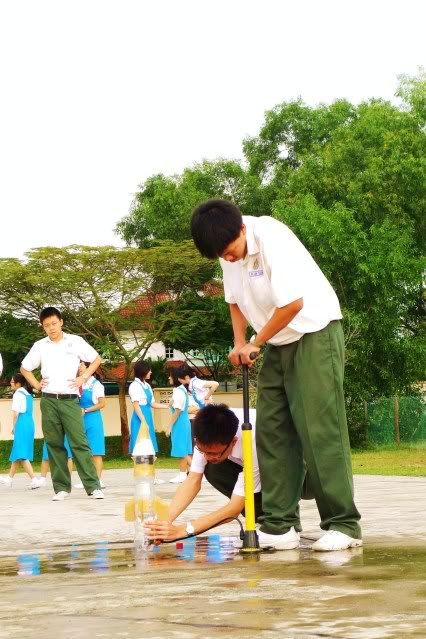 Classmates Chuan Yew & JunXian.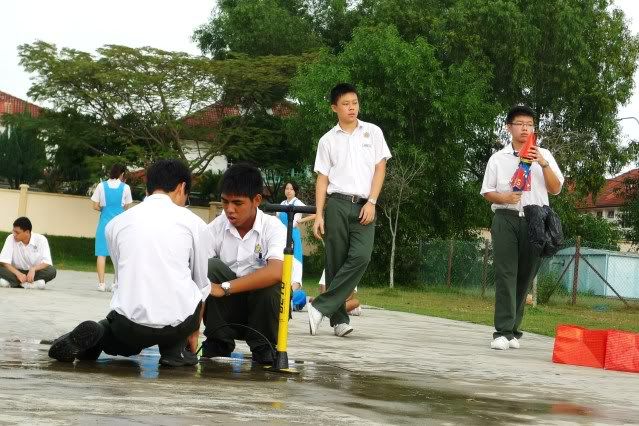 Daniel & Daryl's.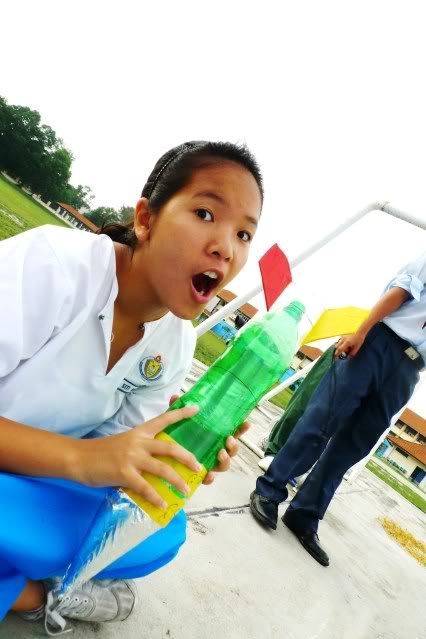 Nabs ! (:
She loves physics. Don't play play.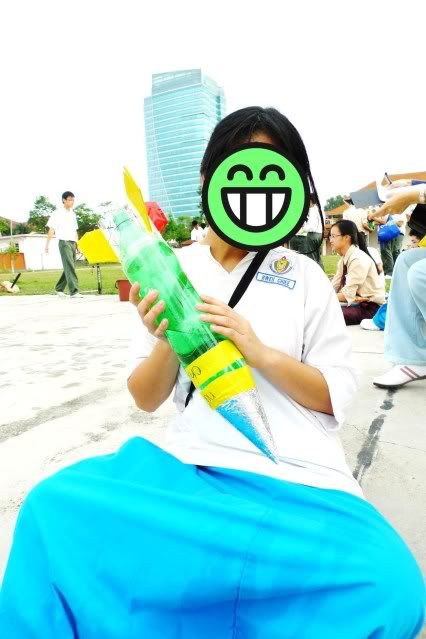 Me with rocket ! Which we named Chi-nabs. :D
SO CUTE RIGHT THE NAME bwahaha
Chi-nabs
Chi-nabs
Chi-Nabs
Chi-Nabs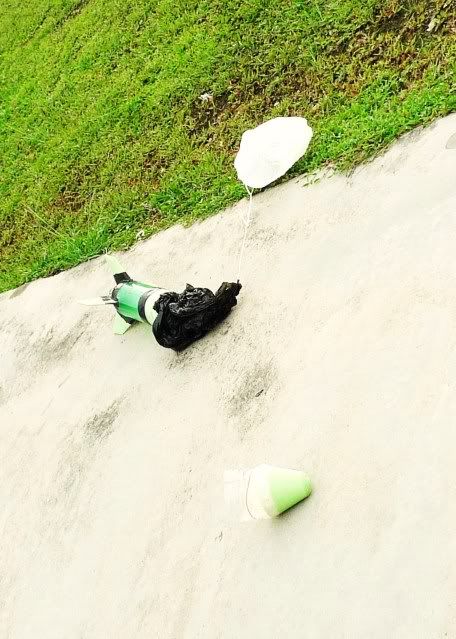 Failed parachute.
( Most of them had parachutes to increase the air-time. But we couldn't be bothered to put one.)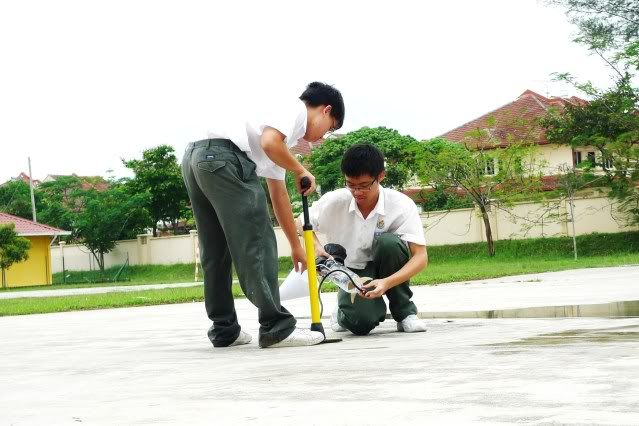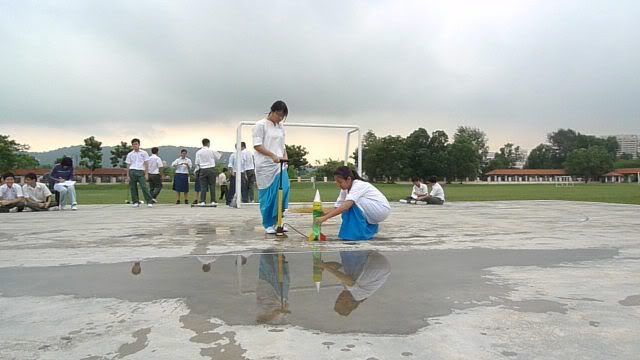 Preparing to launch.
I actually have a video.
But it takes forever to upload so forget it lah.
This took us by surprise.....
OUR ROCKET SHOT UP THE FURTHEST!
See that speck in the sky ?
It crash landed in the middle of the field.
But we is too happyz. :D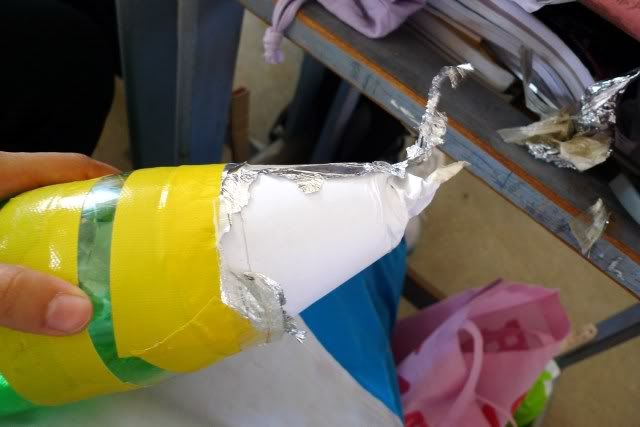 The hard landing made it like this.
Bottom few pictures credit to Afiq :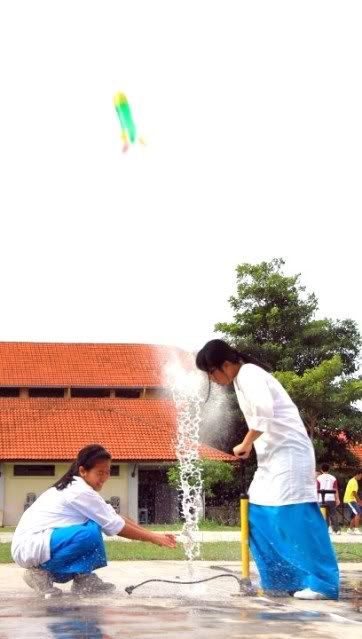 Woah the water coming up.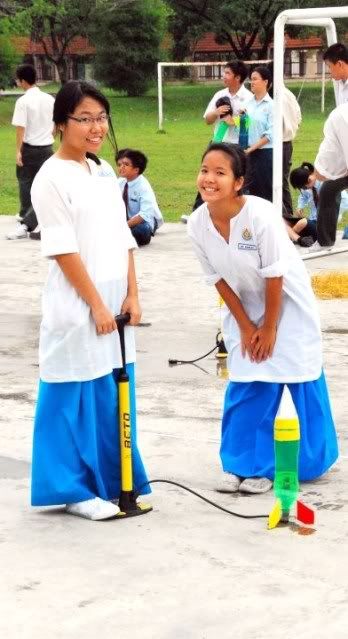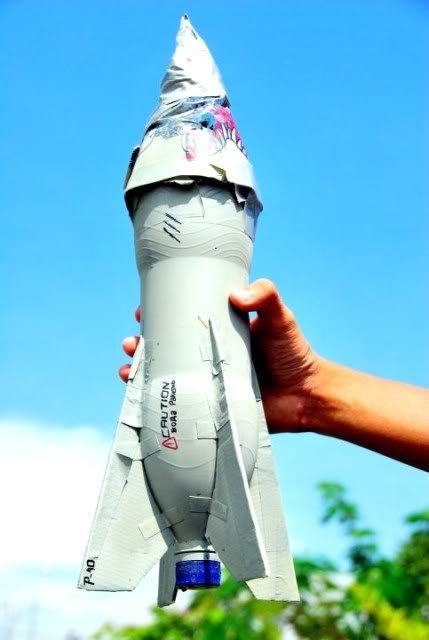 Afiq's rocket after crash landing. ( ! )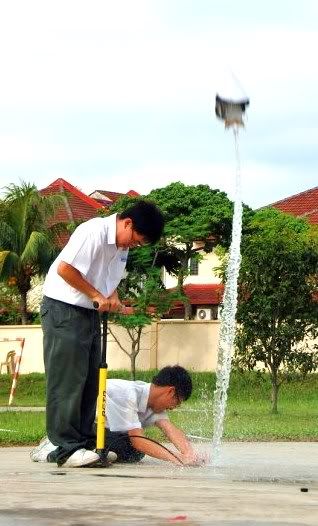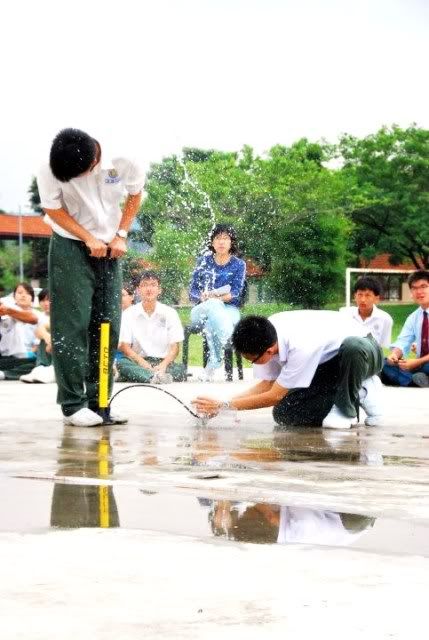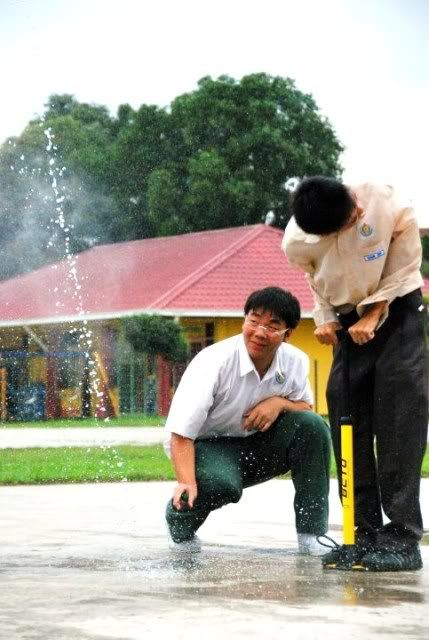 ***
The cone was so bent we made another on the spot.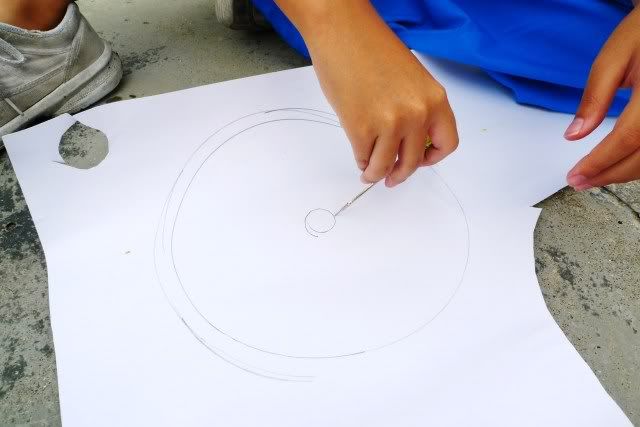 Nabs outlining.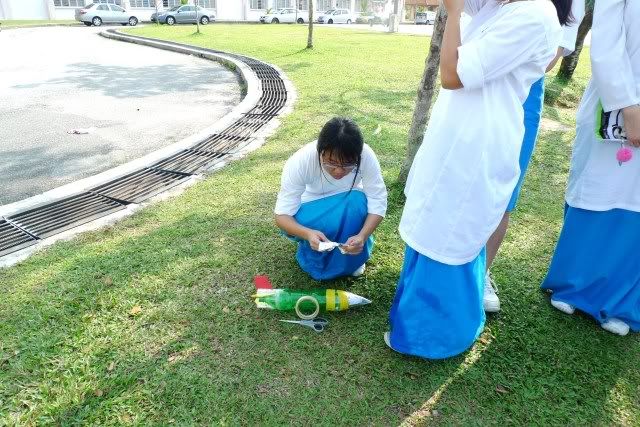 Aluminum foil. Our secret. (;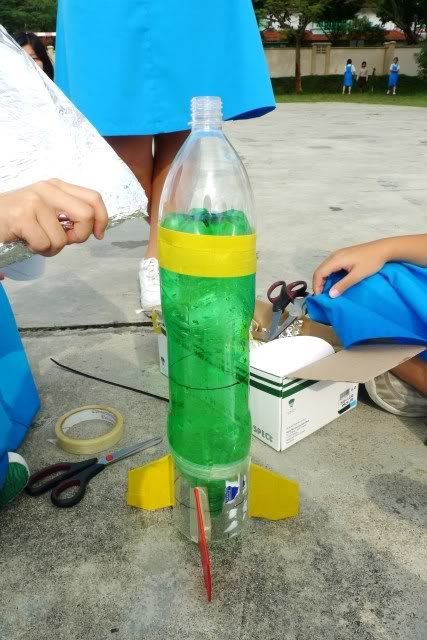 Toooool box.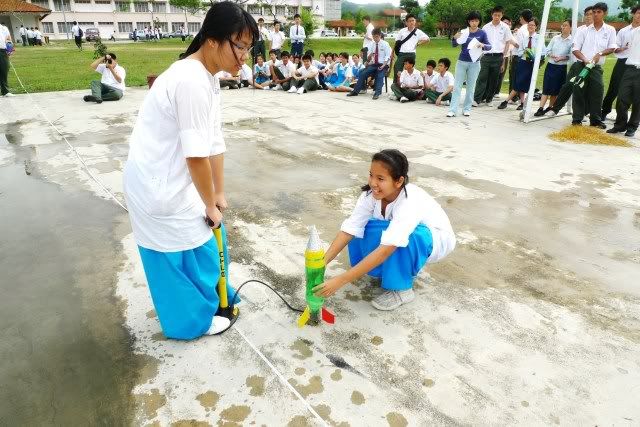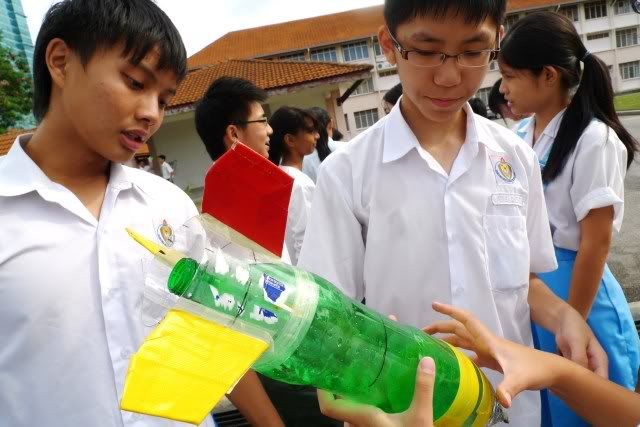 DISTANCE COMPETITION.
Richard's team won this category.
Theirs were epic.
90 m !!!!!!!!!
That's like, near the roof of the next school. o.o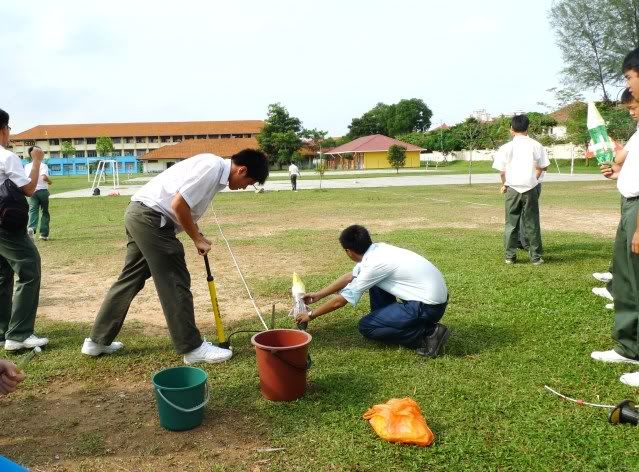 Daniel & Andrew's.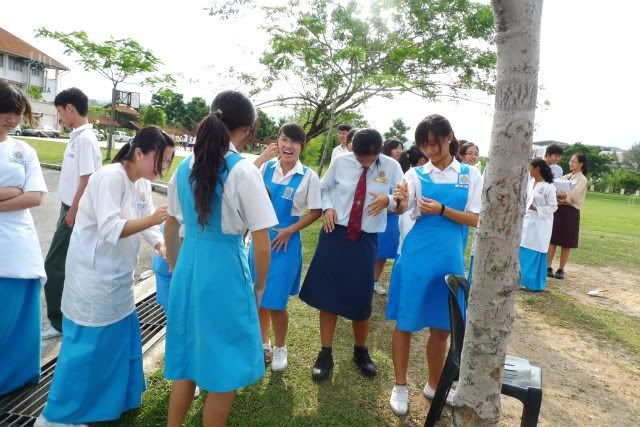 Spectators.!, that got splatted by the mud/water. Splatted Spectators.
:P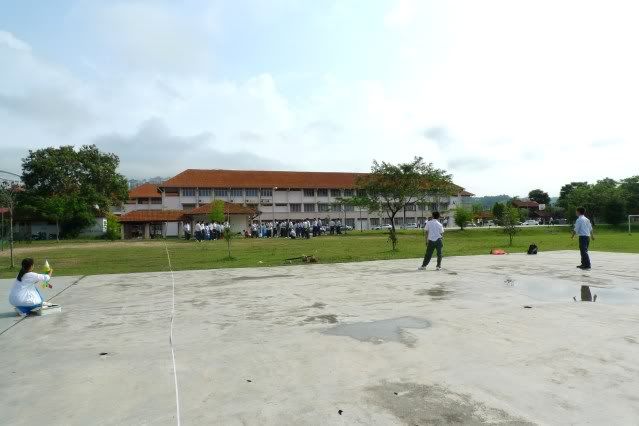 Tape to measure distance.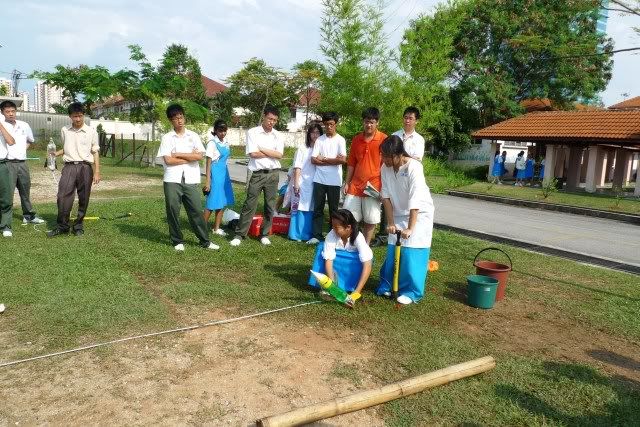 Ours. Nothing compared to Richard's.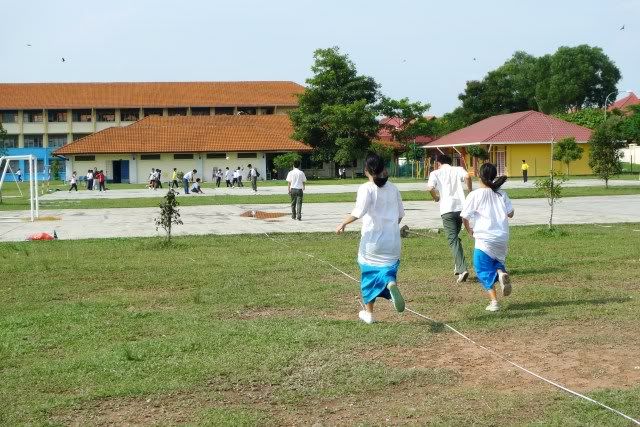 Running to the far end to get the rockets back.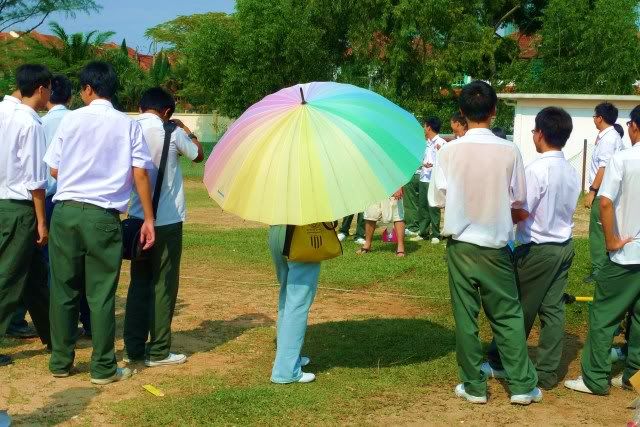 Pn.Leow's umbrella is so cute!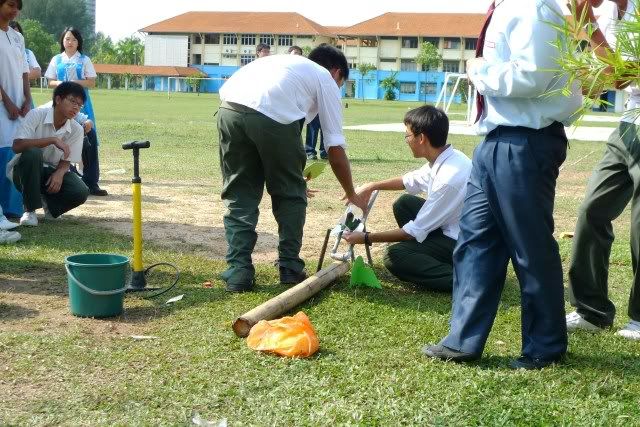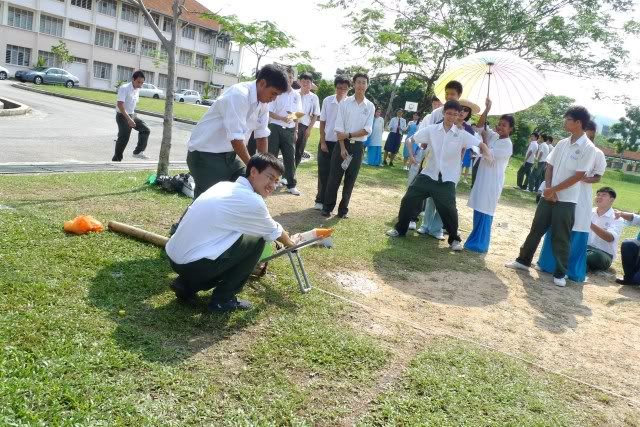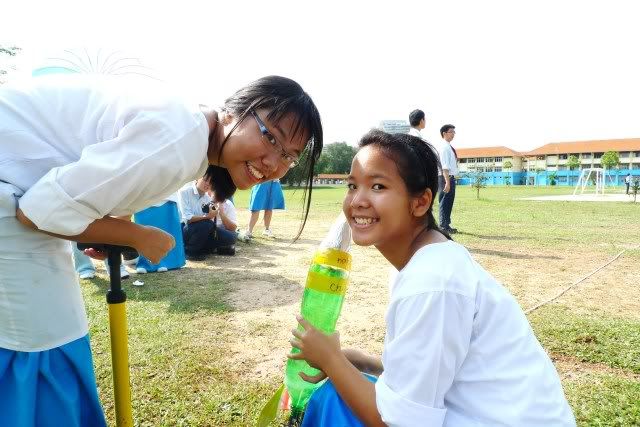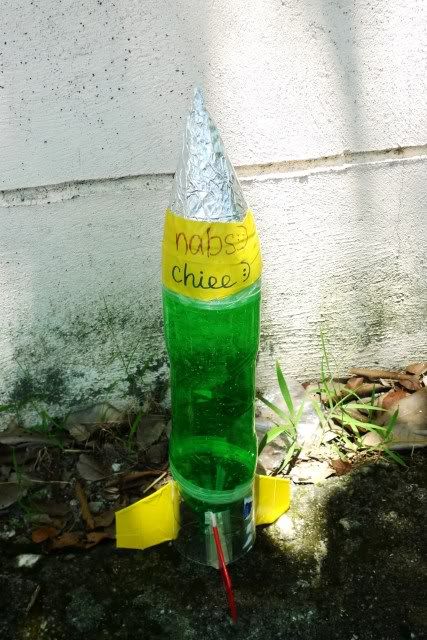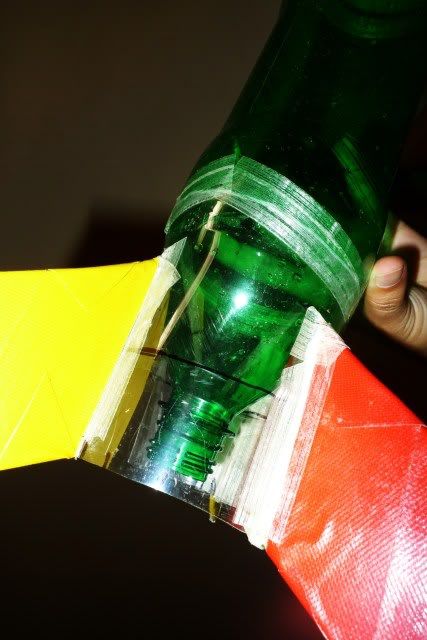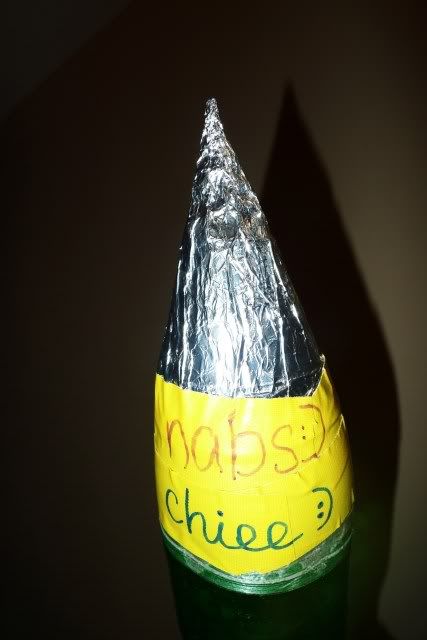 Aerodynamic shape.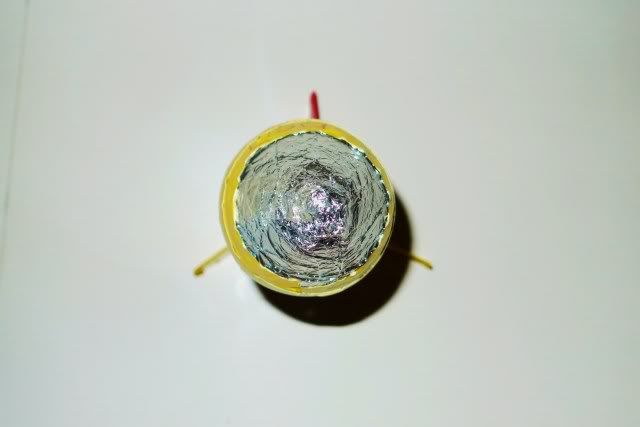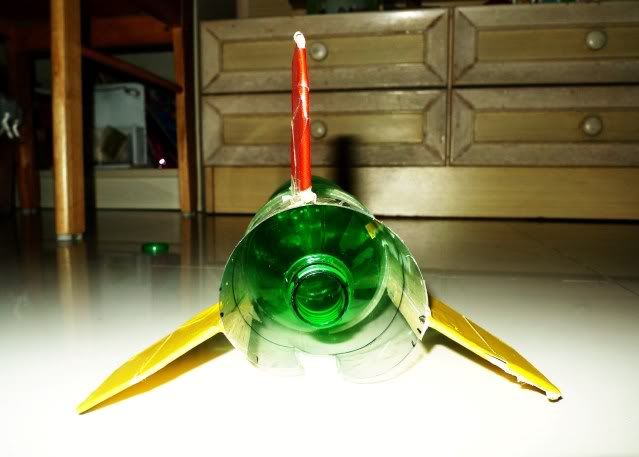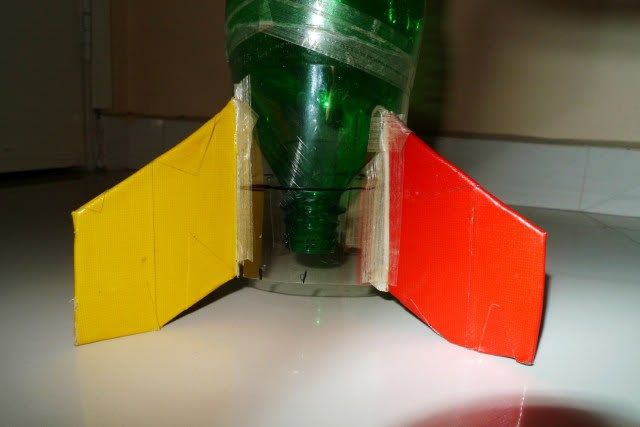 ****
That spur-of-the-moment paid off.
I'm so glad we decided to participate, even if it was for the fun of it !
Haha I bet the guys were muttering about two bimbos who joined last-minute winning the prize. :P Whatevs man, whatevs.
Whenever asked the secret to how it went such great lengths..... we say
"
7 Up
! "
I know it's lame but it's definitely apt.
Cause our rocket stayed 7 seconds in the air.
And we used a 7-
UP
bottle.
(:
Till more unexpected events occur.
toodles.