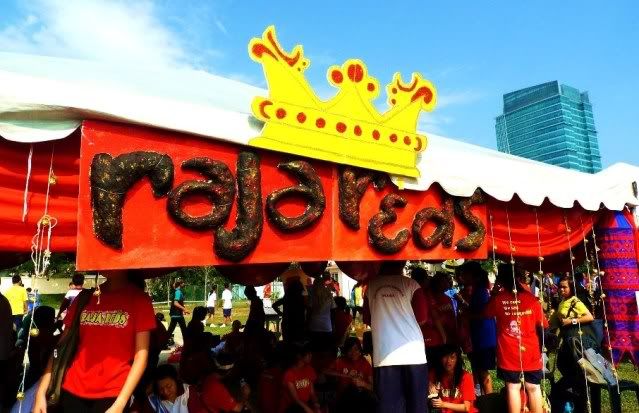 On the
5th of March 2010
, Friday ;
My school held it's annual
Sport's Day
.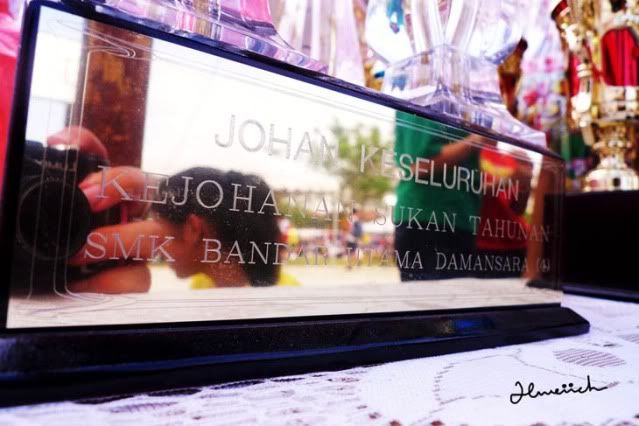 [pic] OVERALL CHAMPION. The title everyone desires.
Anyways. Let get on to it ! (:
Themes for 2010.
Theme-elaborating-pics stolen from
JinWei
.
thanks loads !
RED
~ Raja Reds -
Theme by Laj
Based on some Raja Thani culture or something.
Like, King, Riches, Power, ... and more POWER.
Honestly raja makes me think of yellow tho.
YELLOW
~ Bumble Bee -
Theme by Geraldine
Very cutesy lah. The shirt should write " Bee-ware " or something punny like that.
It's too cute . :P Bumblebee and Honeypots filled the place.
GREEN
~ Green Peace -
Theme by Xianqi
ZOMG I LUFF THIS THEME IT IS AWESOME IF ONLY I COULD DO THIS THEME OMGOMGOMG
Peace symbols, "Green House Effect", John Lennon, Hippie-chic
No, seriously. I could make a themepark outta this , super fun .(: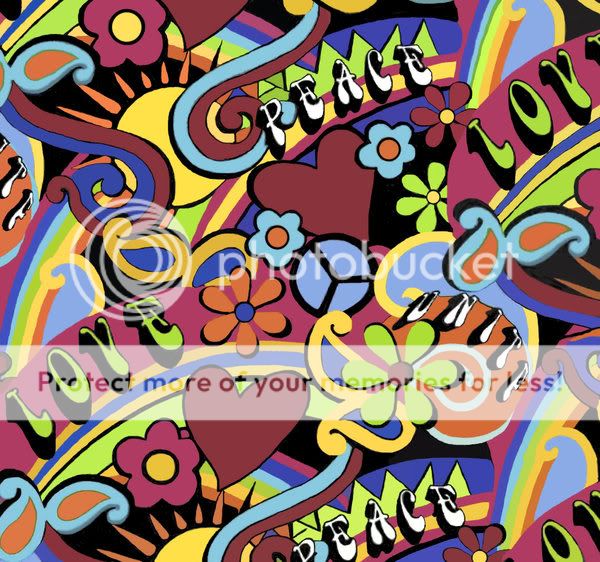 BLUE
~ Avatar -
Theme by Waiseng
Lol. I actually saw WS's draft on paper.
It was . I-m-p-r-e-s-s-i-v-e.
They actually wanted to borrow props from Sri. KDU,
who apparently did the same theme for blue as well.
Respective
HOUSE LEADERS
of 2010 :
RED - Sheng Hao
Yellow - Andrew
Blue - Zakirah
Green - Choong Yean
Okay I get it, you guys are raring for the pictures.
Nahhh. (:
If anyone wants to grab these pictures, you're welcomed to.
Just credit it to me. haha
Starting off with...
MARCHERS.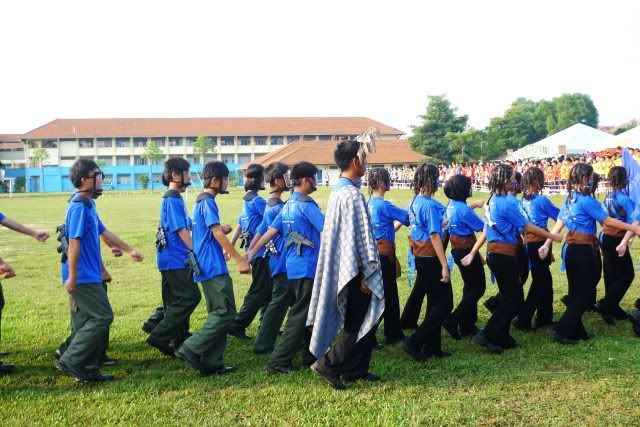 Tribal headgear.
The leader's tribal headgear is epic.
FEATHERS.
:D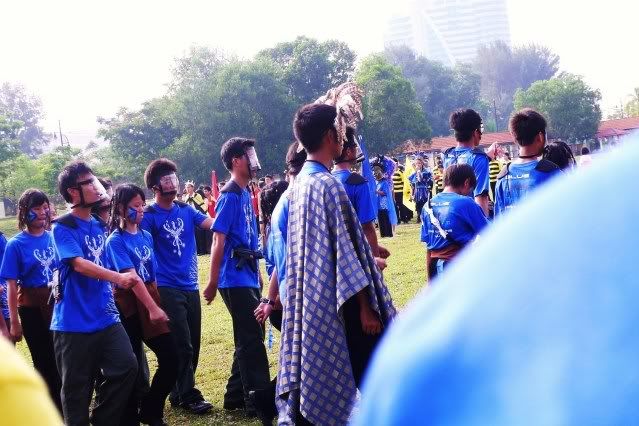 Look at their mask?
Wonder what's it made off..
I didn't see properly that day :\
( More pictures of them at the bottom of post )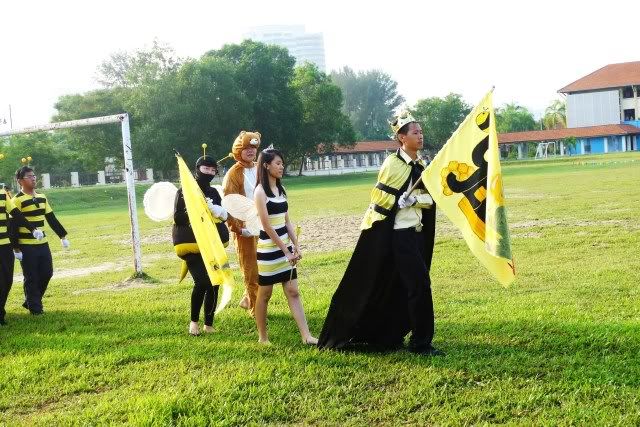 BUMBLE BEEEEEE. (:
The dress is so cute!
zomg look at Adwin. AHAHAHA ( Bumblebee dude )
And there's Tim !
As the honey bear.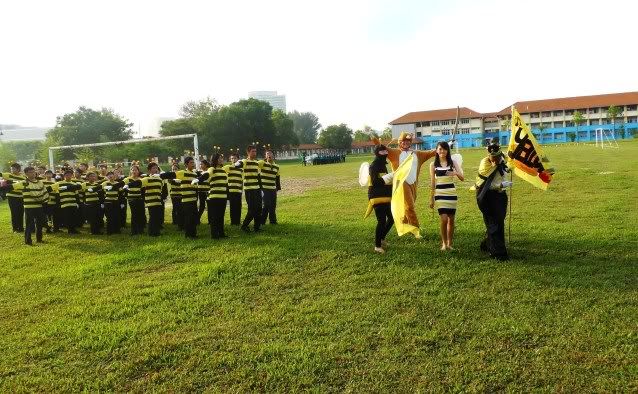 Salute.
They won the Marching Champions title this year ! (: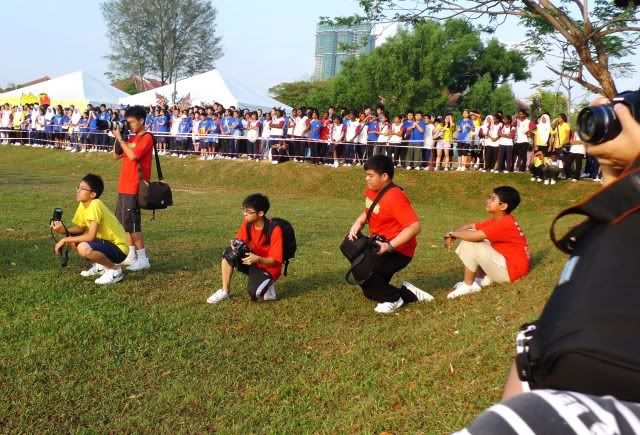 Shutterbugs.
I just realized my school has a whole lotta 'em.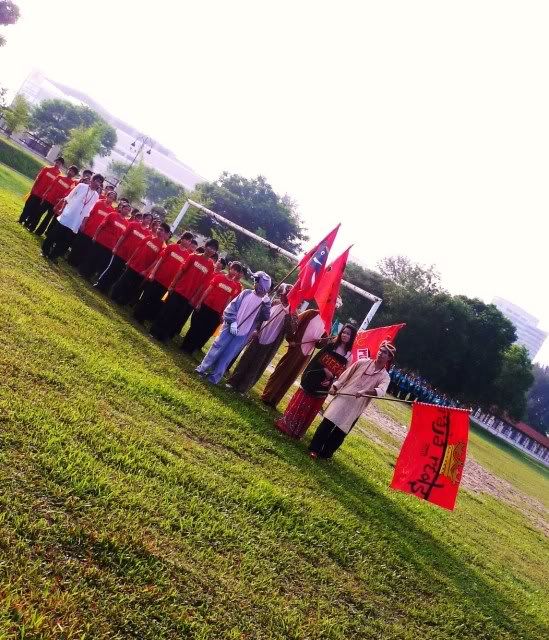 RED HOUSE !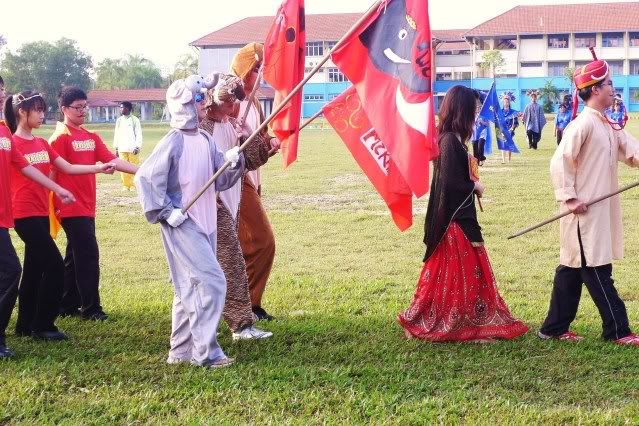 We have 3 mascots ! :P
Elephant is Yie Hong ,
Tiger is Huayen ,
Monkey is Ying Qing.
We were supposed to only have one.
I don't know what happened lol. =.=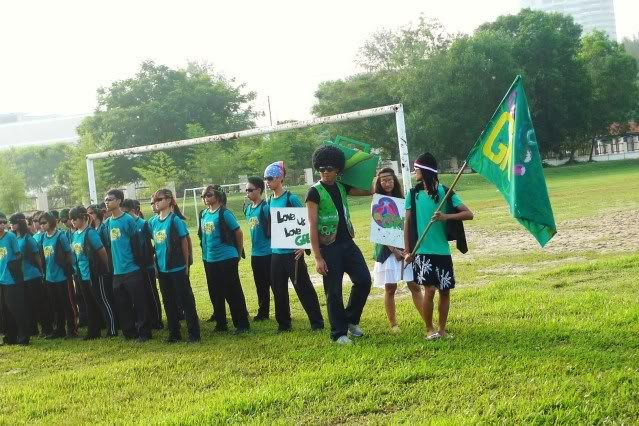 Hippie peace-ness. !
I like the idea of d.i.y those vests. Really cute.
Woaah. Look at Aiman. He's suppose to be John Lennon.
The boombox adds a nice touch .. :)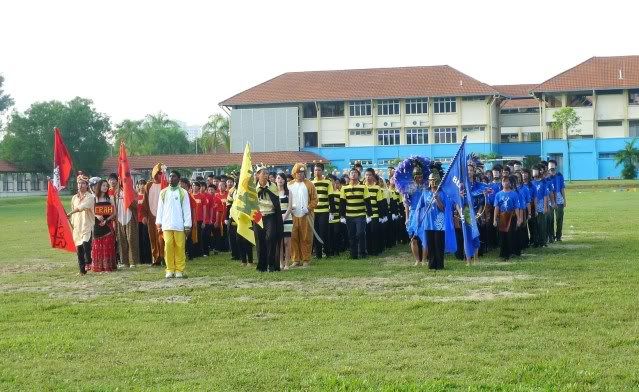 Red house, Yellow House & Blue house.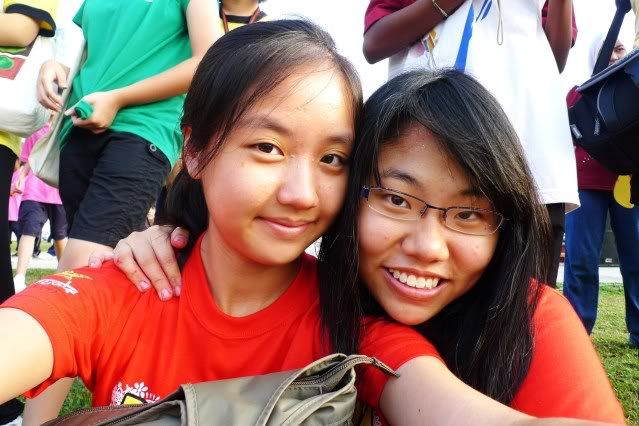 Me & Jacq camwhoring while waiting.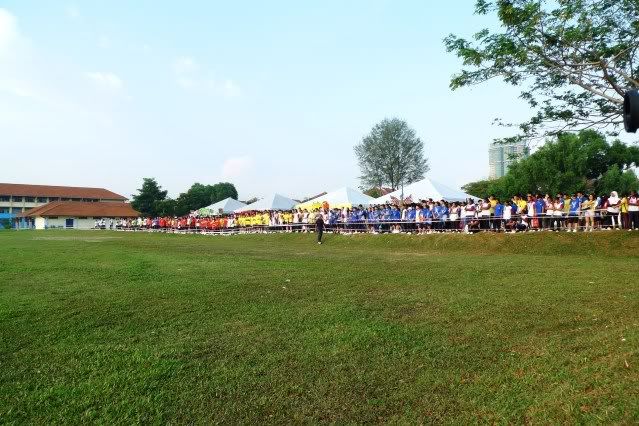 Excited students. ! (: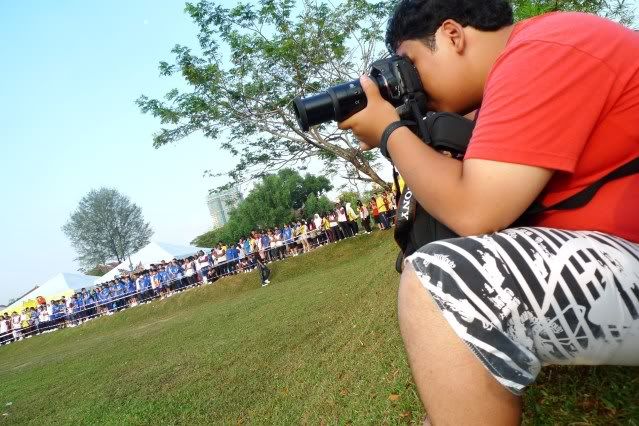 Shutterbug neighbour, Norman. with his DSLR.
I want one. :O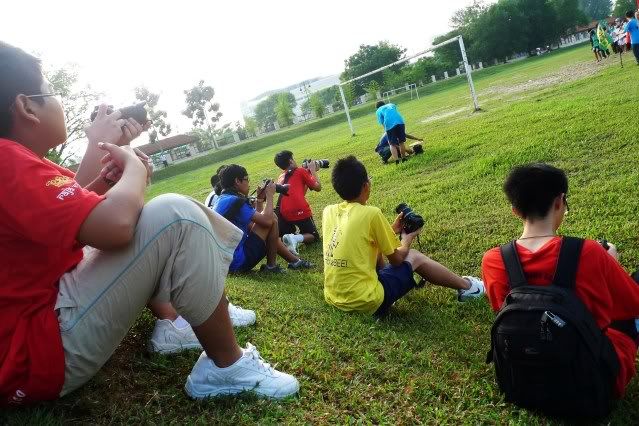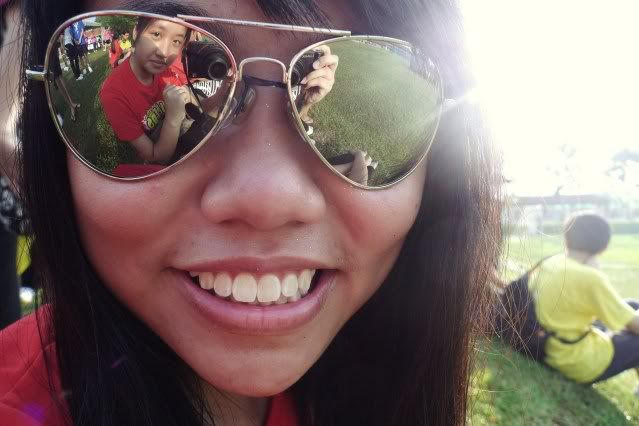 Likie my reflective aviators? (:
A moth that loves my fingers. I don't know why !
But ... It's so cute (: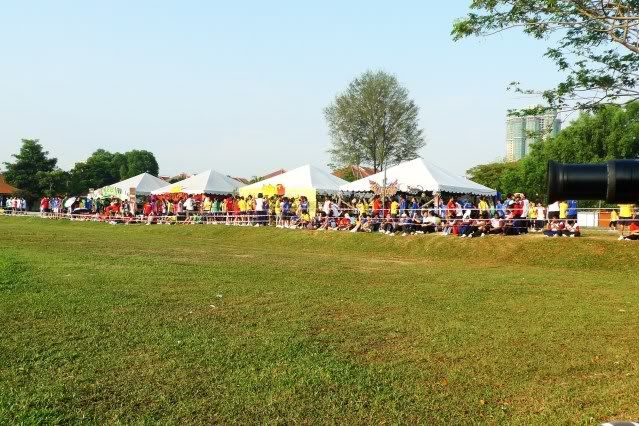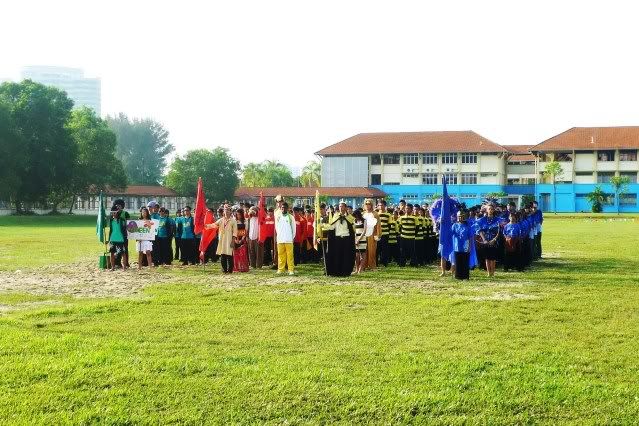 ALL MARCHERS.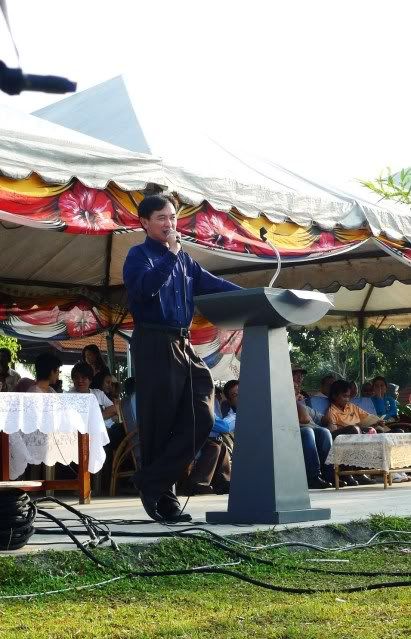 The usual speech.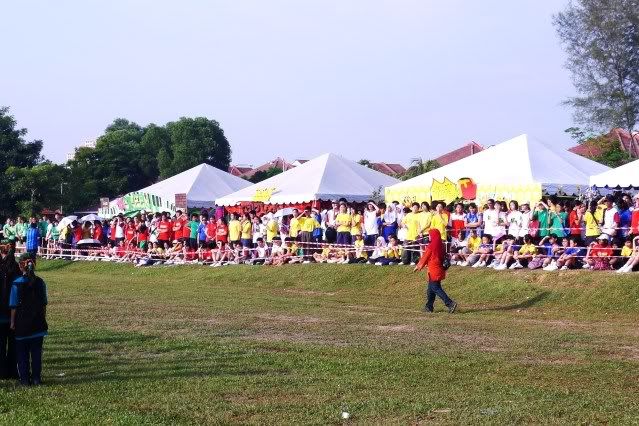 Marching Competition.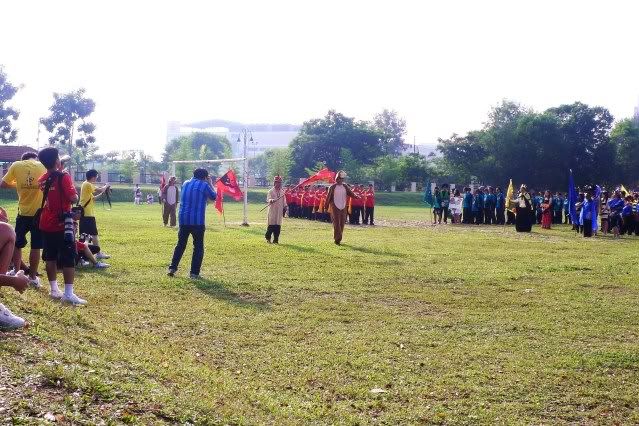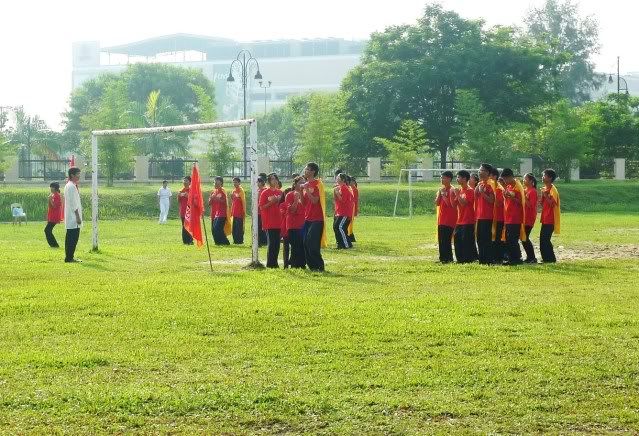 Showing their FORMATIONS etc.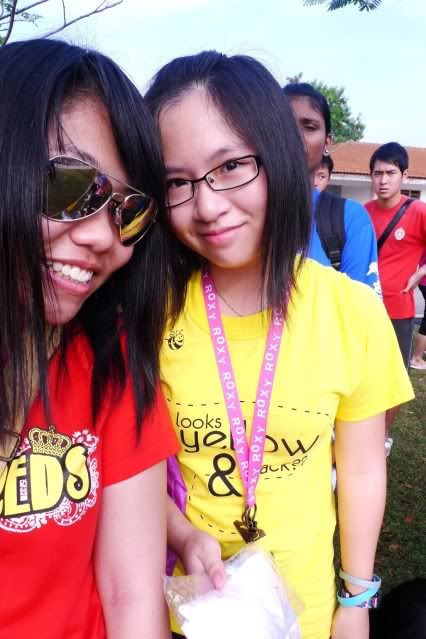 Me & Michelle. (:
Then !
It's Cheerleading Competition Time.
Cheer Captains.
Red
Charis
Yellow
Ashley
Blue
Delia
Green
Clara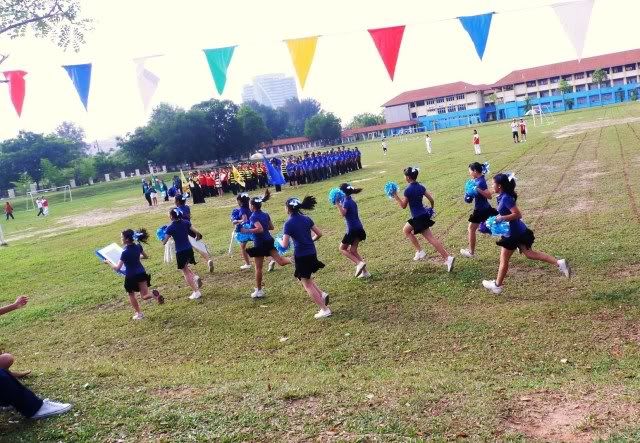 First up : Blue
They used umbrellas in their dance. lol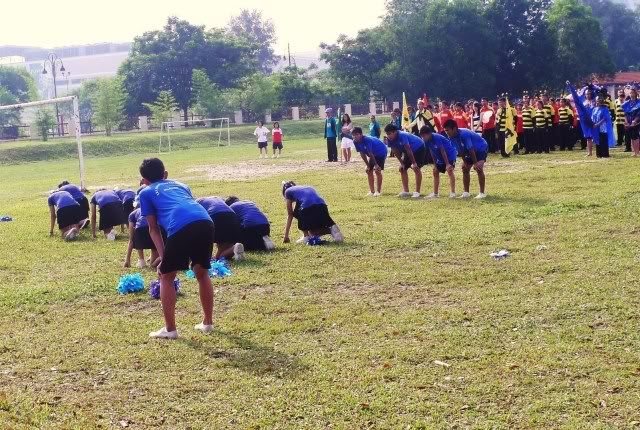 And included guys.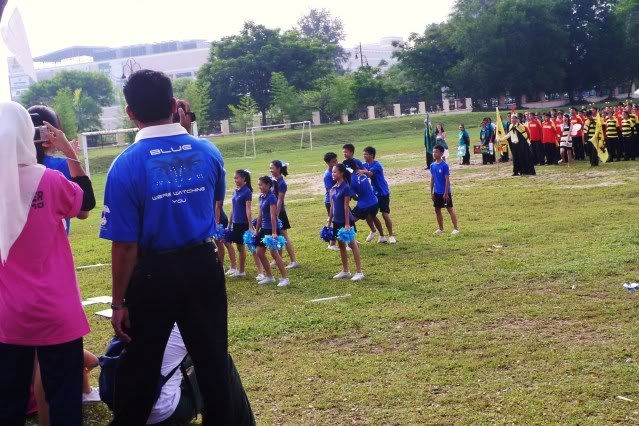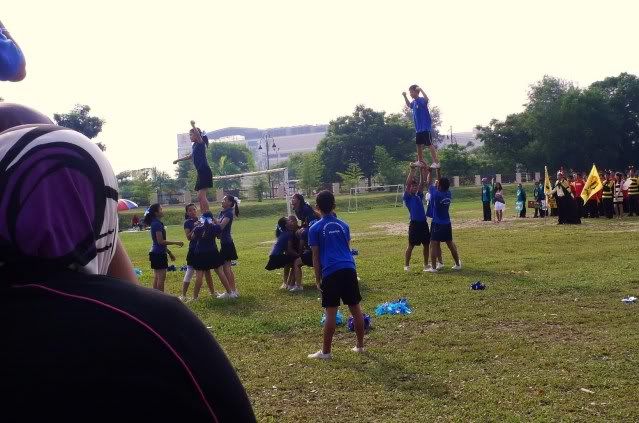 Yellow House Cheerleading :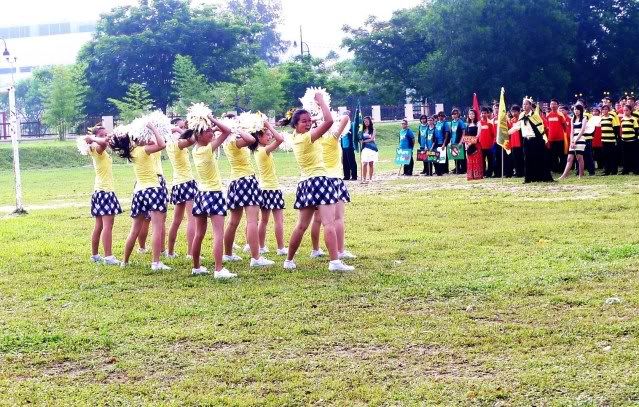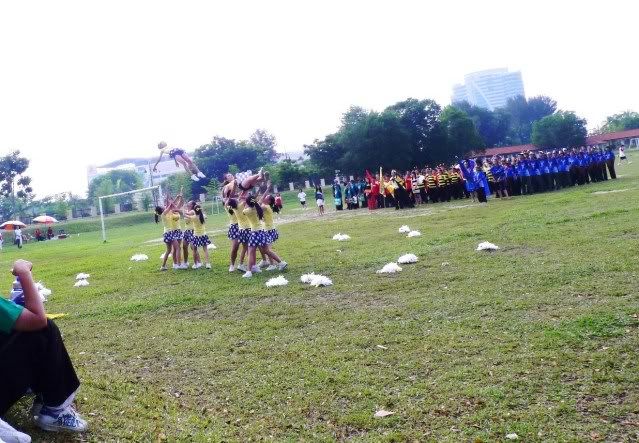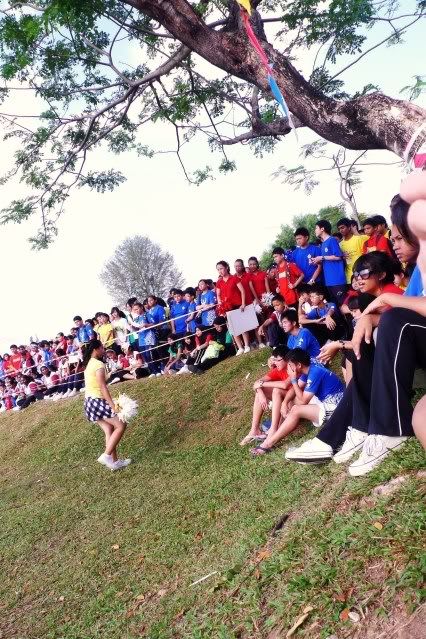 Spectators !
Red house :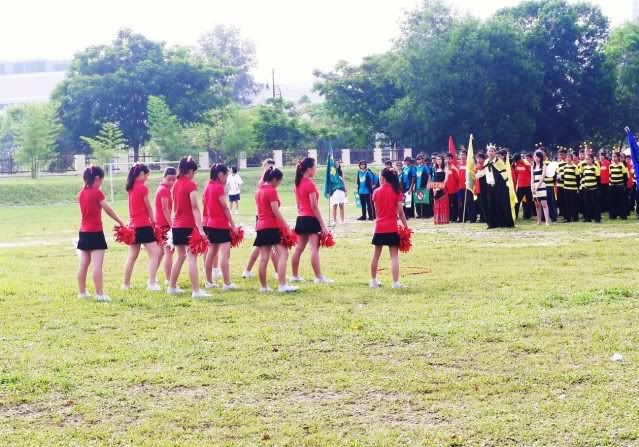 They were awesome ! (: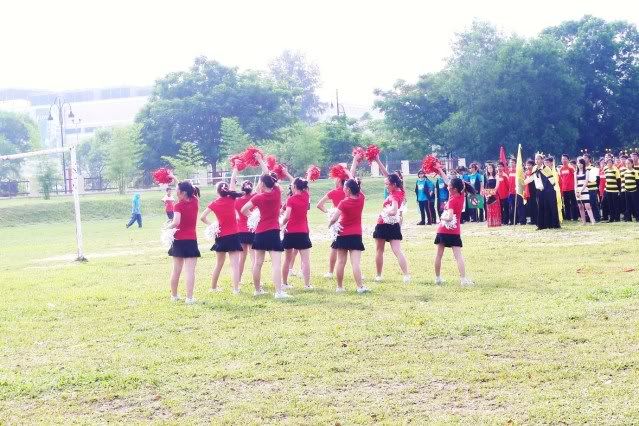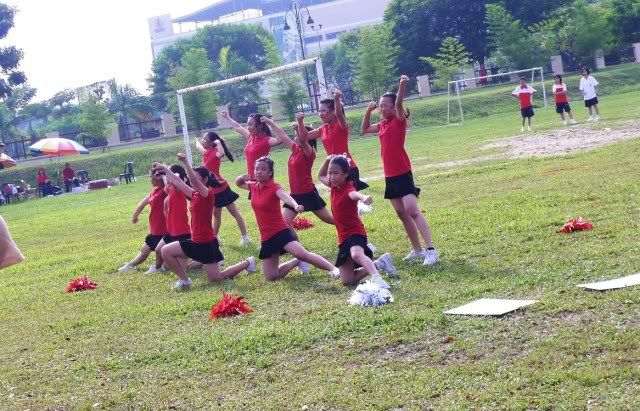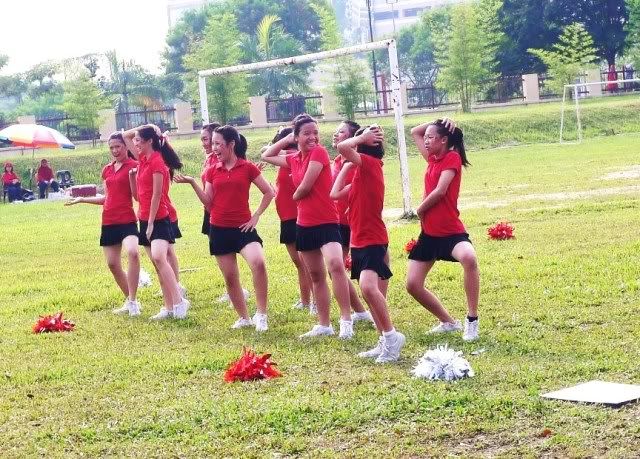 Intro of 2nd dance that got everyone excited.
:D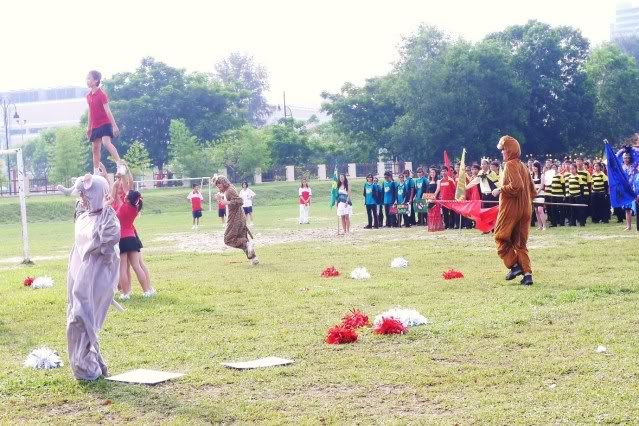 A surprise intro of the mascots !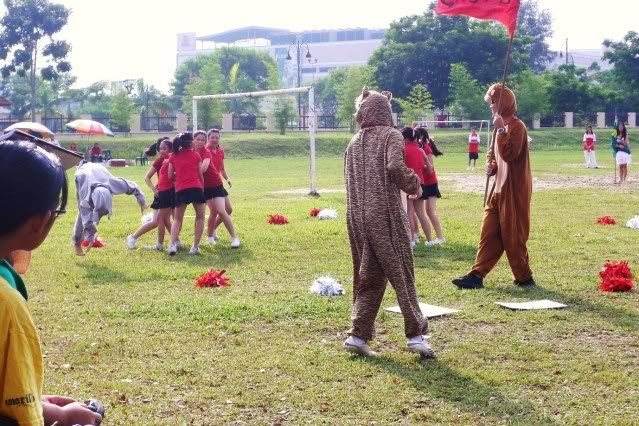 Yie Hong did a cartwheel, I think.
ELEPHANT haha
Huayen did a toetouch as well, but I didn't capture that .

:D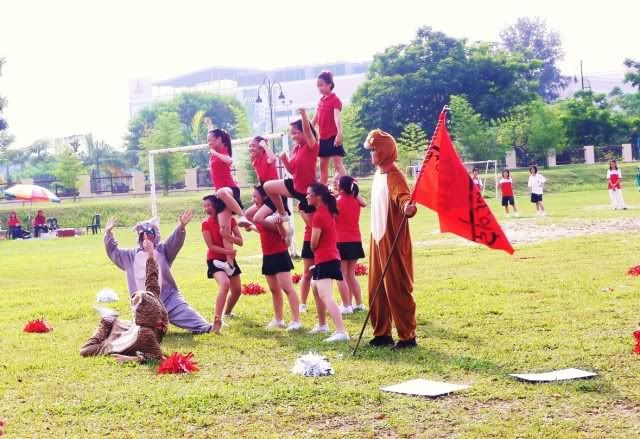 (:
Green House cheer.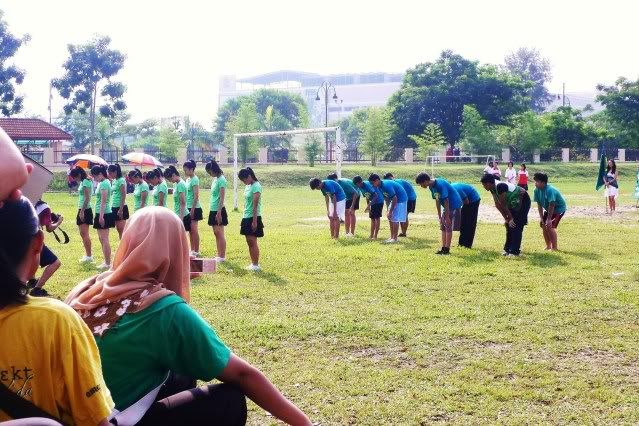 They had so many guys !
There was a point in the whole dance where they had to dance super smexily . The " Nobody" dance. omg
And ALL the guys did a toe-touch.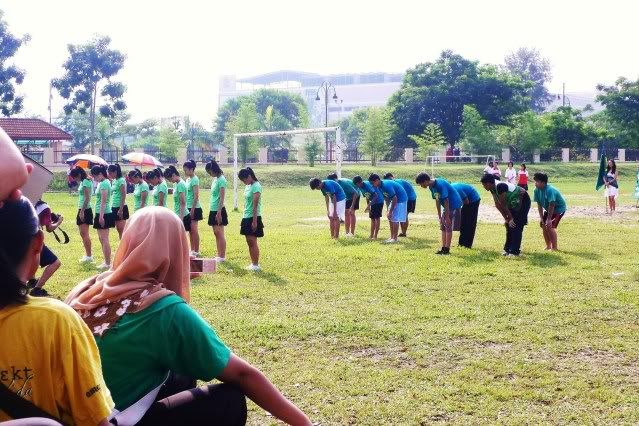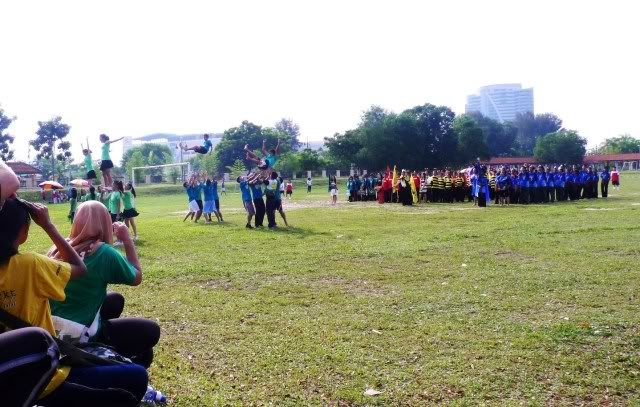 Can you believe it? Choong Yean, the leader of Green House;
was a Flier.
Afterwards, a short break.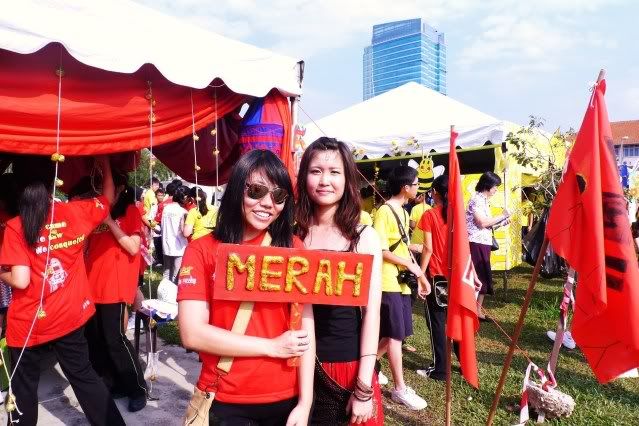 Me with pretty Shenny. (:
Best Tent contest.
We didn't win, but I think all tents looked really awesome.
Just that Blue was exceptionally awesome,
so they deservedly won. :D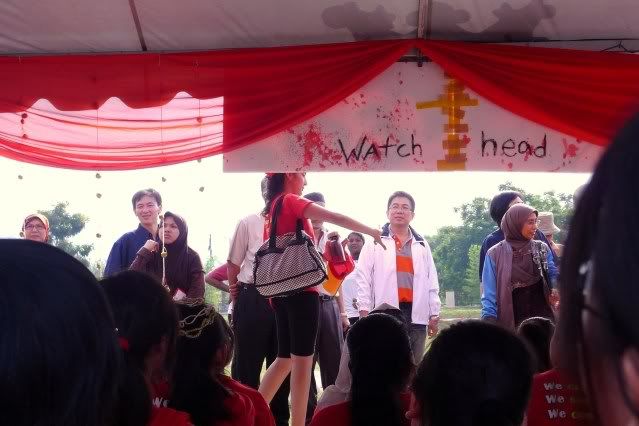 Here's Lajreena ellaborating on the theme.
Our
Tent Deco
.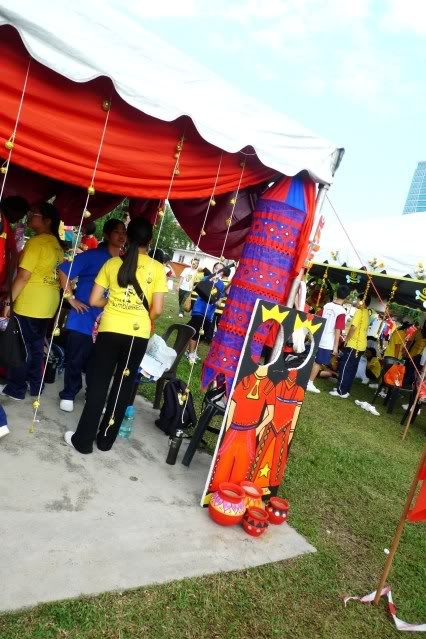 Red House Deco.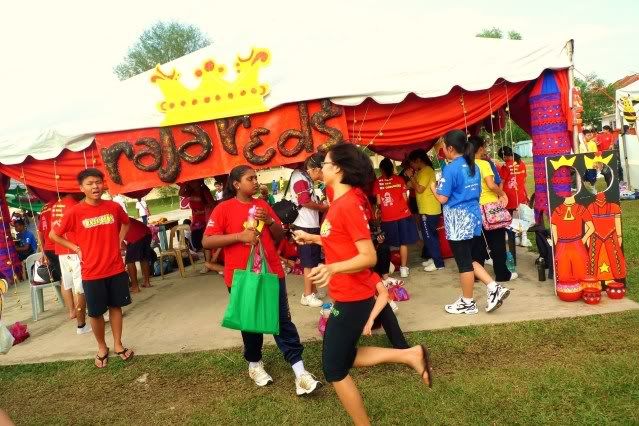 Overall view.
( Couldn't get a good picture, with so many people going to' & 'fro. )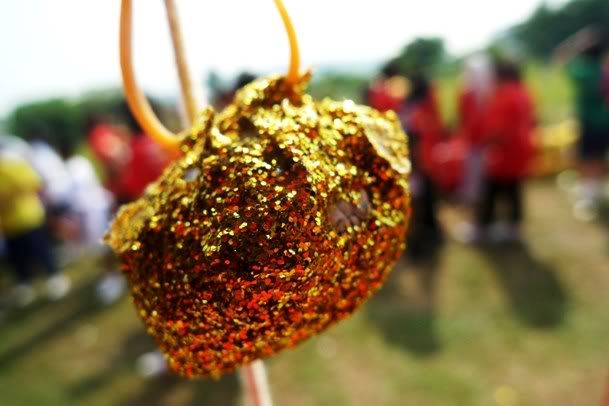 Glitter balls.
We used epic proportions of glitter for these.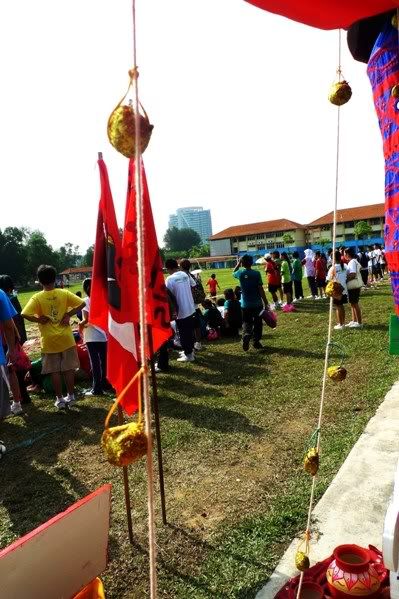 It's our " bead " curtains.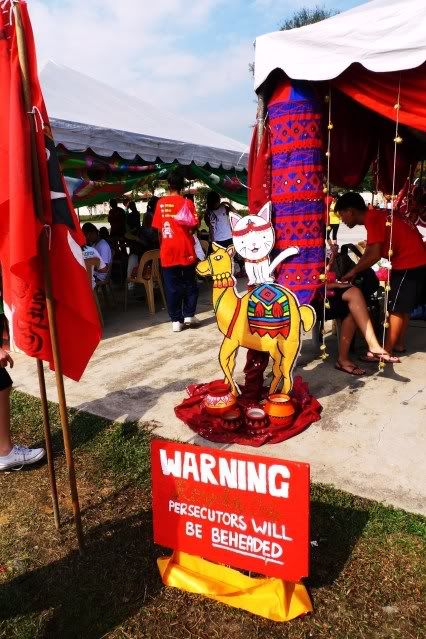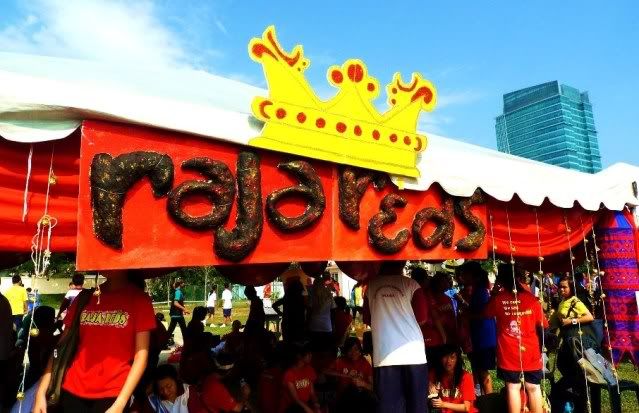 Header, etc.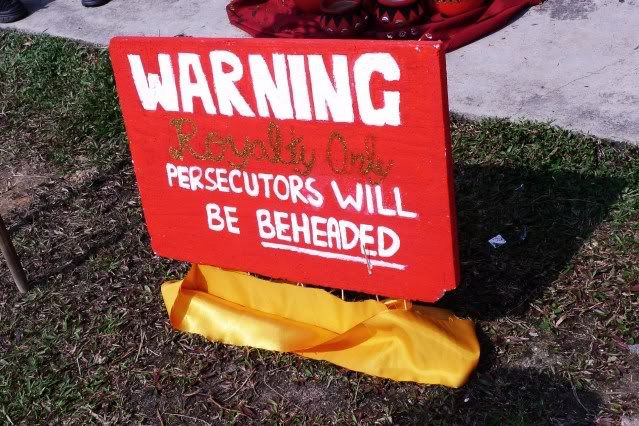 The cut-out ! hahahaha
GREEN HOUSE DECO :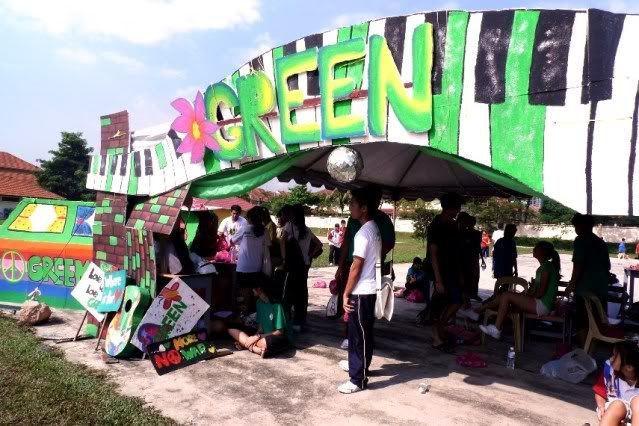 Xian Qi & I.
:D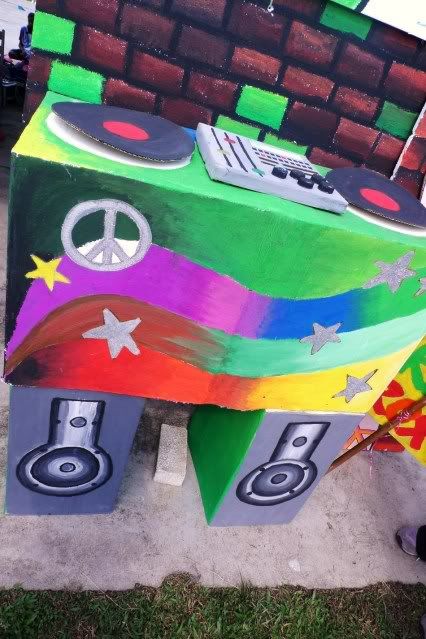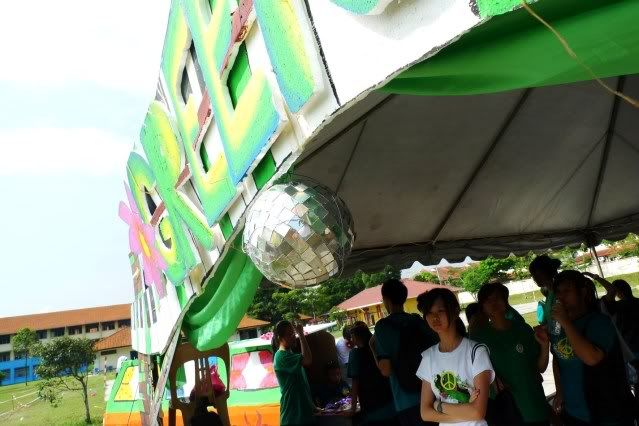 The painstakingly handmade disco ball.
All mirror squares were made outta old CDs.
I saw 'em cut it.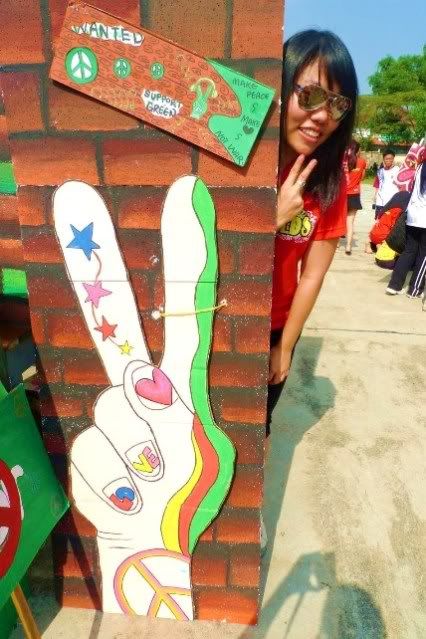 Peace ! (: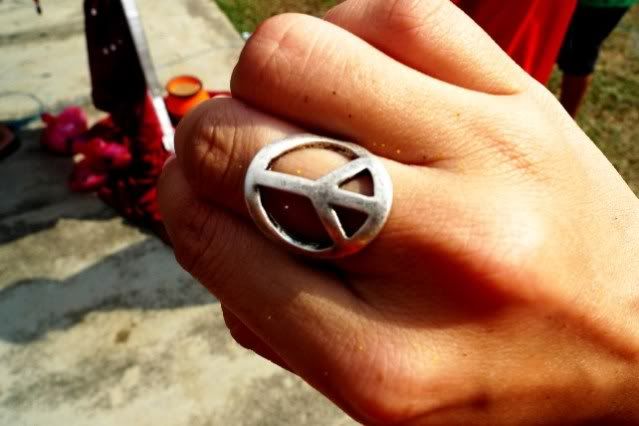 I just happened to have worn my peace ring that day .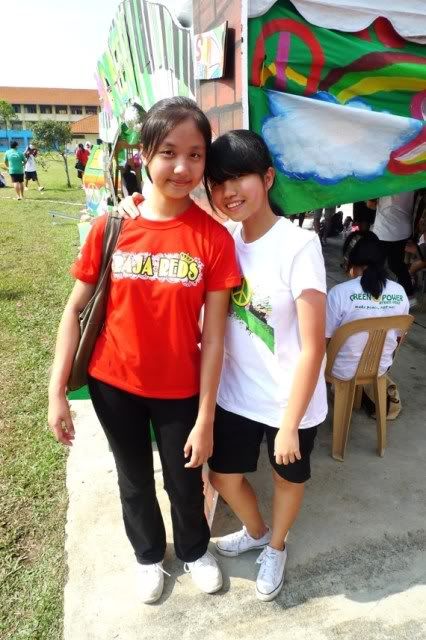 Jacq & Wen Yi (: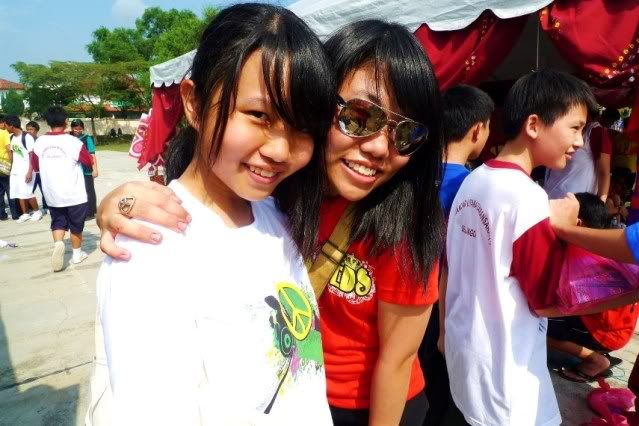 WenYi & I.
Me & Crystal.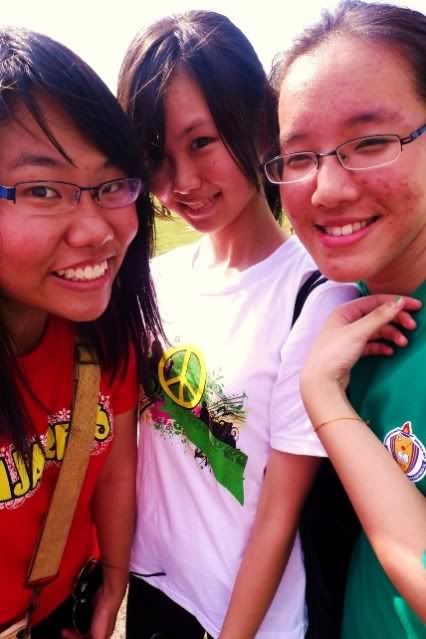 ... & XianTing.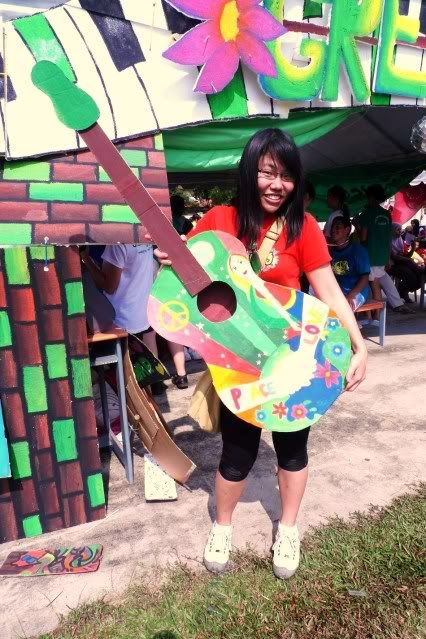 Gotta love this guitar (: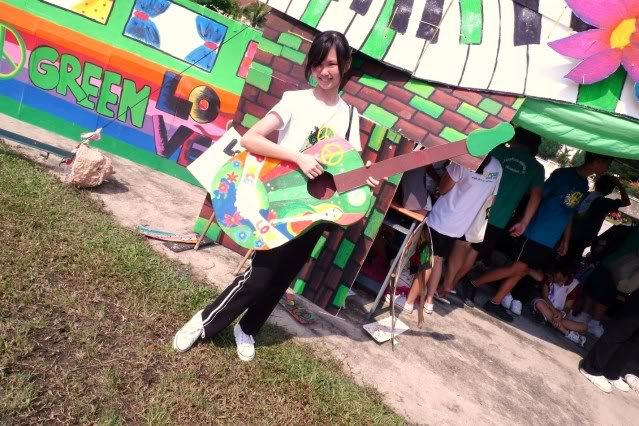 Crystal ! :)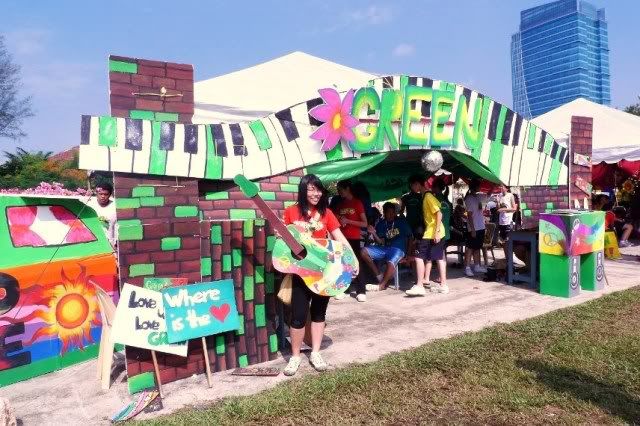 Overall view of the whole tent.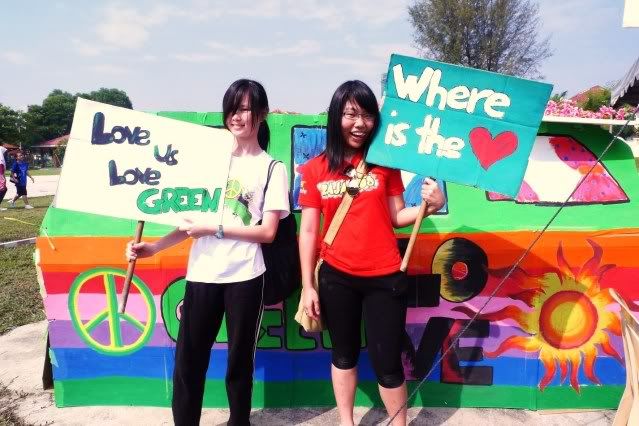 3D VAN. haha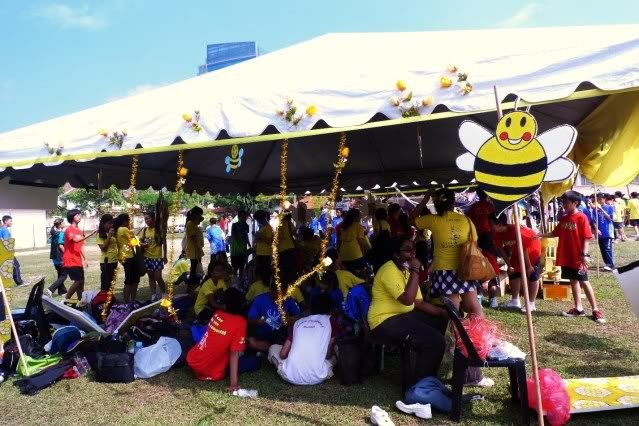 Honey beeeeeeee tent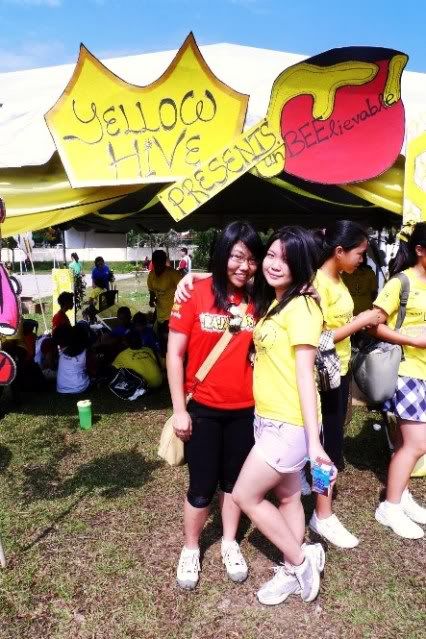 Me & gorgeous Dino (:
Here's the best for last.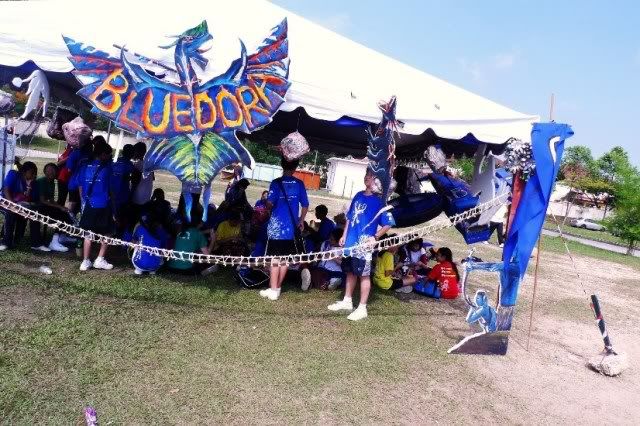 BLUEDORA TENT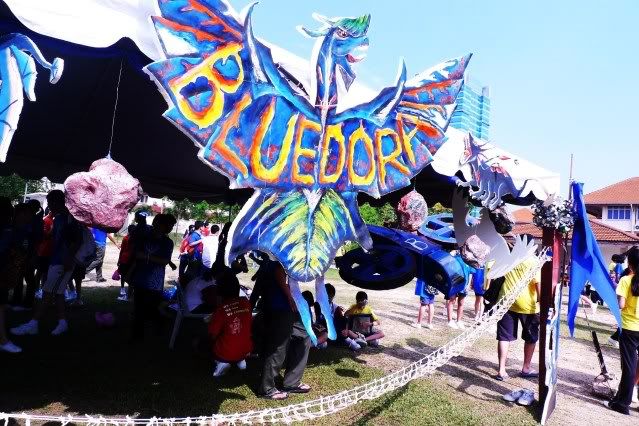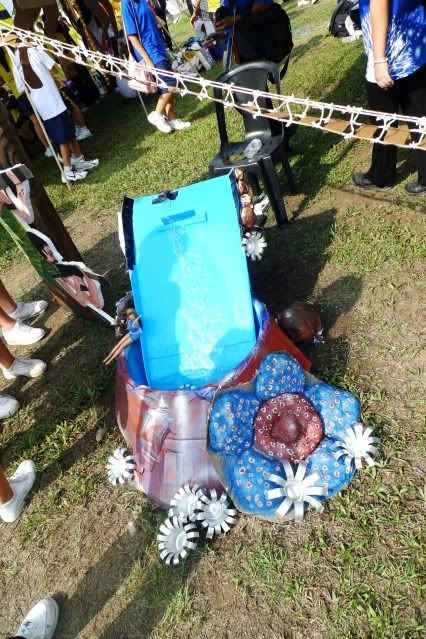 It was a real waterfountain. I wonder how on earth they got that there.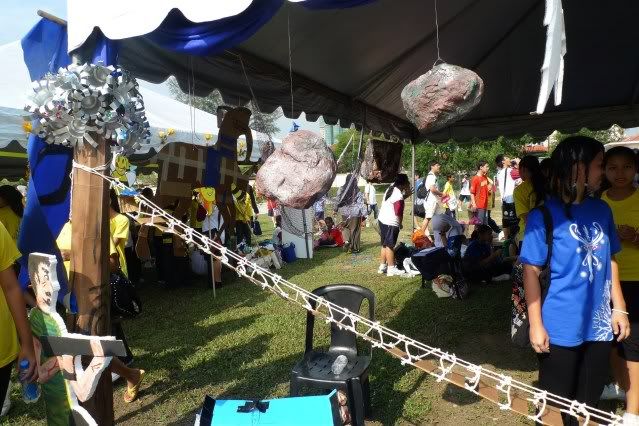 Rope bridge.
**********************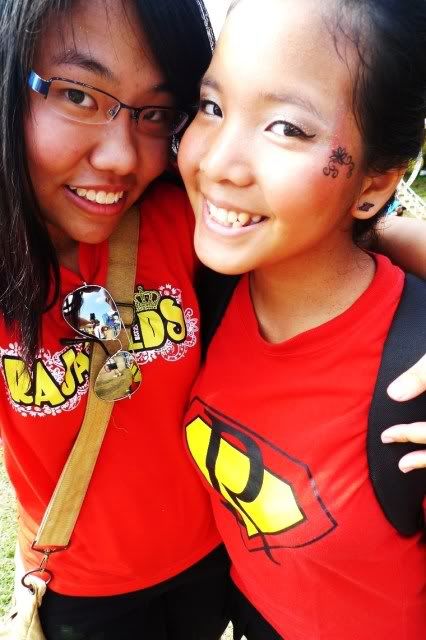 Me & Nabs. Heavy with makeup.
I just realized i have no pic with Charis. =.= she ran away.
Random snacks given on SD to make us hungrier.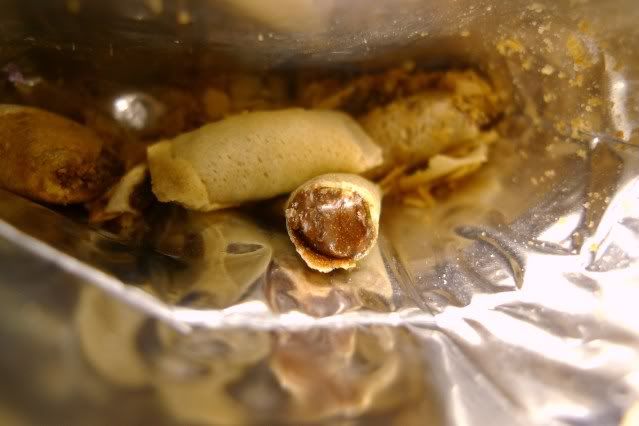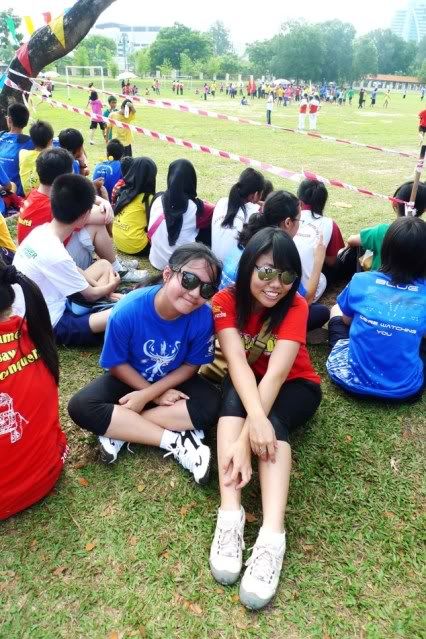 Sam, bundle of hyper.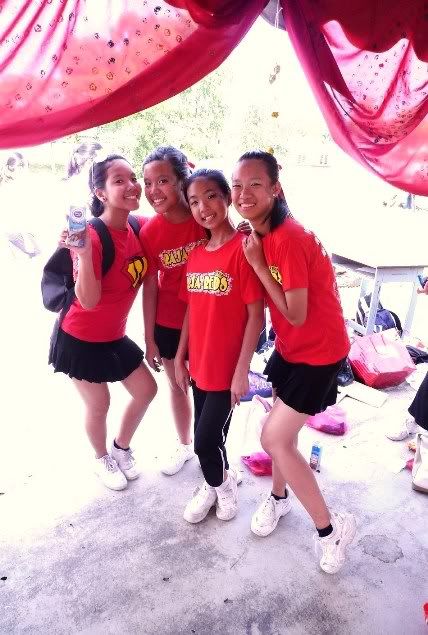 Happy cheerleaders. !
They got 2nd btw. (: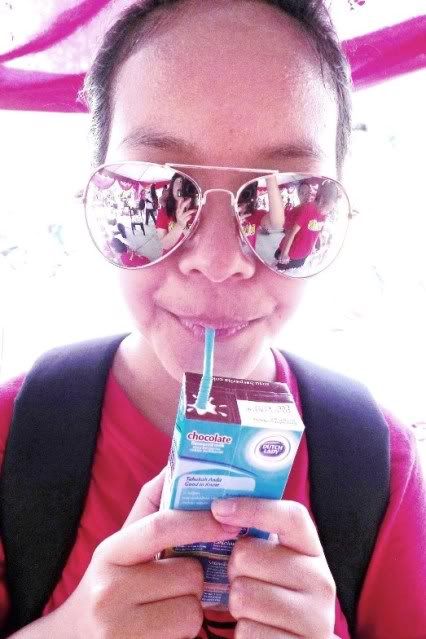 Nabs sipping on Chocolate milk with my aviators.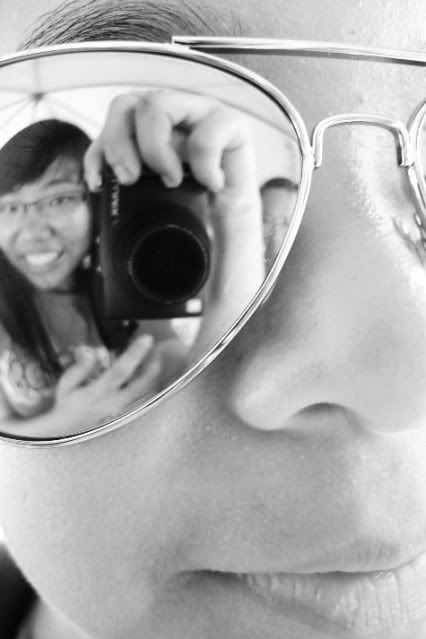 I don't need to carry a mirror around.
:P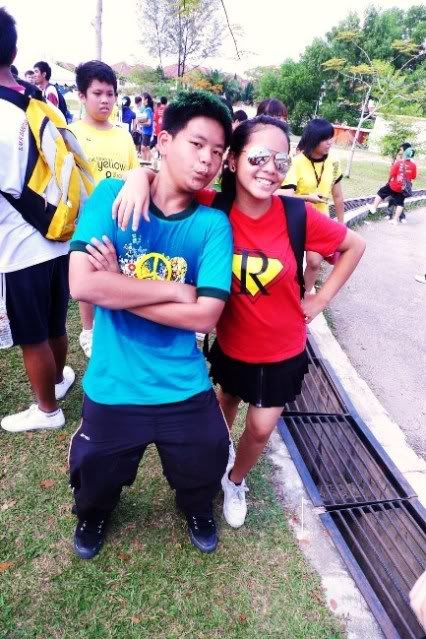 Mr. Shum Yu Cheng. & Nabs.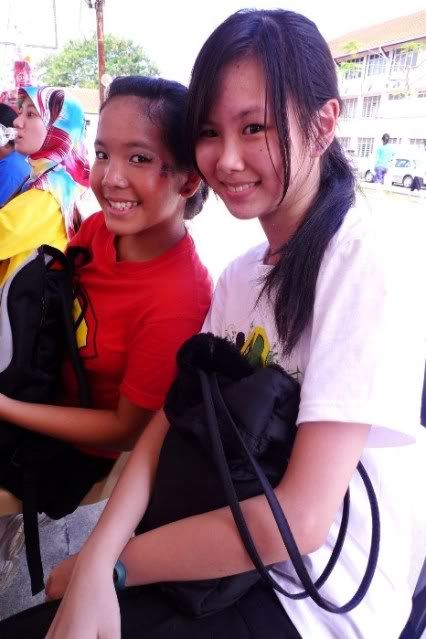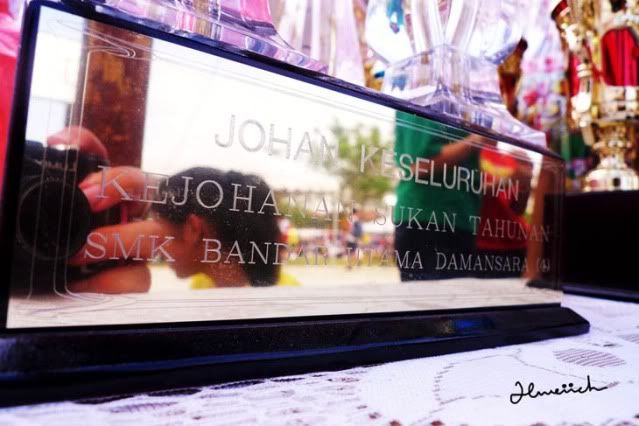 The most desirable title.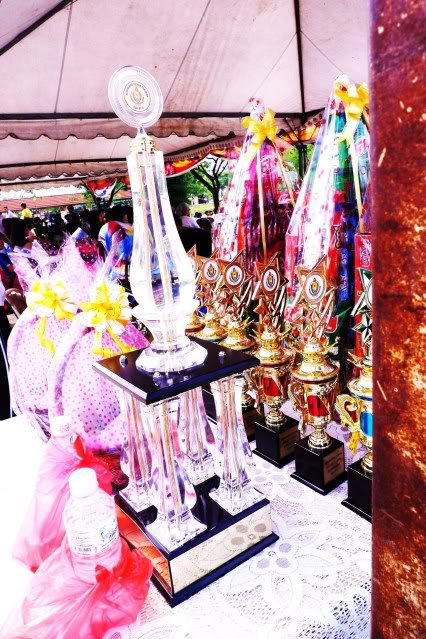 Trophies .
*********
Then, we gathered for results etc etc.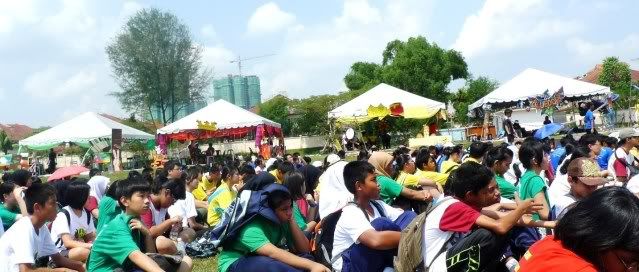 View of tent from afar.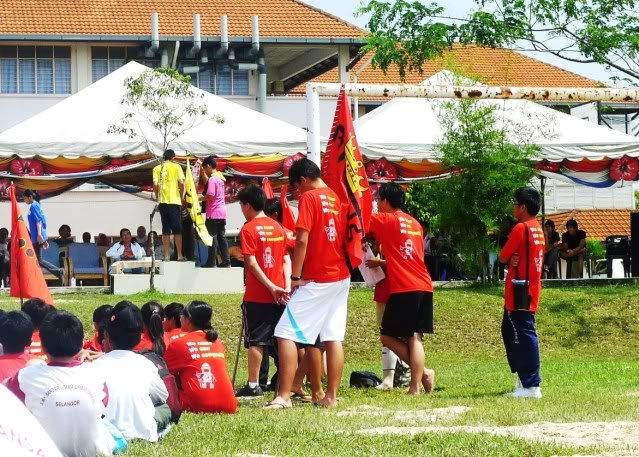 Anxiously waiting.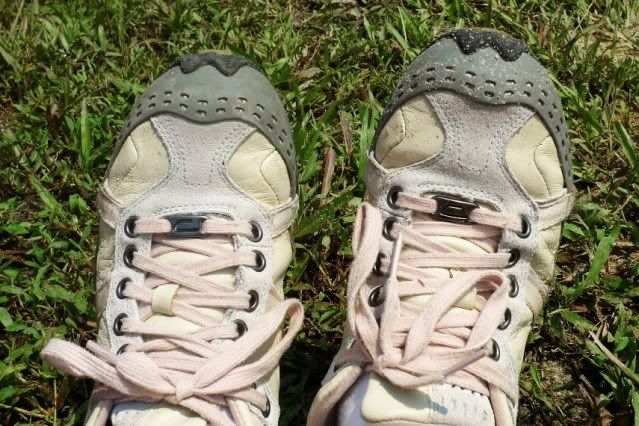 I was bored so I took a pic of my shoes.
[
p.s : Thanks Yiyi ! I love my Diesel 's. (:
]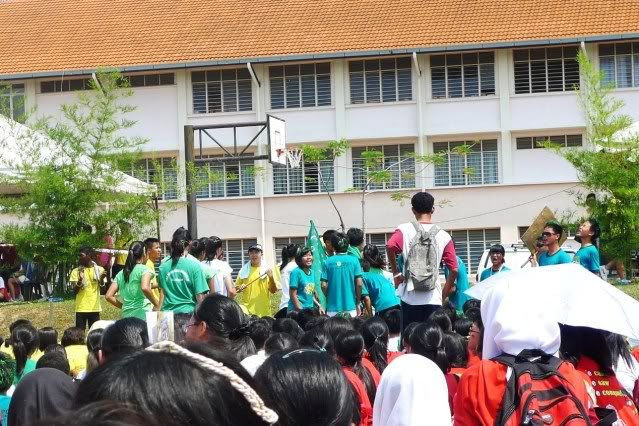 .....
BLUE
WON.
Champions of 2010.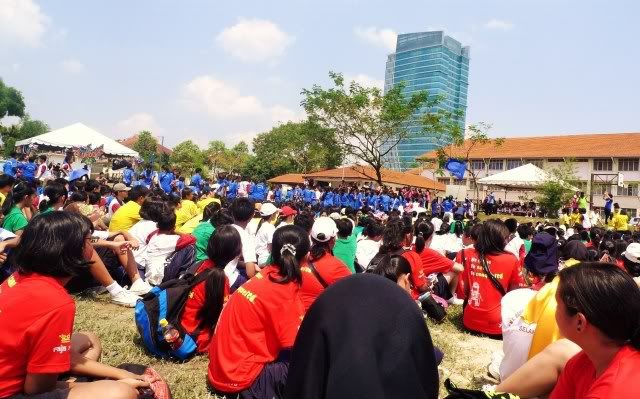 A wave of blue !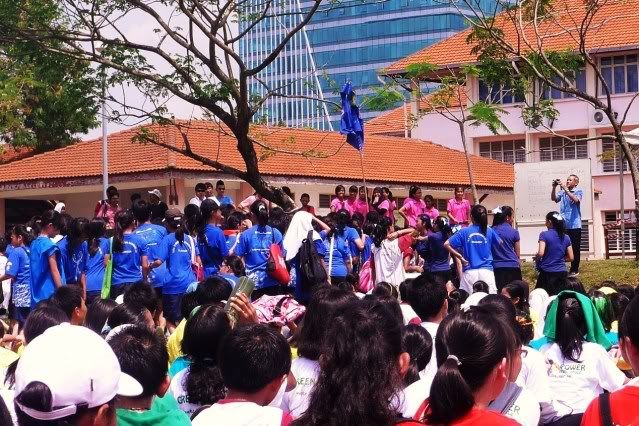 I feel happy for them ! (:
***
The following awesome pictures are by

Afiq

.
More of his pictures
here
.
:::
VERY tribal, right.
Runners.
Sea of students.
Everyone getting emotional over their win.
:P
awwwww.
BLUE'S WATCHING YOU.
OKAY folks, I've updated .
Definitely gonna miss Sports Day ! :(
I'll miss the whole anxiety creeping up to it ,
Stress from planning ,
Excitement from unexpected surprises ,
The roaring school spirit ,
The new and also the strengthened bonds from teamwork
... and definitely the ANTICIPATION of the whole 'thing.
Anyways.
Here's more posts for you guys to devour .
-
Behind the Scenes
-
Sports Day 2009
-
Sports Day 2008
Till I master Chapter 2 Chemistry : Carbon Compounds !
( Didn't go for that lesson. -.- )
Byee.