Happy Chinese New Year
!
May happiness and prosperity fill you this year. (:
*
There's really nothing much to elaborate on.
Didn't do much.
Just the usual CNY celebration.
Like always, we have the reunion dinner a day before CNY;
Traditionally with the father's side of the family.
My elder cousin YS got his driving licence a day before...
So the whole Leong family looked shackled. ;O
And they came late heh heh.
Uncle CE is in the country Down Under,
so it was only :
The grandparents, My family & The Leong's.
Reunion Dinner

Dinner of the night before new year.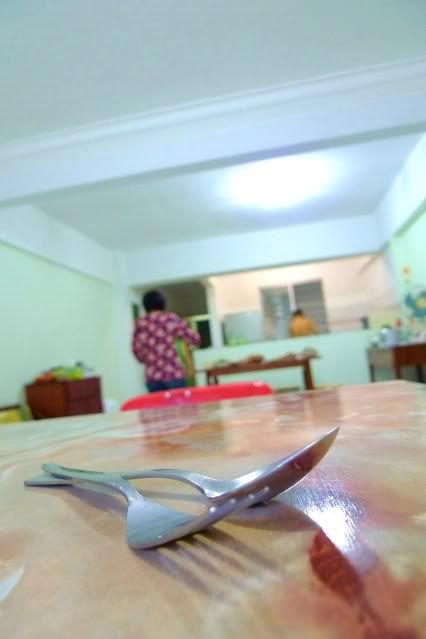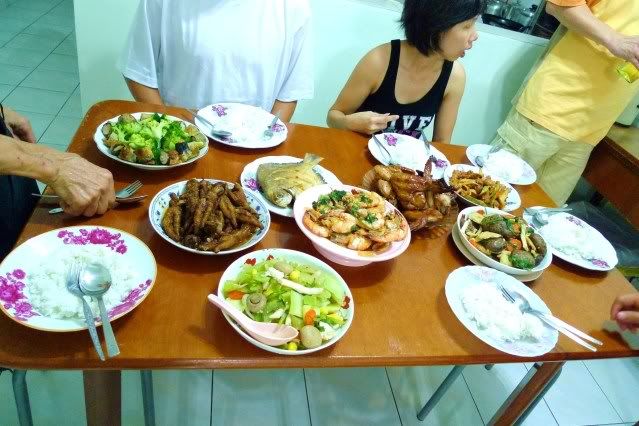 Adult's table.
Kid's table. ( A lot too . )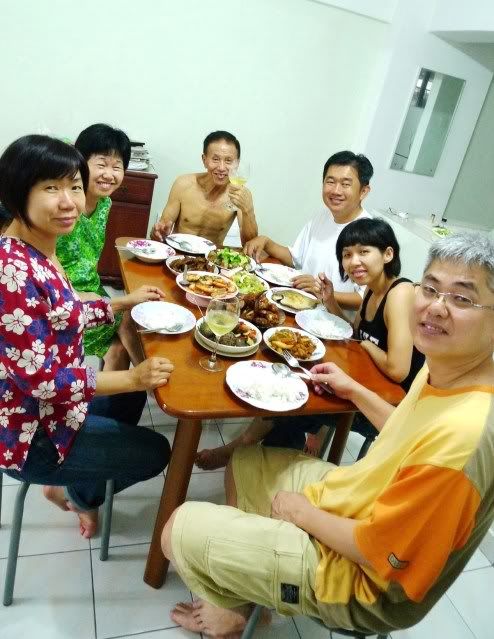 Hahaha ! My grandpa looks so cute here :D
Little known fact :
My grandparents used to DO BALL DANCING.
And my grandpa was a body builder.
He still has his muscles !!
Kim, YS, & Bro.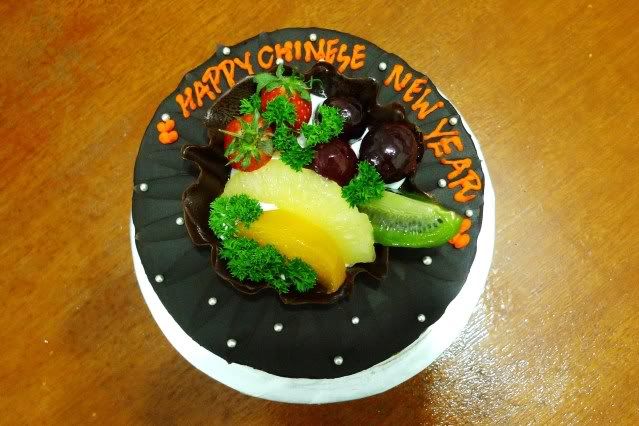 A sweet ending
- Scrummy Cakesense CNY chocolate cake from my neighbor. (:
1st day
Went to visit the same relatives from my dad's side.
SEE HOW MANY TROPHIES & CERTS MY long-distance COUSINS HAVE?
( !!! )
They are also super pro at calligraphy.
Didn't take any more pictures because my battery died on me. :(
CNY DAY 2
.
Had to endure the 2 hour + ride from KL to Ipoh to visit the relatives of my mum's side.
After travelling from San Jose to Los Angeles in USA,
I no longer feel that the Ipoh ride is long.
Actually, it's good. At least the traffic was moving.
During that ride in US, we had to go through a LONG ride to L.A, and when we actually reached there, the traffic was ridiculous.
It was SO BAD ;
KL traffic seems to be like, some sorta blessing .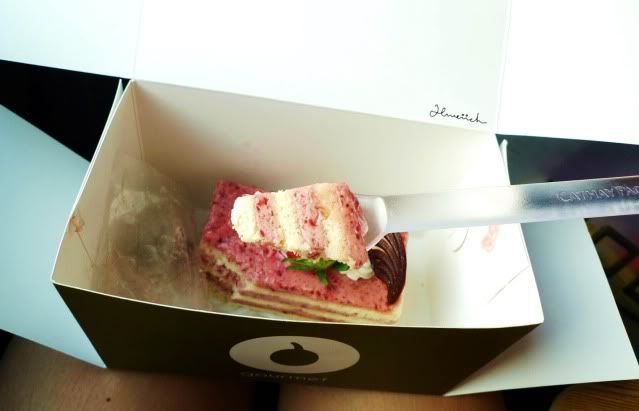 What I ate for breakfast ! (:
(
It's a

Raspberry Torte

from Just Heavenly, Bangsar Gourmet btw.
)
Anyways, at my grandparents ( Mum's side ) house.
My grandma is a devout Taoist so there's this altar in the house.
Incense sticks & the dust in the house = Dusty air
Upon entering the house, the air was so dense we could cut it with a butter knife.
My dad & I has extremely sensitive eyes, so we put on eye drops.
ZOMG I had never had such a stingy eyedrop on me, ever.
:((((
I was happy to see my grandparents tho ! (:
& Luckily it was near lunch then,
my uncle Eddie whipped up a FEAST!
YESSSS.
A full fledged, guranteed-to-make-you-burst, over 8 courses, fit-for-a-king,
MAJ-OOORRR FEAST.
He want us get fatz or something. ._.
Everything was good.
ESPECIALLY
the Sweet & Sour prawns; Fishmaw, Mushrooms & Abalone; Steamed Chicken; Roast Duck, Roast Pork, Roast beef tongue; Steamed Pomfret; & Abalone soup.
whoops, that's about everything! :))
The
GUYS
in the family are such carnivorous creatures.
At the sight of meat, they go * GLOMP * .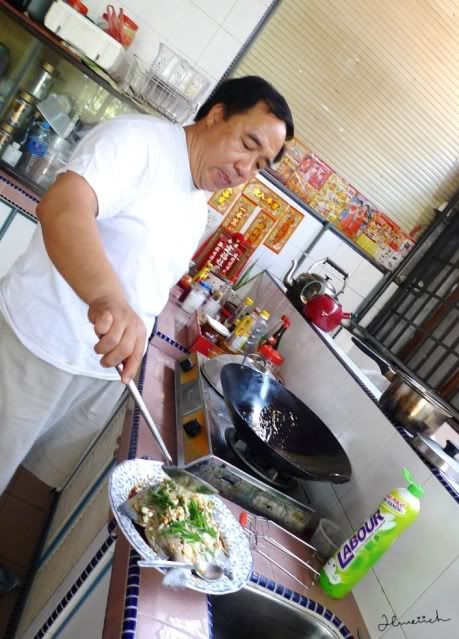 Uncle Eddie doing what he does best !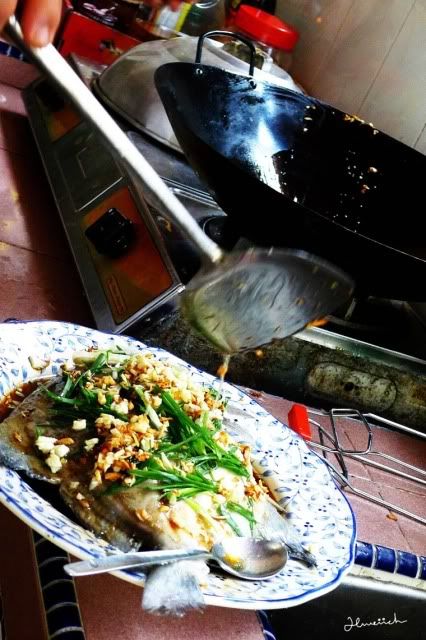 YUMS! STEAMED IKAN BAWAL. (:
After the food reached the level of my brain,
I crashed on the couch & watch what my grandma was watching....
haha those cutesy CNY-song-singing girls !
For dinner with the LEONG's.
We went to
OVERSEA RESTAURANT
, which was pretty popular in Ipoh, as well as KL.
The manager told us we had to make a reservation 3 months in advance just to get a table for Reunion Dinner. ! !!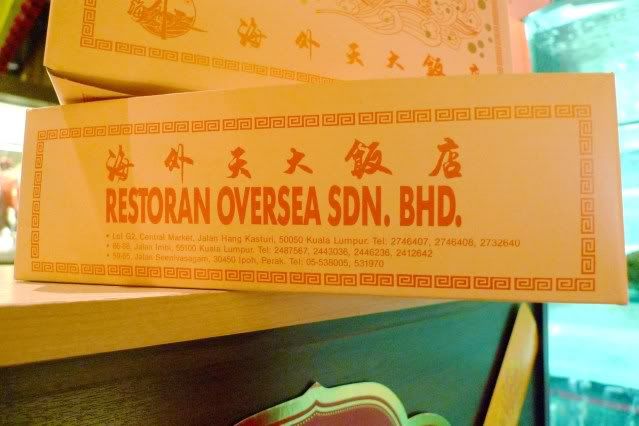 It's popular because the food is wonderful,
It's dining setting is wide and spacious,
It's relatively NEW,
&
it's better than the previous restaurants my family used to go;
yeah,
those that make families stand behind your back to stress you to eat faster so there would get more table covers; thus more customers.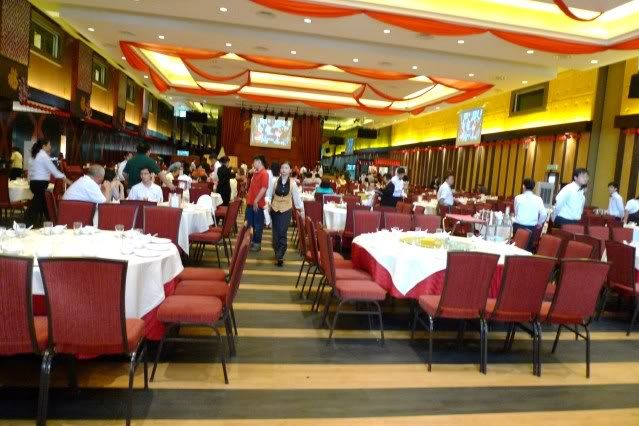 Early, at 6pm+
Reviews and table settings (:
Yee Sang platter counter.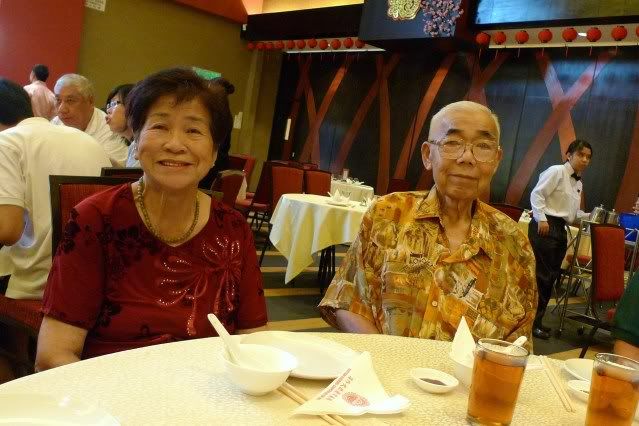 Grandma & Grandpa !!!
( Of mum's side. )
They are super super skinny now...
My parents :)
Getting ready for Yee Sang.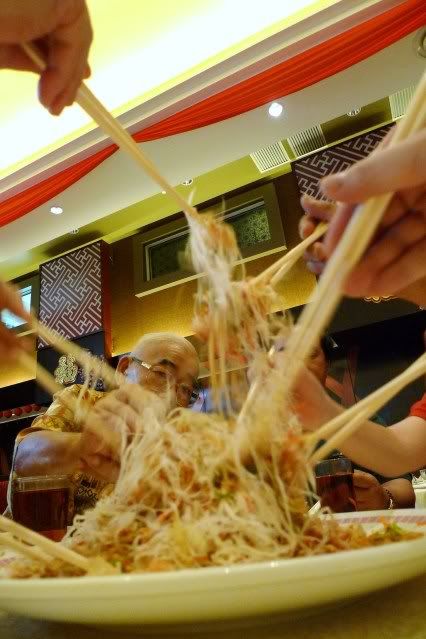 Toss it as high as possible !
Traditionally, for Wealth & Good fortune.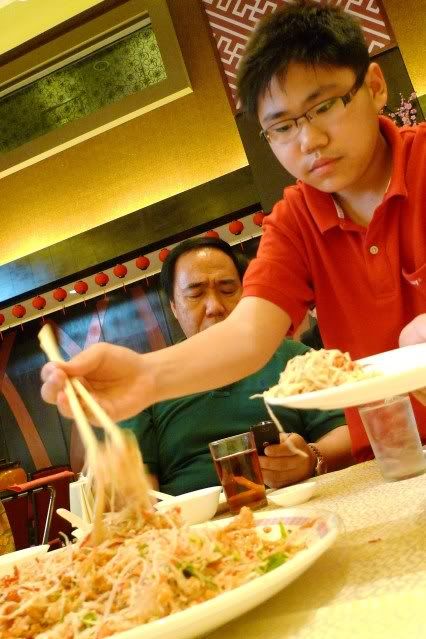 Little brother helping himself.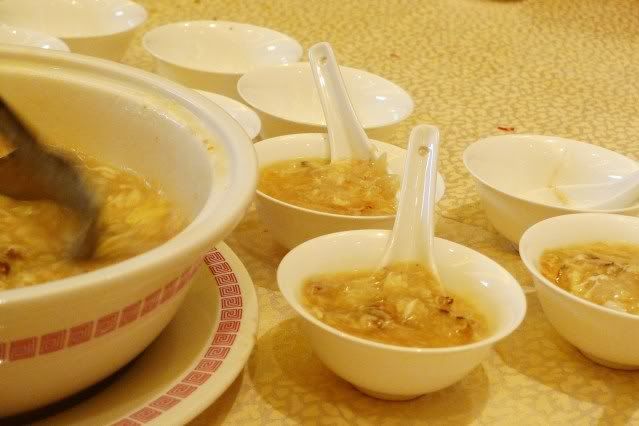 Sharkfin soup. Lots of crabmeat!
Unfortunately, there were remnants of the crab shell left in the soup.
...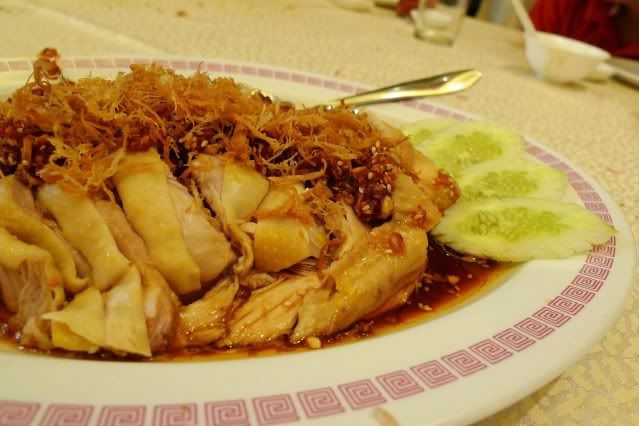 Crispy garlic & Chili spring chicken.
Juicy. Loved it... but it was gone in less than five minutes.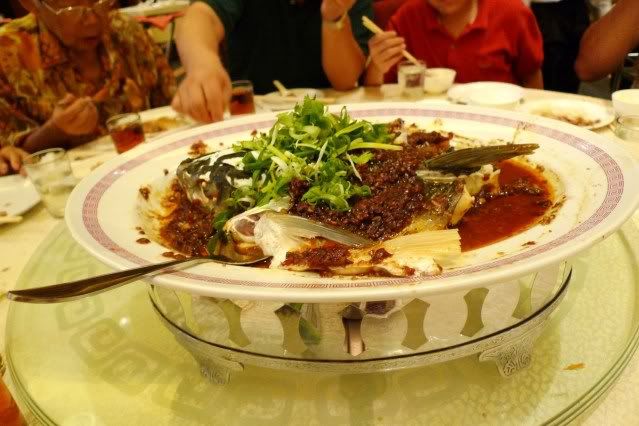 Fish. It was bony, so I didn't have any.
My grandparents seemed to enjoy it tho.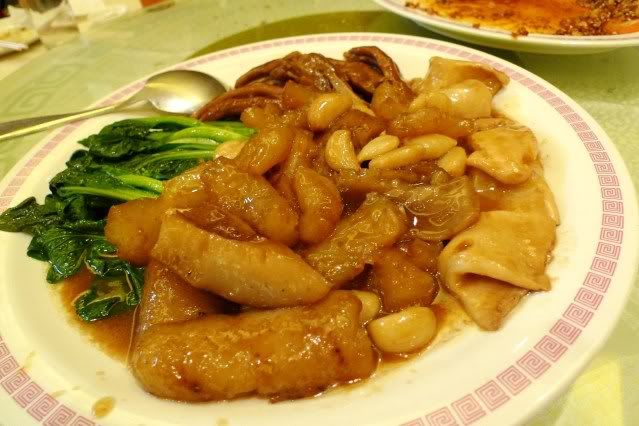 The most expensive dish outta the lot.
It costed like rm 300 + ? o.O
Braised Sea cucumber, Abalone, & Goosewebs.
These may seem whacky, but they pack a great seafood-ey punch ! :D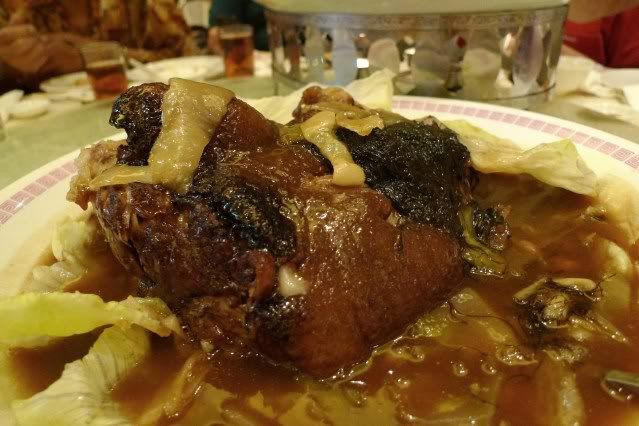 Braised pork knuckle with fortune moss, pickles & cabbage.
This was pretty good !
I liked the gravy, and the pickles add a nice texture to this queasy dish.
But I didn't touch the meat itself, since my uncles enjoyed it more. (: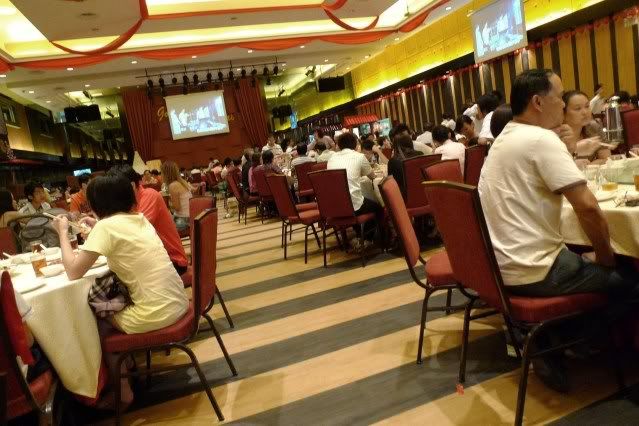 The crowd starts to come in...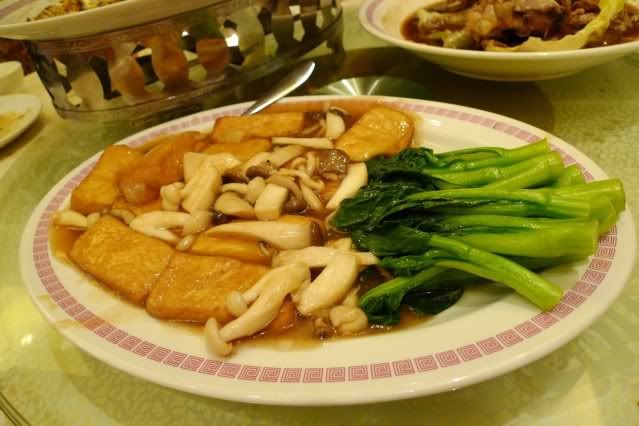 Simple fare of assorted mushrooms, tofu, and greens.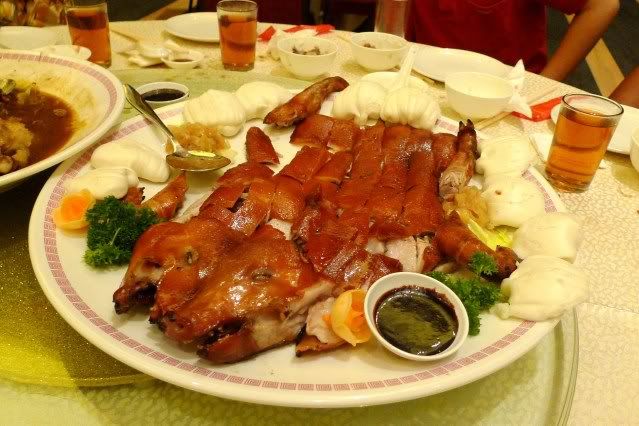 The last order - Deep Fried Suckling pig.
I'm not so much of a meat eater so I left it to the guys.
( Again! )
But my MC jiujiu claims the suckling pig @
Elcerdo
is better.
Maybe ? haha.
Oh.
And we did not get to go
Indulgencez
this trip !
* Beremoz *
It was packed, so they had to turn people down.
I missed their awesome brownies.
Anyways, that kinda sums up my CNY trip this year.
Kinda boring, right? Didn't actually travel to many places, that's why.
I guess it's back to doing school work.
[p.s : I can do Geometrical Progressions faster than Amanda Phuah now ! tee hee.
No lah, I bet she will catch up eventually.
AS USUAL.
:P
]
Till I get more angpaus ( HOPEFULLY ! ) ,
新年快乐 !
(: