As usual, my school held a CNY celebration the Friday before CNY. (:
Since school finishes at Friday at 12.30pm,
it's pretty much a full day event !
( No classes )
The principal lined up many new different activities for CNY this year.
Id'll have to say that the Lion Dance team is way better than last year's. ( They fell . )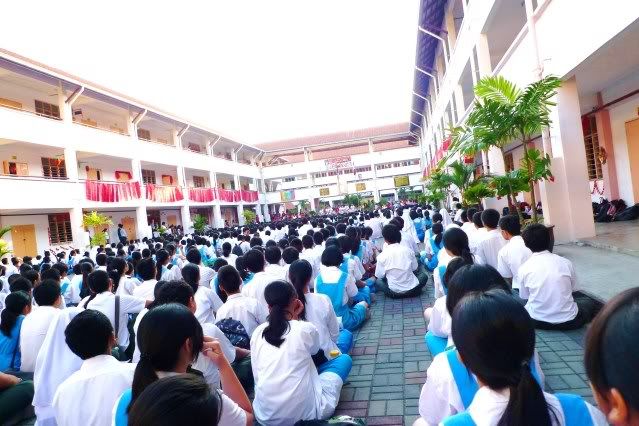 Student spectators.
I think they were playing 24 season drums or something.
Couldn't see ! Sitting too far back. :(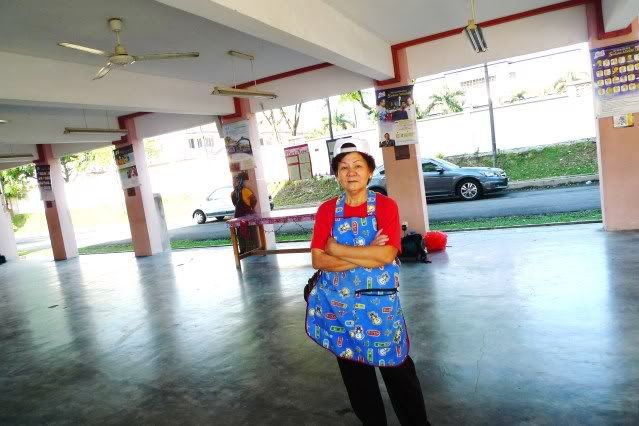 Even the canteen auntie took a break to see what's going on.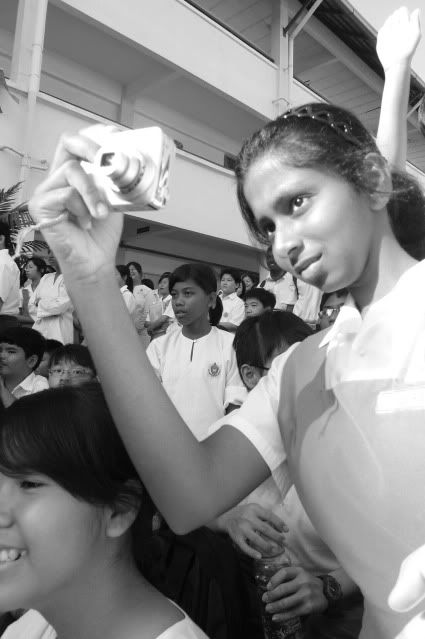 Loads of students brought their cameras! Including abi. haha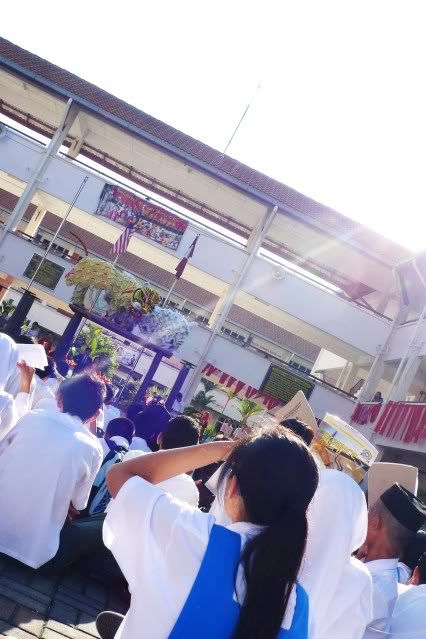 We then moved a little closer to see the Lion Dance.
After the speeches and all, the sun decided to turn up the heat.
Gosh ! IT WAS BLAZING HOT.
Everyone was shielding their hands away from the sun, so I couldn't really get decent pictures.
They'll either be a hand blocking my view , or a book.
E.g.....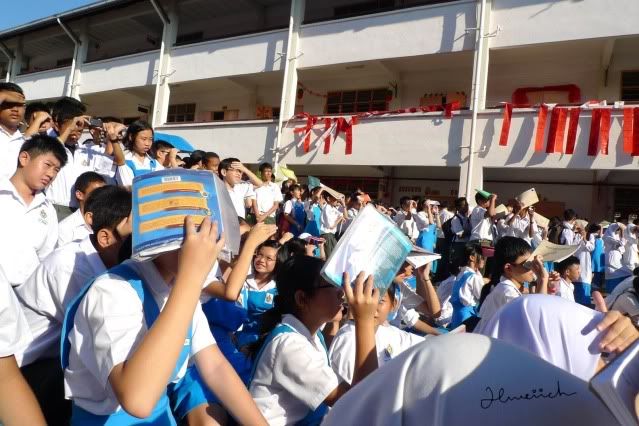 Everyone started to stand up to get a closer look...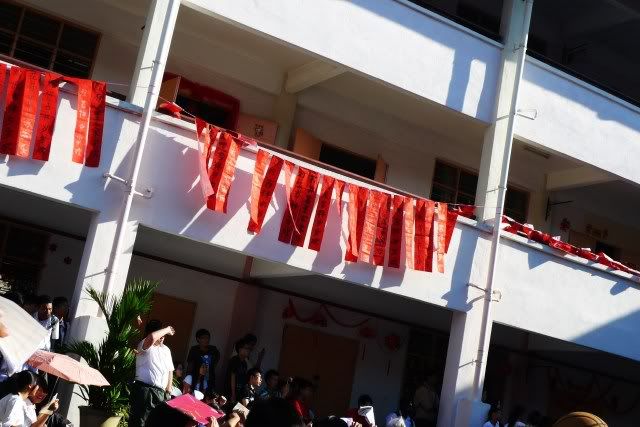 Calligraphy paper decorated the assembly area.
All those were either drawn by students, or teachers.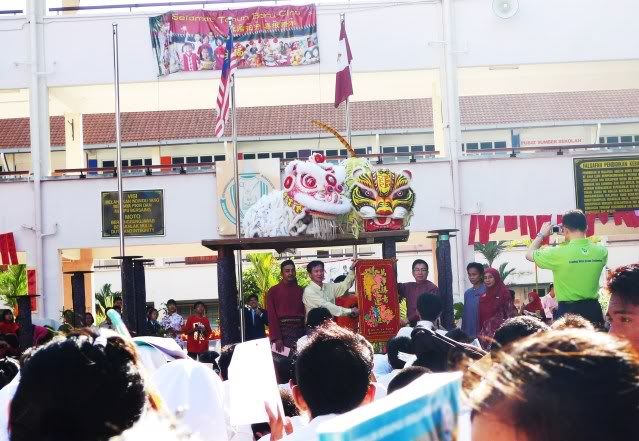 White & Yellow Lions ! (: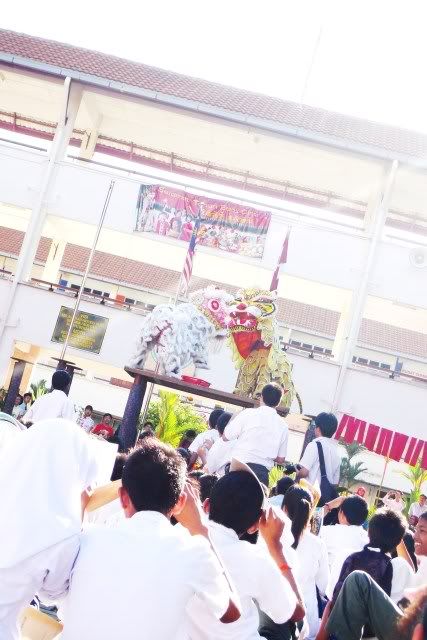 Apparently this team that the school hired, won numerous awards for Best Lion Dance Performance. ! And we get to view it first hand. (: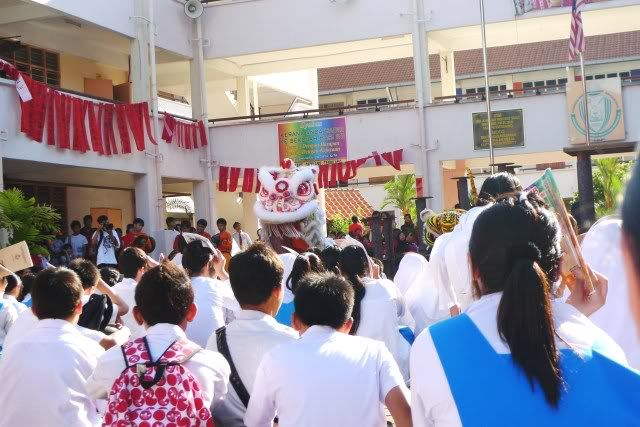 The lions starts to roam among the crowd.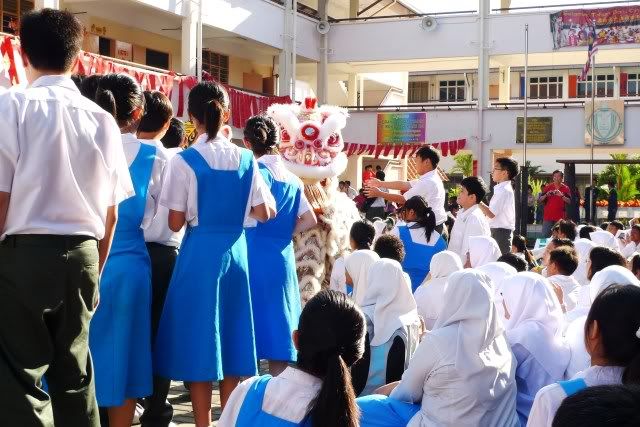 Tossing tangerines to the students ! (:
(
Tangerines
are called " ngam " in chinese, and signifies prosperity as ngAm means GOLD. )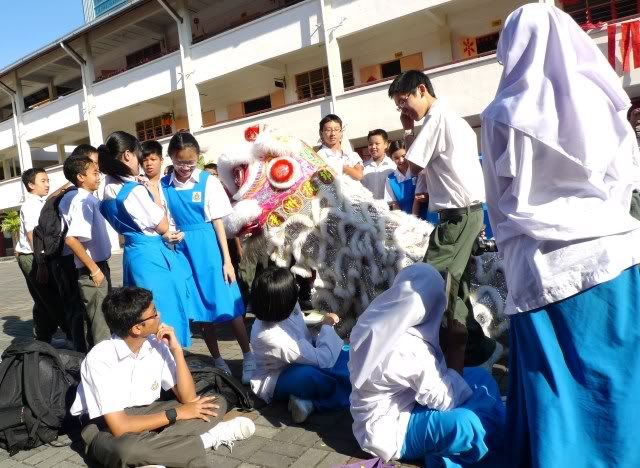 The " Lion " starts playfully nudging students. ha ha
*****************
After the celebration was over, we tend to our booths.
Oh wait, i didnt explain....
We were told to do booths of the various festivals of Malaysia. Right after the CNY celebration; on the same day.
...As a
Sivik ( civics ) project.
We dis it in groups of more or less 6.
Then, we had to find out about the respective festival we were assigned to, and make a booth that best describes the festival .
My group did about Deepavali. ( a.k.a Diwali ).
Upon doing research about the festival, we actually manage to understand more clearly about their culture and such. (: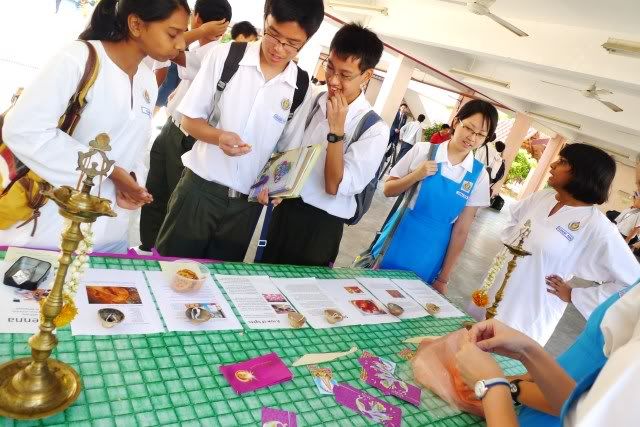 Setting it up.
We aren't ready and there was already a buncha peeps checking the booth out.
I see Kesh & Brandon nomming on the samples !
Now we all know how it DISAPPEARED so fast ...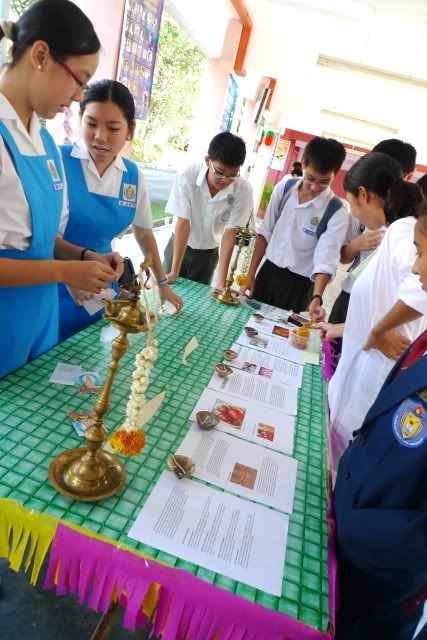 Firstly, we borrowed a table from the canteen, & decorated the edges with colorful crepe paper.
Then, we placed two brass oil lamp stands on the table; one at each side..
I got the lamp stands from my morning maid, who got it from her friend. Apparently it costed > rm 200 for it , discounted !
And on it, we hung fresh flower garlands,
which Sheyon bought from a temple nearby her place.
But the guys kept commenting the oil lamp stands looks like a sisha pipe.
-.-
The other few mini-oil lamps were also from my morning maid.
We placed them on top of the description sheets to prevent 'em from flying all over the place.
Turns out, we didn't light them.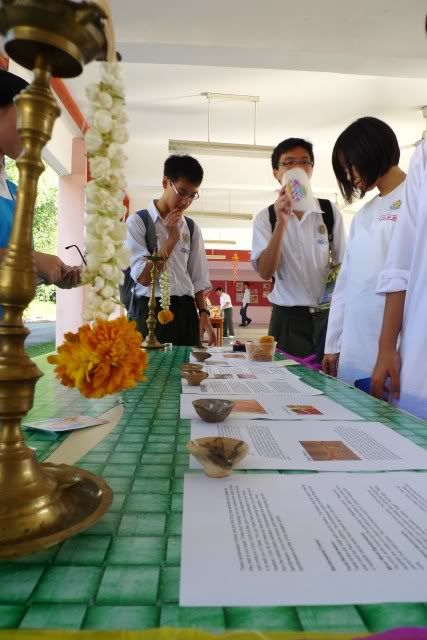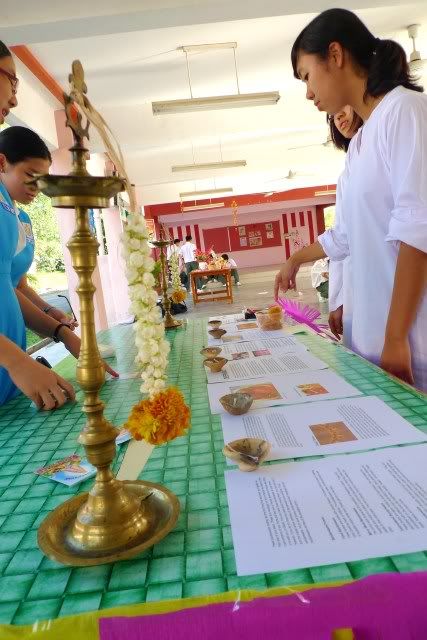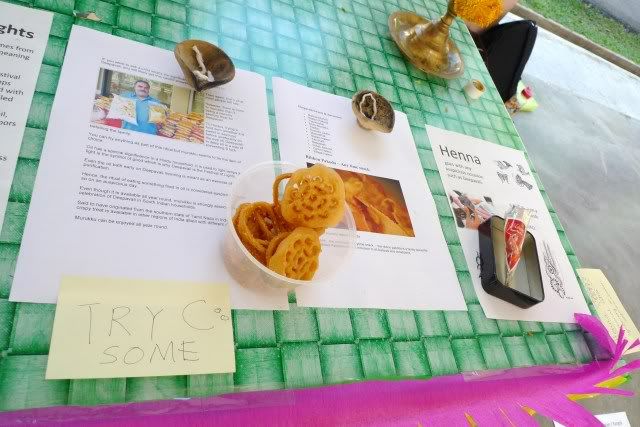 We had samples of murukku & kuih ros.
Which I personally looves.! And so does a whole lotta peeps.
Cause it's no longer limited to just Deepavali. You can find it being sold during Chinese New Year AND Hari Raya.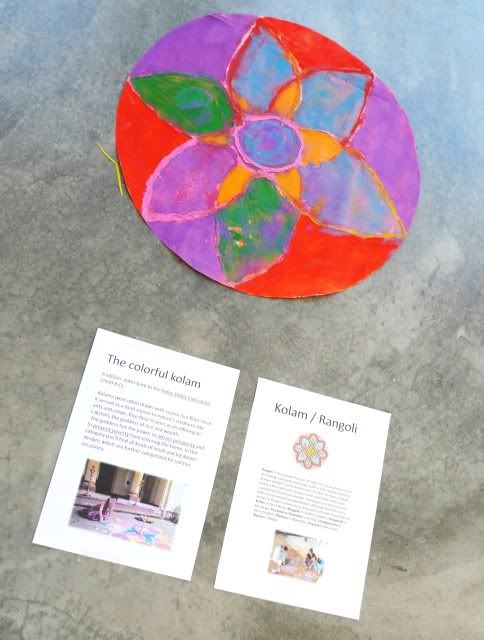 Here's a kolam I made.
It looks pathetic, I know.
Our initial plan was to make it outta rice, but it was too tedious, so Nabs bought coloured sand.
The colored sand was spensive.
And only WHILE doing it, i realize the sand is NOT ENOUGH.
So I can't color coordinate it properly !
Someone even told me it looks like a water painting.
-.-
Anyways, it's done. so bla bla bla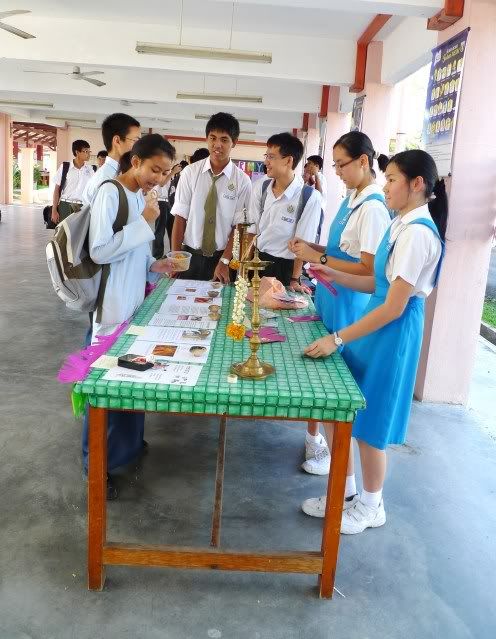 Everyone loves nomming on the delicacies ! (: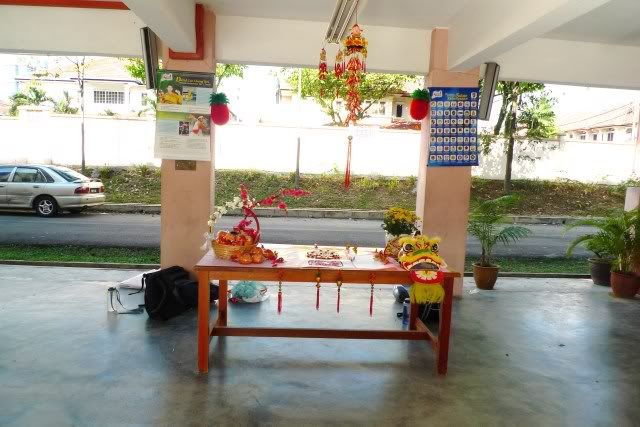 This one is CNY.
Michael's group.
They had the EASIEST festival zomg.
Just throw in a few tangerines, hang some fancy chinese deco
and top it off with a chinese lion's head....
Their set up took less than 5 minutes.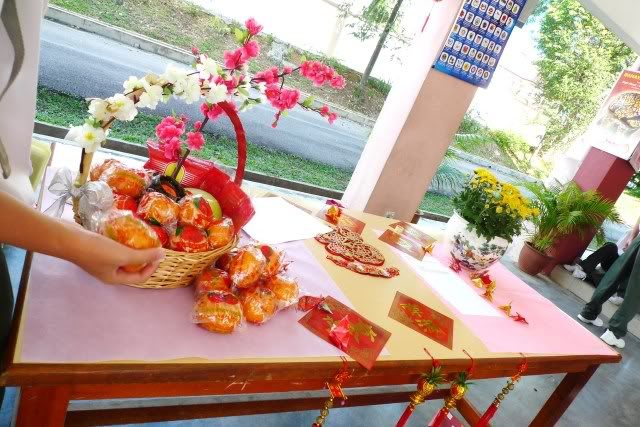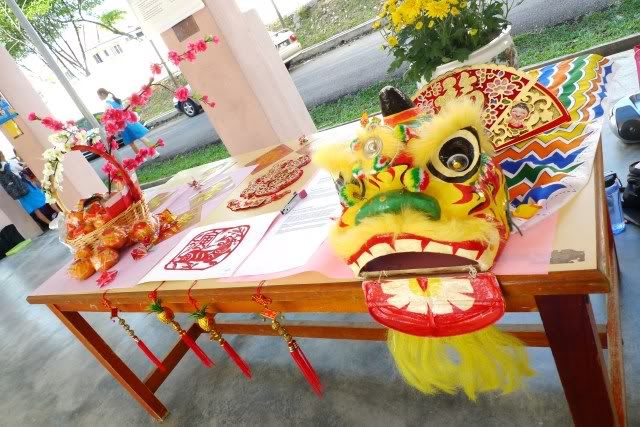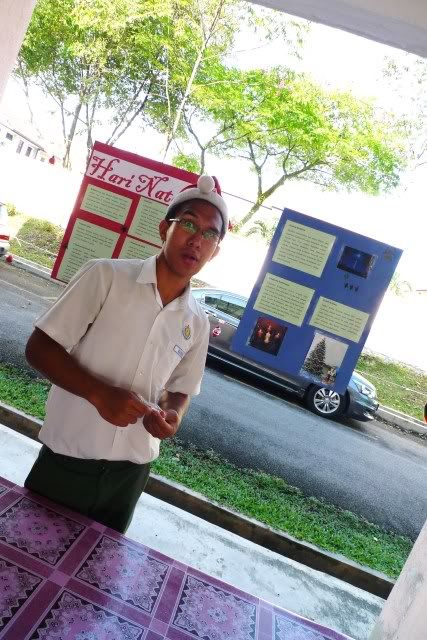 This is Marwan !
Yeah, their group did Christmas.
The civics teacher was suppose to bring Christmas cookies for them, but she forgotten.
So she's getting full blame for the partial bare-ness of their booth.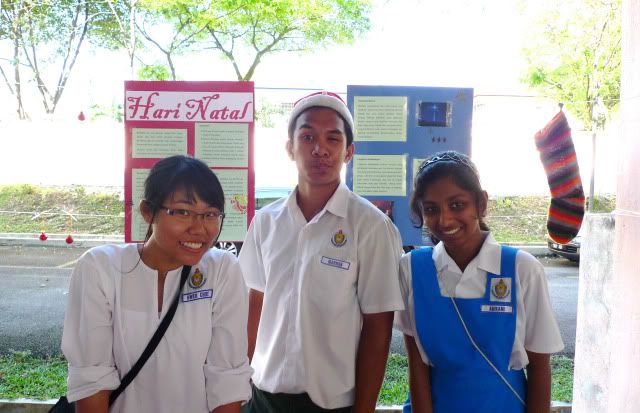 Me, Marwan and Abi.
OMG we're so 1 Malaysia. haha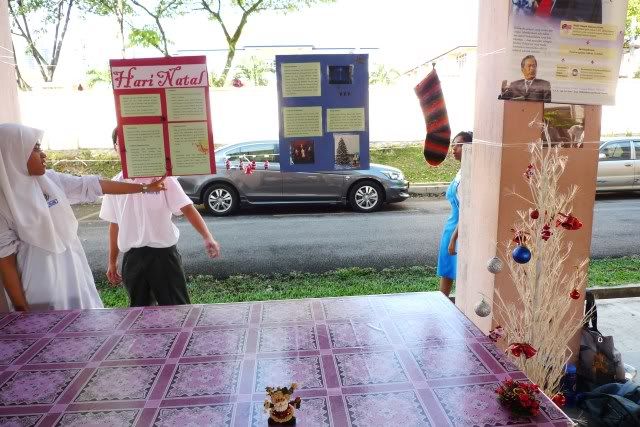 I see a Christmas Tree .... !
A white one. haha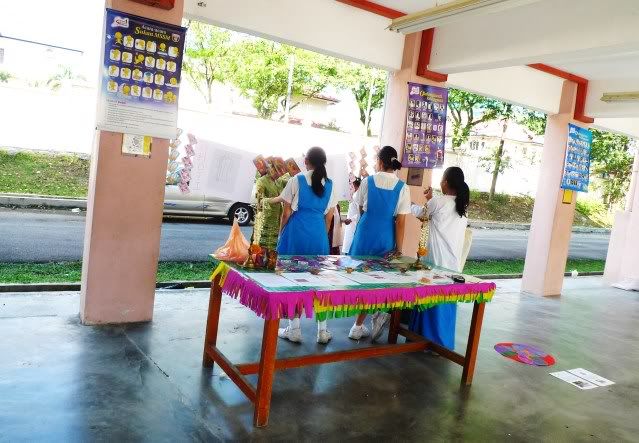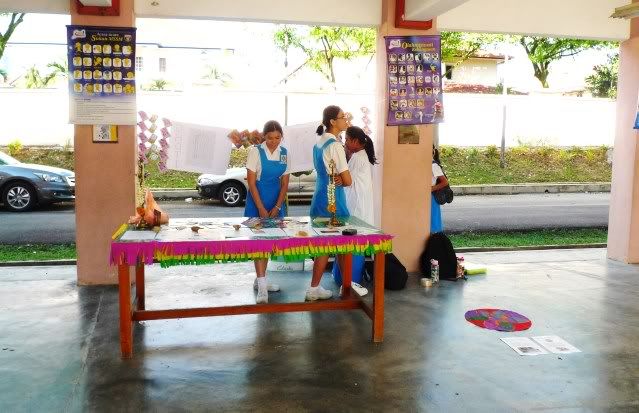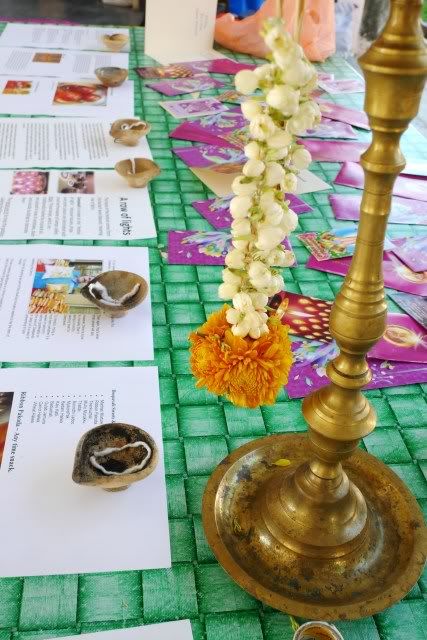 Okayyy, so I took a lotta pics of our stall. Tee hee.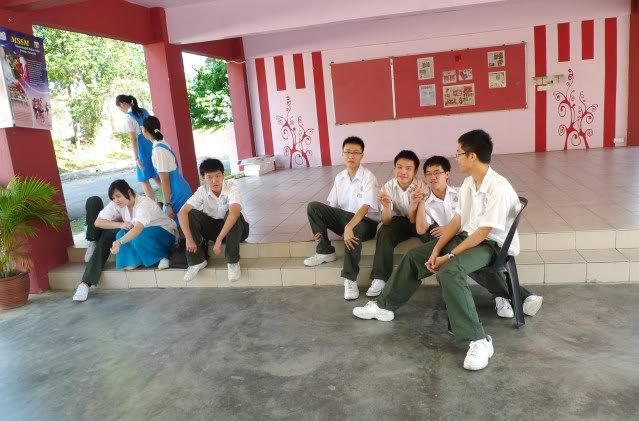 Class mates bumming out.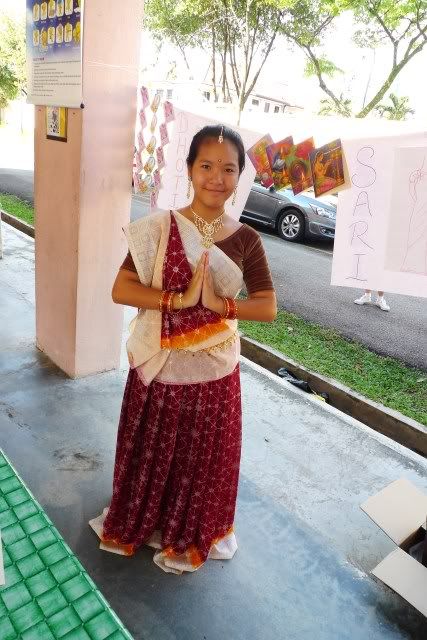 Nabs even dressed up in a sari !
Which we borrowed from Anu (:
Completed with jewellery & all.
When people started pouring in,
I noticed they liked the mendhi / henna
It's a traditional form of Indian tattooing.
TEMPORARY tatoo-ing.
It's come off within 2-3days, depending on how long you leave the paste on.
And I LOVE playing & doodling with the henna.
So I did the designs for them ... albeit cacated.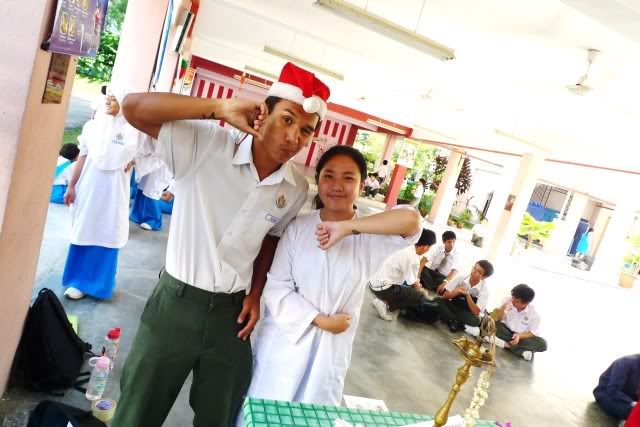 Here we have Marwan & Sam.
But here you can't see the tatts properly..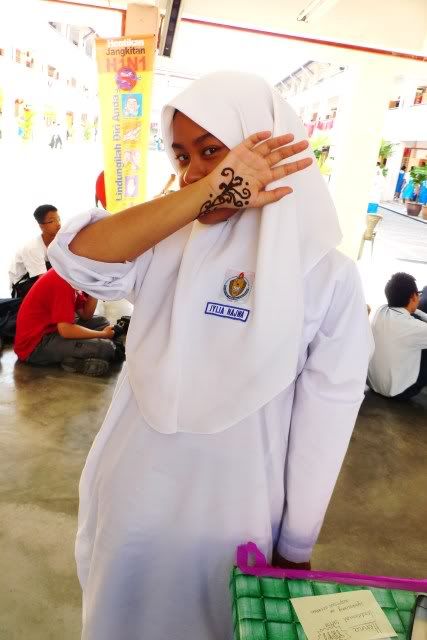 What I did for Najwa...
.. but eventually I thought the rest of the palm looked pathetically bare.
So I added more swirls. woo. 8D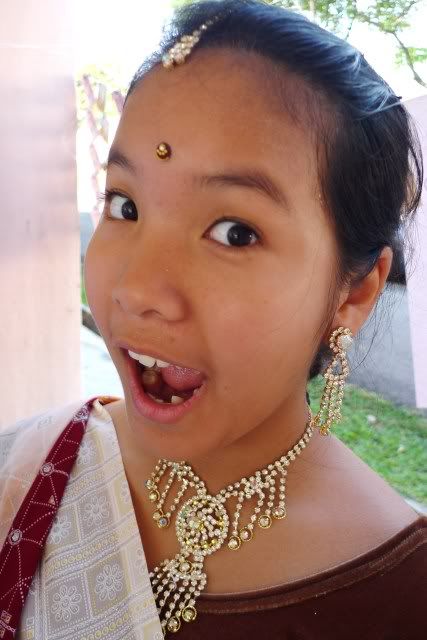 Close up of Nabs !! he he.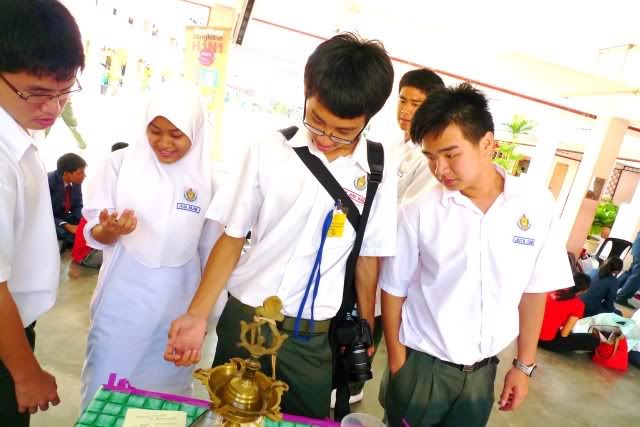 The guys getting a closer look...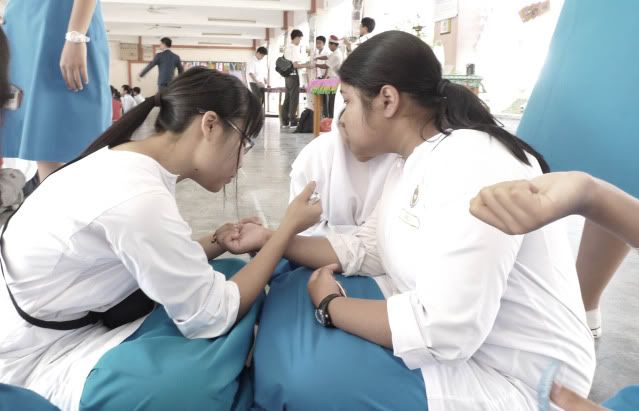 A papp shot of me henna tattoo-ing peeps..
I look ... unflattering. lols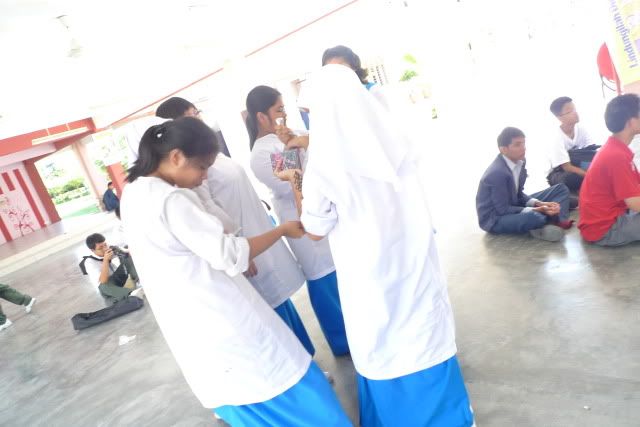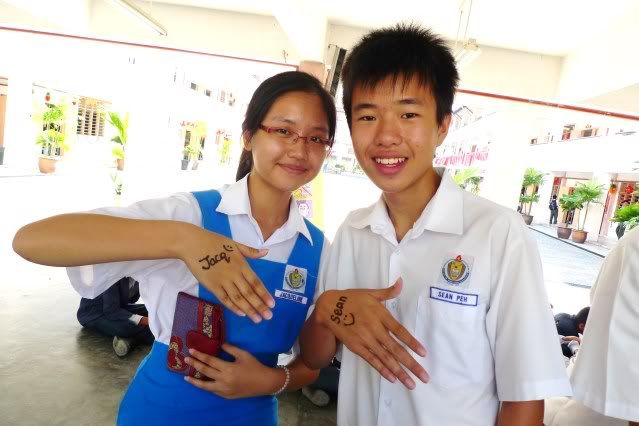 Can you see the " Jacq" and " Sean" ? :P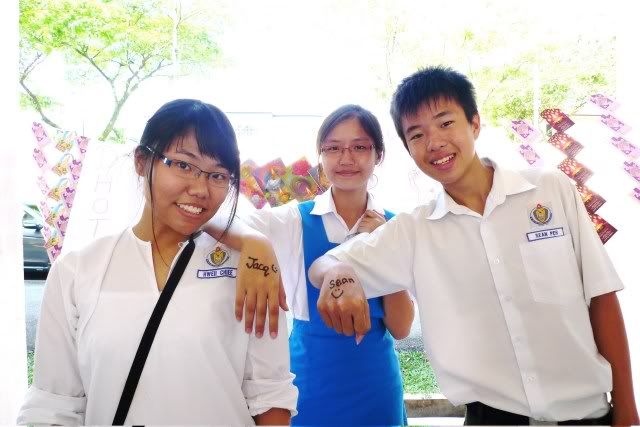 In a pic with them (: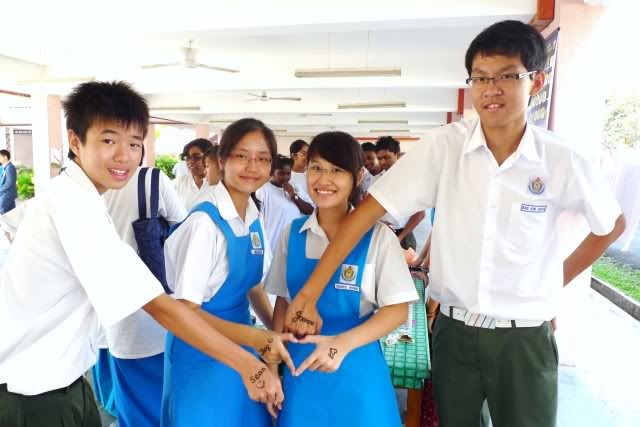 Soon all of them got henna tatts .
Who cares if you're a guy ! (:
Guys get 'em too k. It looks cool.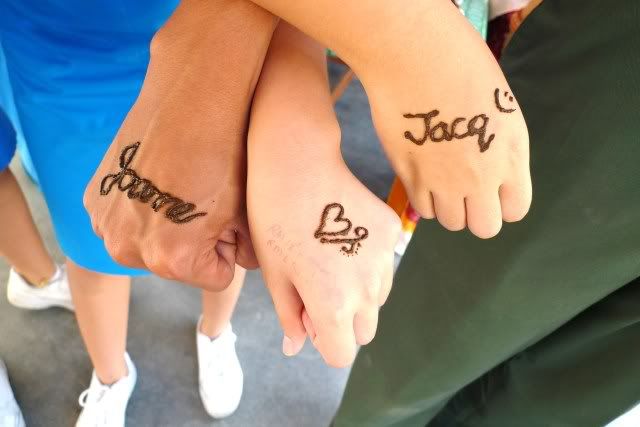 Boo , Cha, Jacq.
lol. i see rm 18 for smth on Cha's hand !
*
Back in class...
Marwan nerdin' out. (8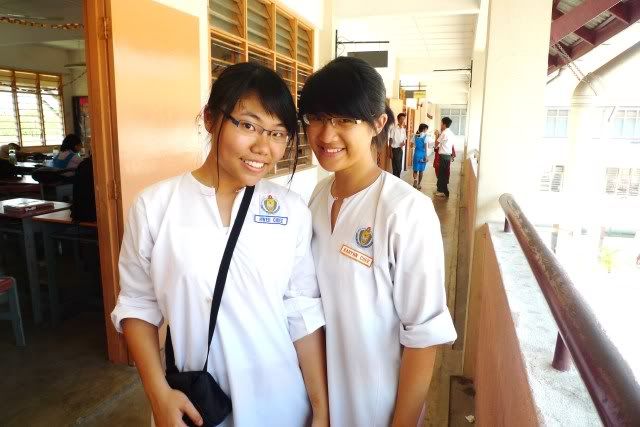 Me & Karynn
OH. And I did the henna thingy on 2 very bored teachers.
Pn. Aminah.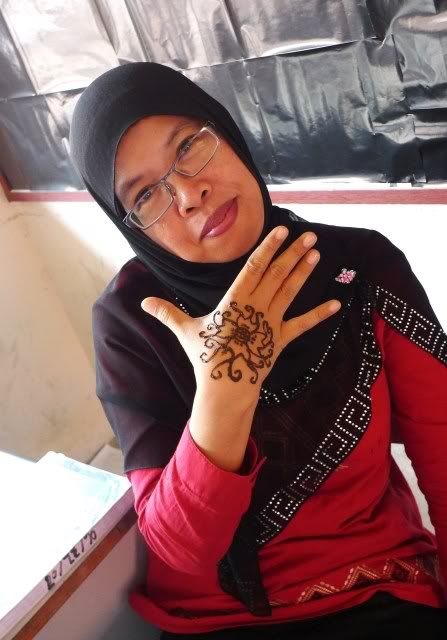 & Cik. Nantheni.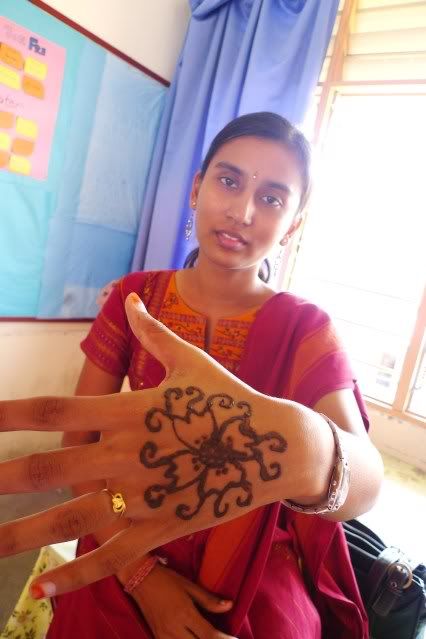 Yea, i was feeling unimaginative. So I did the same design lol
School was going to end.
So there were remaining henna paste in the tube.
I let Cha do a flower on my hand !
And it looks pwetty.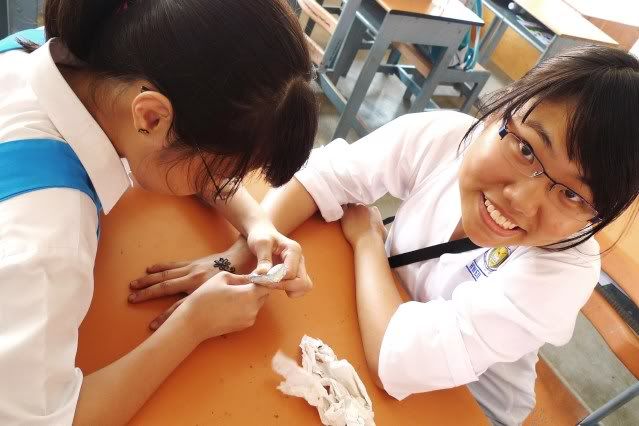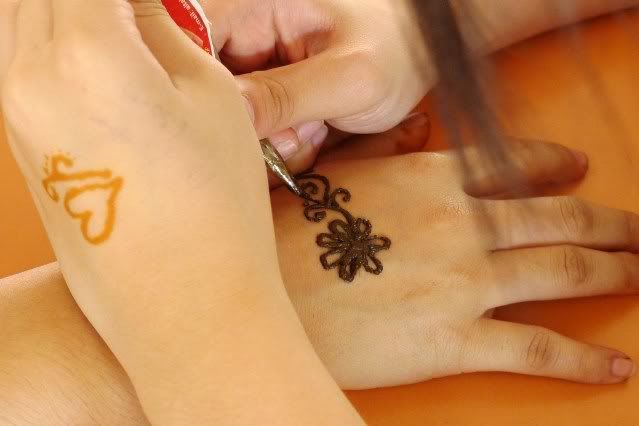 Gettin' the hang of it ! :P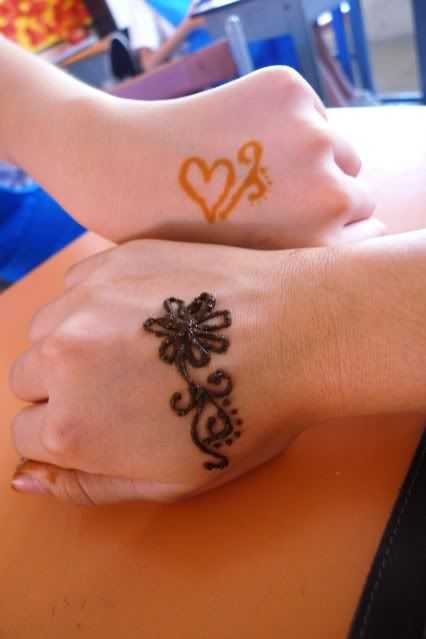 Wheee <3 src="http://img.photobucket.com/albums/v693/hweiichiee/CNY%20celebration/P1100576.jpg">
And this irrelavent shot was by idiotic Su wee,
who TOOK my camera
without my permission
.
AND shone this green UV light INTO MY CAMERA.
Do you really think you can be artistic??
No way. You can only try.
DO YOU KNOW HOW DAMAGING THIS IS TO MY LENSES
???
Go away s.w.
Get YOUR OWN camera! And while at it , GO GET A BLOODY LIFE.
Yes. I am pissed!
Cause my camera lens could possibly be damaged from the laser lightbeam !!!!!
Not only that, he took my camera and ran away with it
AND TOOK PAP SHOTS of others.
I myself don't even let my friends use my camera out of my sight.
Some people just don't have manners.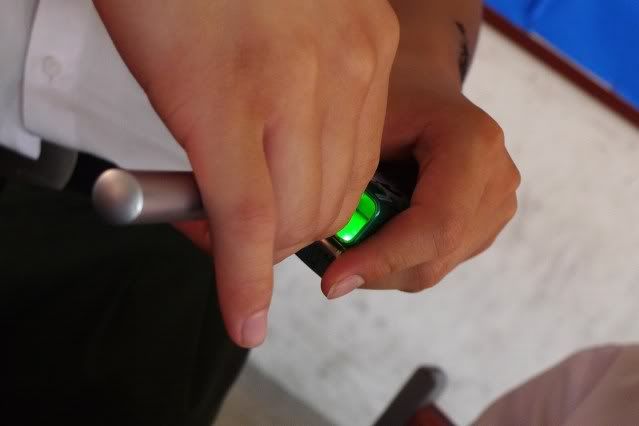 The UV light is VERY POWERFUL btw.
It's illegal to bring to school.
One shine at your eye and you'dl get blinded.
In short. I hate people who are so ill mannered!
Let this be a warning that I HATE PEOPLE WHO SNATCHES AND CLAIM MY POSSESSIONS AS THEIR OWN.
!
*
On the other hand,
I am happy to see these 3 guys with their henna tatts.
Yays. (: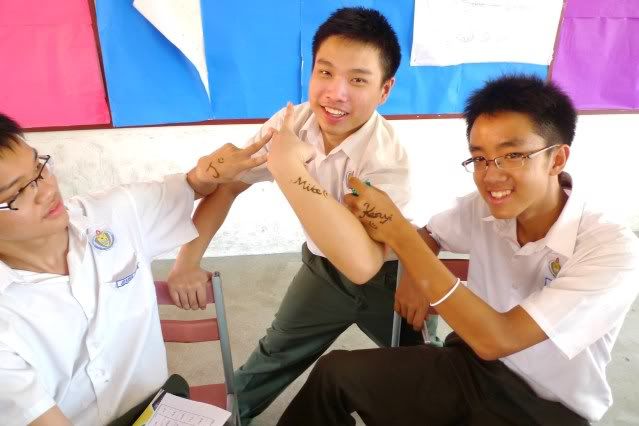 That's Joshua, Michael & Kenyi.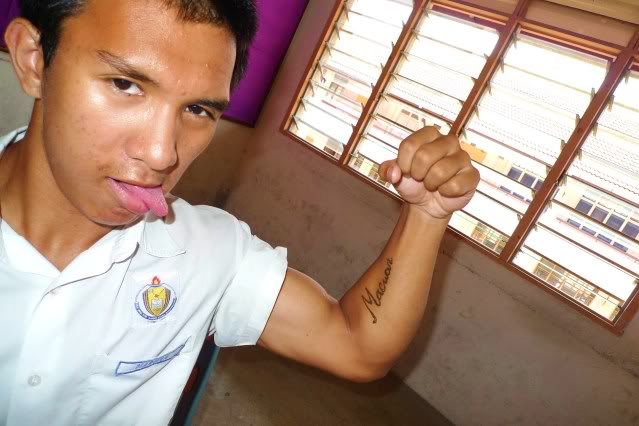 Marwan is Mr. Muscleman!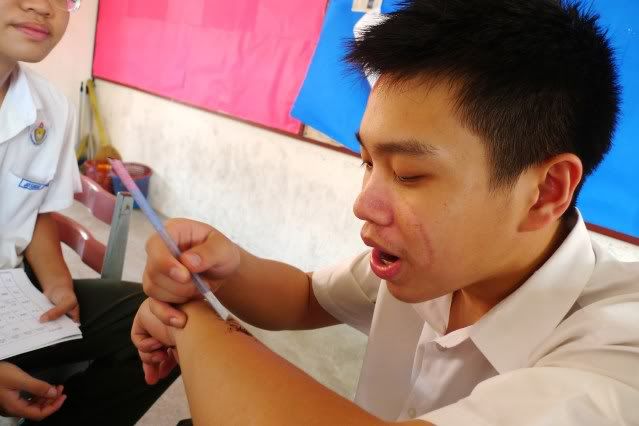 Mike starts scraping it off.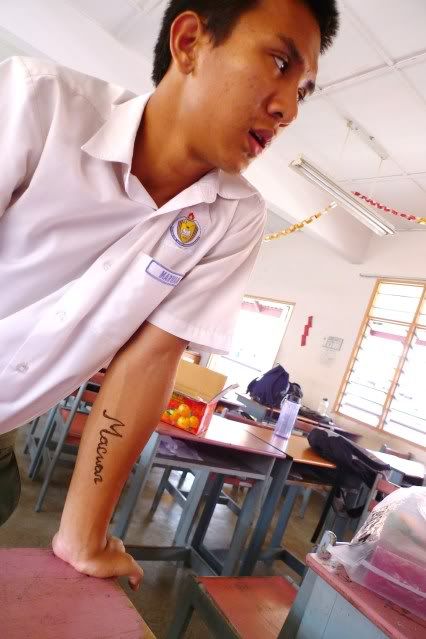 Marwan poserpants. :D
See his arm? Hee hee.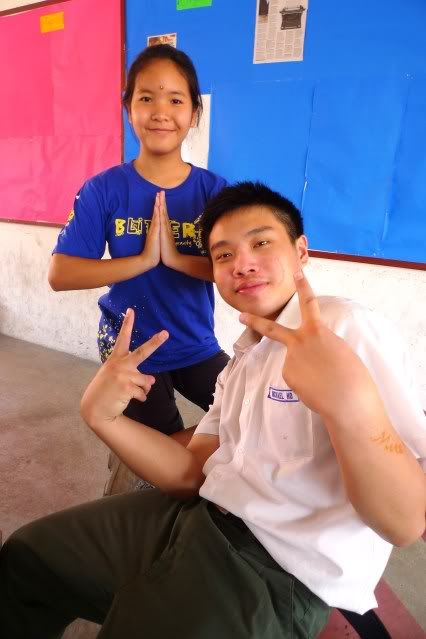 Nabs & Mike :D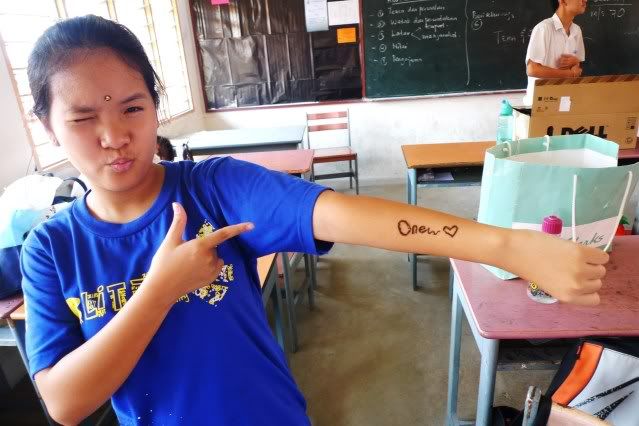 Nabilah got an imprint of her irrevocable love towards OneW.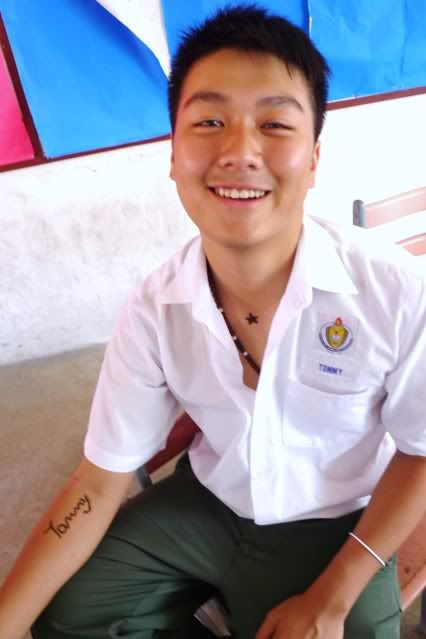 I gave Tommy a Star ! :D
Yea, it's on his neck.
There was a whole lotta others, but I didn't take pics of it !
*Regrets*
After school has ended;
And everyone wished each other Happy CNY ;
I had to stay back for Red House Deco.
... And we spotted WeiWen.
So here's their pic. (: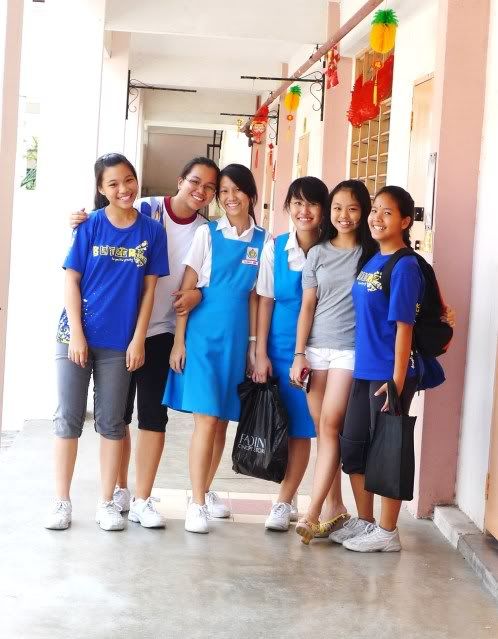 Andrea, Rittie, Hannah, Cha, W.W, & Nabs
And to end, here's a pic of my little brother eating school canteen food for lunch.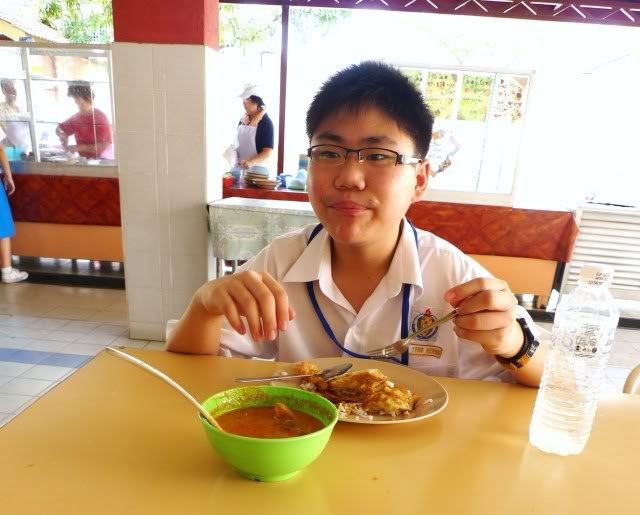 The canteen auntie LOVES my brother.
He gets 16 tofu puffs in his curry mee every day, when everyone else usually gets only like, 2.
So, today she actually gave him some leftover chicken curry for free.
... haha.
Anyways I'm kinda tired now.
Going to go Times Warehouse Sale tomorrow ! (:
Till I get fat over CNY cookies!
Taaa (: