.because ...
I can't skate yet. :(
*
p.s : Pictures are lousy cause the lighting doesn't do my cam justice. this is the compact not the new one, btw.
Jacq planned a outing in
Sunway Pyramid
.
To skate, of course! (:
( btw, I have not set foot in there for close to/more than
5 years
. srsly)
So, after church me and Cha ciao to SP.
She was
so eager to rush
to the rink as soon as possible.
Oh so
eager
. ;)
... To the extend she made me share a personal pan pizza in pizza hut, with her.
and forced me to finish the slice in one minute. I don't think they were digested lah.
We were kinda
lost
in Sunway Pyramid.
Cause the last time I was there was like, 5 years ago, and Charis last went there last year.
It was tough tryin to find where the food outlets were.
Till we saw Wendys! lol. But I'm never one for burgers so..
pizza hut lor.
Q-ing up. btw, they were tonnes of ppl wearing microshorts that day! And to think I almost wore a thick jumper. -_-
Buying tix!
Initially quite a number of people were suppose to come, but decided to ffk. -_-
So, end up there was 5 of us.
Cha, Jacq, Leon, Zhenwei, I.
First off, we went and got a locker to share.
The big rm2 slot one.
I didn't know everytime we open it we had to pay rm 2 to close it again!!!
ARGH
Cause I left my socks and gloves in the locker
...... had to open.
Then Charis left something...
We totally trashed rm6. -_-
crowd.
(it was huge that day, so there was so little space to move around.)
zomg, all of them can skate so well.
ESPECIALLY zhenwei.
Crazy fella,
skating backwards; super fast; spinning. ._.
(update: it's going there on thursday again, with others. u see!!!!!)
there was 3 times the amount of pictured ppl ,there.
Cha and I were newbies at this.
But, cha knows line skating so she picked up fast.
I kept on losing my balance! Had to go by the rail.
"Omg so noob"
elo obviously//
There were kids gliding faster than me. T_T
As much as help is given in hopes I'll be able to skate, it didn't work out.
D'oh!
I end up dragging people out of balance as well. SIGH.
My ankles hurt from twisting inwards.. It's tied so tight I can't even feel my toes.
Blister aplenty.
It's kinda heavy. The blade is blunt but thin. It could slice off fingers. :x
that's why we have gloves.
LOL
HAHA
pokes. ;)
dont mind our retarded faces, we just wanted to annoy the skating pro.
Charis fell so many times till her butt was drippin' soaked. She sat on both me n jacq's legs and see what happened. :O
Leon and Zhen wei.
Us girls. ( I know the pics are lousy, OH WELL.)
As you can see;
Charis is scowling at zhen wei, he probably said something insulting, like always.
This is the girl Jacqueline randomly said hi to.
and we all started doing so.
She said Hi back. Cute!
Her father probably thinks we're a bunch of intimidating weirdos.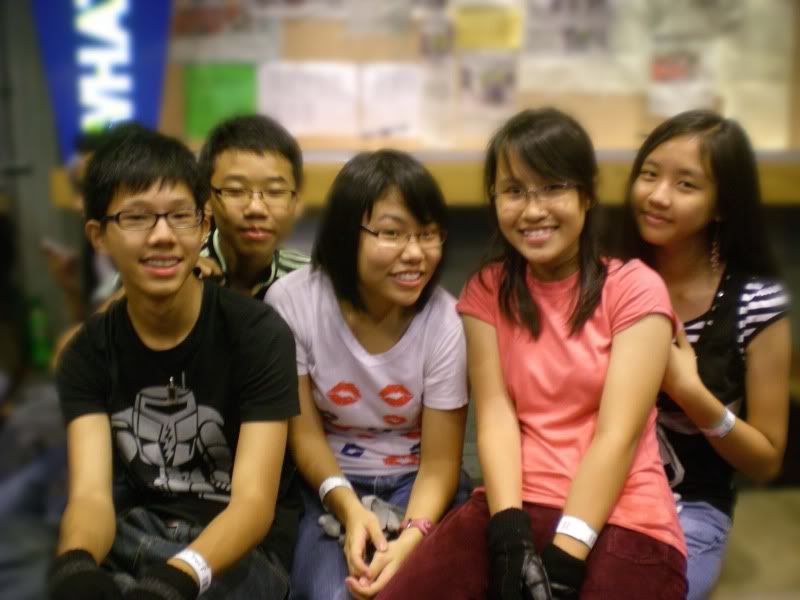 So there you go ! A recent update.
Mini pin points
.
Went Sg. wang on Friday, bought the top you see me wearing above.
It was a mere rm 20! (:
Look like its from Topshop or smtg heh.
I bought my baby, Panasonic Lx-3.
She's such a beau. (:
The shop dude sold it rm 200 cheaper than if I were to buy during the so called "Panasonic Fair" !! He even added a 4gb sd card, a tripod stand, case, shoulder strap, & neck strap!
EHEEEEE.
But I wanted to add on a Wide Angle filter. To do so, I needa buy the adapter.
And it costs.... rm 500.
Note that doesn't even include the filter itself.
T_T
So my dad suggested it would be better to save that to -maybe- by a mid-range SLR in the future. Heee. (:
Went on a hyper spree there as well. Bought like 8 tops?
Well, it only adds up to a spiffy blouse from Zara.
Good value wei! (:
Went to Mid-Valley on Saturday, it sorta disappointed me.
The place is pretty run down ( other than posh The Gardens)
The shops, other than the ones found in OU, are like expensive SG. WANG shops.
I rather go shopping in Sg. Wang!
It's kinda wacked seeing people parade round in harjuku inspired dressing
( ..if done properly. If not, it just turns out lala.)
Cause in Sg.Wang, getta bargain,
see SUPER SUPER LOADS of quirky fun unusual( and yet, normal) clothes at bargain prices.
Cause treasure hunting is fun, you see... (:
But quality isn't as great, suppose.
But some are pretty decent.
Tune in to updates for more, lol.
This can't go on without pictures!
(:
Till I can drive cars,
tooodles.
( p.s Check out
www.freerice.com
;
for every correctly answered question,

10 grains of rice is contributed
through
UN World Food Program
to help end world hunger. )
They have loads of Qs for many subjects like Eng Vocab, Chemistry, Maths, Arts,.. etc.
I've already contributed 3000+ grains of rice. Loads of baskets, and still counting!
YOUR TURN!! (:
p.p.s :
CHECK THIS OUT!
Dare to be different
.
Only aeons later before I'll be able to achieve this. :O