First off.......
Did you guys participate in
Earth Hour
?
I read a book with my hp light.
The whole house was pitch dark..
:D
Anyways,
SPORTS DAY 2009
!
I'm too tired to really do a full-fledged post so here's .. a whole lotta pictures.
Well, they say a picture is worth a thousand words, right right?
Ok, lame.
And, excuse the bias-ty towards red house. I'm from red duuh :D
We were given these angpaus with reminders before the CNY hols lol!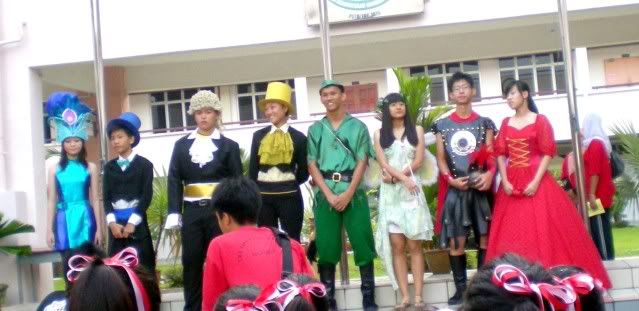 These are the house leaders/mascots/marching commanders.
Is it me or every year
the costumes are getting more and more
over the top
..
Themes
Red

house - Toys are REDS ( cartoons?)



Yellow

house - Viva la vida
(resurrection; they got last at 08 , music, conductors etc)



Blue

house - The BLUE parade ( combo of circus, mystical creatures, wacky )



Green

house - Fantasy-ish leprechauns, green creatures and Tinkerbell as the mascot!
House tent deco:
RED
YELLOW
Sorry I find the yellow house tent rather disturbing.. with that head there.
ESPECIALLY THIS CREEPY STATUE..with a WIG.

GREEN
Leprechaun and Tinkerbell!
BLUE
I see blue hippo, genie, unicorns, krusty the clown, circus-y theme.
They got
best tent award
, but the judges were parents of blue house ppl
...SO...hmm.
But it's actually nice lah. (;
The field was

really muddy

.
It rained the day before.
Kesian the marchers ( mud-stained pants) ,
runners ( icky slippery run)
and cheerleaders ( had to do jump and tumble on this! ).
The good thing is that, it was nice and cool that day.
No scorching sun.
I was wondering why the microphone was there isolated in the middle of the field.
It looked sad.
Da crowd.
Mr. Tay gave a LONNGGG speech about Sportsday that no one paid full attention to.
But he said that he was really happy to see us have all this cool themes and put in muchos effort into deco, marching, cheer etc.
It's awesome how we have all these themes. :D
Woah, look at Sheng Hao's hat!
Maybe it wasn't a good idea to wear black and white pants.
RED HOT CHEER! :D
For yellow house marching, it was the first time I have ever heard songs played in the background while people marched!
And the song was

Viva la vida

( obviously).
Haha, hes wearing a huge hair peice.
Zomg, look at the adorable hats and the whole peter pan/robin hood thing going on! :D
With Tinkerbell and the leprechaun front.
POT OF GOLD!
Blue house wore super physchedelic swirls of coloured showercaps and a complete opaque white mask over, with really, REALLY red lipstick.
ON ALL MARCHERS LOL.
Spectators galore!
CAMWHORE TIME
I made a mistake of bringing both of my sunnies.
My dear wayfarers and aviators.
Ick alot of peeps was wearing them on, camwhoring, so it's sweaty and oily now.
D:
Me, Cha, Na, Nicole
Andrea, Na, Cha.
Cha, mua, Nab, Jenn ( The creative one behind the awesome deco!)
Oh. And Nabilah tore her ligament before sports day. Kesian
In the middle : Wan Hong, red house leader extrodinaire.
Hello hannah!
She was too hungry.
<3
The super cute toy-laden cartoon car!!! :D
OVERALL
.

1st - YELLOW
2nd - BLUE
3rd - GREEN
4th - RED

:(

Winners for..
Marching - Red
Cheerleading - Blue ( suprise there)
Deco - Blue


Sorry for the really really lousy post,
I'd just been bugged for the pictures.

And it's like late late late am now, whoops. :x



On an end note:
Come all, young or old!
Support BU (4)

Trixxon Enterprise

.


Till I ever never get hungry,
Ciao.

P:s: Did you know Cuppacakes expanded to

2 SHOPLOTS

?!
I guess those people that regularly go there for a rm4.5 fabulous but measly cupcake doesn't understand what recession is.

I'll pretend I don't either.