It was so
AWESOME
.
But it was a great idea of 'em to make this party! It's like a free form of advertising.
Example:
HC : ZOMG, there's a free cupcake cafe launch! I'm so going there.
People : wow ! WHERE?
and more and more people finds out. No need for rm30000+ adverts.
*
Anyways, the Cuppacake show party was at 8pm.
But the "kan cheong" Charis wanted to go there at 6pm.
I went with her, Jocelyn, Pauline and .. my dad. :D
I also told my neighbour and my cousin about it. lol.
Spreading the
joy
mah.
:)))
We went there slightly later than planned, like, at 6.30 pm.
My mother cooked pasta when I was planning to just eat a banana and to stuff myself with cupcakes later on.
"
Too many cupcakes will make you look like a cupcake
"
o__o
When we reached there.. It was still abit too early.
(Old outlet.)
(New outlet.)
Just a few families were sticking around there and stuff.
They said they aren't open yet.
So, we all just walked around. Bought a plain shirt for rm15. >.>
Anyways, after that, we headed back to the cafe.
The cafe was cozy and had a vintage-ish feel.
They also had a section that sold
handmade accessories (
A smack of jellyfish
) ,
some
cute cupcake badges
,
and a closet full of dresses (
Finders keepers
) .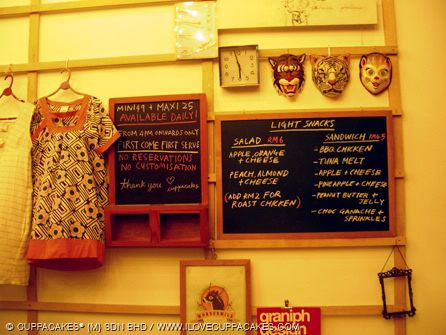 (Jo bought that cute cupcake with a tie)
First 100 gets goodiebags so I got one.
It was a big buncha broscheres, a handmade necklace, lomo stickers, and a buncha creative vintage postcards.
Not bad. x]
Soon, people started pouring in.
*
I didn't know so many people knew about Cuppacakes
*
Then, they took out what we've been waiting for..
CUPCAKES!!!
There was Strawberry, Cookies n Cream, Choco orange,
Pina Colada, Vanilla, Pb N J,Roses.. etc.
I ate 6. Paul ate the most, 10!!.
It was so creaaamy!
I love cookies N creme the most. :))
i'm glad
I'm not actually allergic to chocolate
. hah!
:P
My cousin came with his friends bla bla.
It was so noisy and crowded. Jo even accidently smashed a cupcake into Charis's hair.
Sadnya.
<.<
and my dad didnt even eat one single cupcake.
There was this poster which they wanted everyone to sign..
I *heart* KL bcoz..
"Two words:
LIFE EXIST
here."
-Jocelyn.
One person went and put..
" I don't. They kill trees. T_T " ahaha.
lol
It was starting to rain after awhile and we could barely breathe. So, we left la.
At about 9.30pm-ish.
First time I've ever went to a private rsvp launch !! heh.
Anyways it was
fun.
:DD
and remember to..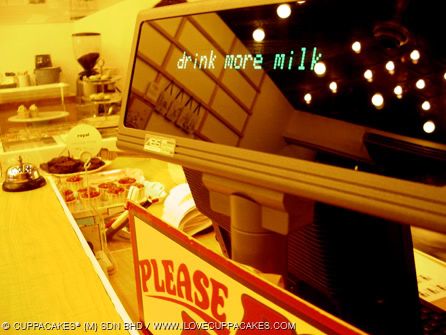 Till I can face another cupcake. x]]
asalavista!